The first Las Vegas Grand Prix has come and gone. F1 is already getting ready for the 2024 race.
Race events started on Weds. Nov. 15 with an opening ceremony for early arriving guests. The event concluded with a fireworks show above the Vegas Strip.
Shortly before the first F1 event in Las Vegas since 1982, the racing league announced it was accepting deposits on seats for the 2024 Las Vegas Grand Prix.
Events surrounding the race were a mixed bag. Las Vegas residents had to deal with first-year circuit-building pains. Meanwhile, casinos and businesses around town prepared for a boom or bust event.
The race itself was one of the best this year. However, the first two rounds of practice with paying spectators dealt with a couple of bumps in the road. Pun intended.
There were ups and downs for the 2023 Las Vegas Grand Prix across the board. In the end, visitors in Las Vegas for the race had a great time despite the headaches others had to deal with.
While workers dismantle the street course and grandstands we look forward to year two of 10 for the Las Vegas Grand Prix next year.
2024 Las Vegas Grand Prix tickets
Shortly before engines fired up for the Las Vegas Grand Prix, organizers announced they were accepting deposits for the next race. The 2024 Las Vegas Grand Prix events will take place from Nov. 21-23.
Similar to the race format this year, practice and qualifying will take place on Thurs. Nov. 21 and Fri. Nov. 22. The Las Vegas Grand Prix race will occur on Nov. 23.
Tickets for the 2024 Las Vegas Grand Prix aren't on sale just yet. Those interested in going to the race next year can get first dibs on tickets by making a non-refundable deposit for three types of tickets.
Fan experience packages require a $500 deposit per person.
Hospitality packages require a $1,000 deposit per person.
Paddock Club and Legendary packages require a $3,000 deposit per person.
The Fan Experience package includes 3-day grandstand seating and exclusive trackside activities. The possible activities can include exclusive events with driver appearances and more.
Hospitality packages include food and beverages and exclusive extras that may include a guided Paddock Tour or F1 appearances during the three-day race weekend.
Judging by the pre-race activities many visitors reserved the Paddock Club packages this year. This package includes premier food and beverages, trackside views, and insider activities such as Pit Lane Walks, driver appearances, and more.
F1 will release specific times and seating options for the events at a later date.
The business side of the 2023 Las Vegas Grand Prix
The Las Vegas Grand Prix and F1 races in general aren't for everyone. Between the action on the race course and the price of watching the events in person, the pool of fans isn't as large as say, the NFL.
Anecdotally, the difference between those watching F1 races in person is similar to drinking adult beverages. The NFL Draft in Las Vegas last year didn't live up to some expectations because there were more "cheap beer drinkers" than those willing to spend big money while visiting.
F1 fans are described more as champagne-drinking international high rollers. Las Vegas offers experiences for both, high rollers don't visit just any casino.
The main Las Vegas casinos involved with LVGP 2023
The operators of many casinos in Las Vegas had lofty expectations for how much revenue the Las Vegas Grand Prix will generate. It appears as though the businesses were hitting on all cylinders with their estimates.
MGM Resorts was one of the casino operators looking forward to the race. Having drivers leave the circuit for post-race interviews doesn't happen anywhere else.
In Las Vegas, they went to Bellagio for a few minutes with the broadcasters before heading back to the pit area for a podium celebration with the fans. Being a race sponsor has its benefits.
⭐️ Simply unforgettable ⭐️#LasVegasGP #F1 pic.twitter.com/GtRiPxCngC

— F1 Las Vegas (@F1LasVegas) November 19, 2023
It appears as though the prognosticators were somewhat accurate. There were expectations that the Las Vegas Grand Prix would have a $1.3 billion economic impact on the city. Before the race, there was a thought it could be even higher.
The initial estimate on the economic impact of race weekend appears to be very close to the actual impact. We'll learn more specifics when Las Vegas casinos report fourth-quarter earnings and the Nevada Gaming Control Board releases its Nov. revenue report.
Additionally, the Las Vegas Convention And Visitors Authority will share the number of visitors and hotel room occupancy around town in a couple of months.
F1 is reporting that 315,000 people saw the Las Vegas Grand Prix in person. This number can be debated. Numerous sources showed tickets were still available on the day of the event.
Andrew Lanzino from MGM Resorts told the Las Vegas Review-Journal that "the company had record performance at Aria, Cosmopolitan, MGM Grand and Park MGM." Similarly, Caesars and Wynn appear to have met their pre-race estimates.
There were some issues with the Las Vegas Grand Prix
The Las Vegas Grand Prix got off to a bad start. The first practice session on Thursday night was stopped after just nine minutes.
The car of Ferrari's Carlson Sainz was damaged after driving over a manhole cover. It took hours for F1 to repair the circuit so drivers could resume practice.
The second practice was rescheduled for 2 a.m. on Friday and was closed to the public. Ticketholders did not receive a refund for only being able to see nine minutes of practice.
Eventually, F1 decided to offer some single-day ticket holders a $200 voucher. While not a refund or apology, this was something. The voucher wasn't enough as the 35,000 people in attendance for the first night of practice have filed a class action lawsuit.
The third round of practice, qualifying, and Las Vegas Grand Prix race took place without any more stoppages.
Las Vegas residents had a hard time with LVGP 2023
Las Vegas residents had to deal with months of traffic while the Las Vegas Grand Prix was being put together. Tourism board executives and government officials didn't appear to understand how much time it would take and how much getting ready for the race would burden residents.
Setting up the race won't be as harsh next year since the roads won't have to be paved as much if at all. Since they've had experience setting up the circuit next year shouldn't be as bad for residents.
F1 didn't help its cause leaving community leaders without answers on numerous topics. It would be wise for the race to have some kind of community outreach over the next year to help gain local support.
While the high-end properties seem to have met expectations some smaller casinos didn't see much activity. The usually busy Outback Steakhouse at Casino Royale was literally empty.
Visitors spending $2,000 and up for Las Vegas Grand Prix tickets are more likely to eat steak from a fine-dining casino restaurant than a chain restaurant. This isn't a surprise but it's the other side of the coin that Caesars, MGM, and Wynn were expecting.
More than an F1 race
Events in Las Vegas are unlike anywhere else in the world. The Las Vegas Grand Prix was described by ESPN as 1% sport and 99% show by eventual winner Max Verstappen as race week events started.
By the end of the race, he was singing a different tune. The driver with the Elvis Presley-inspired gear sang VIVA LAS VEGAS!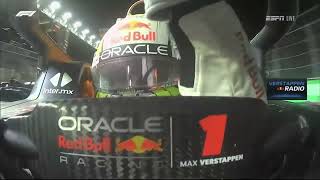 Verstappen's initial opinion isn't unwarranted. Early arriving guests were treated to an opening ceremony featuring some Las Vegas favorites as well as popular worldwide musicians.
The event was enjoyed by many in person and on TV but this isn't normal for an F1 event. Drivers want to drive so the superfluous activities can be a bit much.
Throughout the week, there were F1 activities at casinos up and down the Vegas Strip. While some were available for free other items like a drink in a shoe (shoey) cost as much as $135.
Check out these cool fan activations that were at #LasVegasGP #F1 #Vegas pic.twitter.com/ObSBqbh0kK

— Las Vegas (@Vegas) November 19, 2023
Between a fun race with lots of overtakes (passing) and numerous activations, the Las Vegas Grand Prix appears to be a winner with some newly minted fans already planning on attending next year's event.
The Las Vegas Grand Prix had its ups and downs and is already getting ready for 2024.