Australian sportsbook PointsBet has just released a brand-new advertising campaign in preparation for its imminent New Jersey launch. The campaign prominently features NBA Hall-of-Famer Allen "The Answer" Iverson in a series of commercials to announce the book's arrival.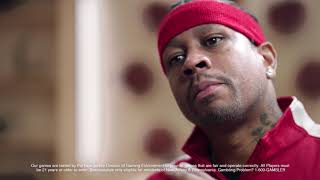 PointsBet CEO Johnny Aitken told SBC News:
"We're over-the-moon to work with an athlete of Allen's calibre. When people think of AI, they think of a renegade and cultural phenomenon that was known for his flash and style on and off the court. For those reasons, we saw the partnership with Al as a perfect fit to represent the PointsBet brand."
Iverson is certainly an interesting choice for a nascent sportsbook to choose as its representative. Iverson's tenure in the NBA was notable for both its brilliance and its urbanization of the NBA's product.
Concurrent with the campaign, PointsBet also released the first of its promotions. Prior to the sportsbook's official launch in November at partner site Meadowlands Racetrack, bettors will be able to participate in a free-to-enter sweepstakes competition.
The competition will consist of picking NBA teams that are playoff-bound. The successful selection of all 16 teams (eight in both conferences) could be worth as much as $1 million to a lucky New Jersey resident.
PointsBet brings a unique product to a crowded field
PointsBet will join eight other competitors in the New Jersey market when it debuts next month. The New Jersey sports betting scene, which did not exist before last May, has exploded into a crowded space where companies are vying for a market already $100 million in size.
PointsBet plans to offer traditional sports betting on its site, just like the rest of the competition. However, PointsBet's signature product is its true differentiator.
PointsBet is the innovator of Points Betting. The system adds an extra layer of risk and reward onto the distance a game ends from the spread.
Setting point spreads and over/unders for any contest is an imperfect art. Even though professional bookmakers are remarkably accurate most of the time, there is usually some discrepancy between the established spread and the final margin of victory or point total.
Within that difference lies Points Betting. On top of your traditional bet, each point toward the direction you bet would serve as a multiplier for your bet. So, if your team beats the spread by five points, you might see your payout multiply by five.
Unfortunately, the door swings both ways. If you happen to lose your bet, a multiplier effect occurs on your losses, too.
The result is a game that can both bring massive rewards but also incredible risks of loss to the player base. Still, the system is unique among the offerings in New Jersey–most other books offer limited or no option for a payout multiplier.
Bet $5 Get $200 + Up to $1,050 Bonus
UP TO $1,050 FREE
New User Bonus. T&Cs Apply.
Special for Bets on NFL
Bet $5 & Win $200

$50 Free Bet On Deposit

Up to $1,000 Deposit Bonus
To Claim: Click Play Now
Iverson not the first NBA face for a New Jersey sportsbook
Of course, the campaign with Iverson is not the first time a New Jersey sportsbook has used an NBA great as its spokesperson. DraftKings famously released a series of its "Dr. AftKings" commercials that featured Hall-of-Famer Charles Barkley.
Given that DraftKings has been the biggest success story of any of the online sportsbooks, perhaps PointsBet is wise to use another figure who is similarly famous. Then again, Iverson is not Barkley, either in terms of appearance or personality. So, we'll have to see if it works.
Photo by Everett Collection / Shutterstock.com