Simon Pagenaud knows the odds aren't in his favor. Then again, an optimistic reading of the list of recent Indianapolis 500 winners might suggest to the defending champion of America's greatest race that his number is due to hit.
Sure, no one has repeated as winner of the IndyCar Series spectacular since Helio Castroneves won for Team Penske — for whom Pagenaud also competes — in 2002. But a lot of things will be different about this 104th installment of the open-wheel classic.
COVID-19 mitigation forced the 500's postponement from its customary slot on Memorial Day weekend to a new date of Sunday, Aug. 23. Where there are usually hundreds of thousands of fans, there will be none after Indianapolis Motor Speedway officials ceded, begrudgingly, to the mandates of local health directors.
So awash in the abnormal, a successful defense doesn't seem like such an absurd proposition for the 36-year-old Frenchman. Just a really tough one.
"It's probably almost impossible, but I believe in my chances," Pagenaud, the 2016 series champion, laughed via a group Zoom conference.
Pagenaud, who will start 25th of 33 drivers, might be a bargain for bettors outside the state or residents making legal Indiana bets on the first Indianapolis 500 held since the state implemented the enterprise last August. Pagenaud remains one of the top choices at the handful of sportsbooks offering markets, standing at +1400 to win and +400 to finish on the podium at DraftKings.
DraftKings, FanDuel, SugarHouse, Fox Bet and PointsBet offered Indianapolis 500 markets as of Aug. 18. Scott Dixon, the 2008 race winner who will start second, is a consensus favorite, with odds as short as +125 to win at SugarHouse. But Pagenaud will try anyway.
"It's not because you've won it once that you're going to win it twice," Pagenaud said. "And it's not because you've won it that you're entitled to win it again. We all say it, but that race does seem to choose a winner.
"Now, you can do everything you can to win it. You can make sure that you put everything in order, that you make all the right decisions, bring your A game on that day. You can do all that stuff.
"But … something might take it away from you."
Could Marco Andretti be the futures bet that finally cashes?
Pole-sitter Marco Andretti understands. Oh, how he understands. His qualifying run of 231.068 mph last week put an Andretti on the pole for the first time in 33 years. His surname represents more than a half-century of open-racing excellence. His legendary grandfather Mario is second all-time (52) in North American open-wheel wins and a former Formula One champion, among many exploits as arguably the greatest-ever American driver. All this, plus his father Michael — who is fourth (42) on the all-time in open-wheel wins list, has combined for one win for the family in the Indianapolis 500 in 72 attempts. That was by Mario in 1969.
For his part, Marco seemed primed to finally dispense with the so-called Andretti Curse at Indianapolis as a rookie in 2006, having passed his father with three laps left and leading the final excruciating moments until Sam Hornish Jr. somehow caught him in the final 450 feet to win by .064 seconds. Marco hasn't finished on the podium since 2014 and has a lifetime finish average at Indianapolis of 11.9.
A career that came with scrutiny and the expectation of continued family greatness has yielded just two series wins in 240 races.
"I mean, when you struggle, it makes it all worth it when you're able to have days like today," Andretti, 33, said in a post-qualifying press conference. "Yeah, I mean, it's been brutal. I'm a competitor. I don't want to not win races, not be on the podiums.
"I don't know, we're just wired to not quit, man. I love this sport. I'm going to keep doing whatever you can do for it and to try to be successful at it."
If Andretti can win — five drivers have won the race from the pole in the last 16 years, including Pagenaud — he would at least have the opportunity to craft an iconic moment befitting these odd times and his family's tortured relationship with a 111-year-old track they profess to love.
Then the celebratory Victory Lane swig of milk and the ceremonial kissing of the bricks — perhaps in a mask. These moments and their photos would create an enduring image and seal Marco's moment of victory in perpetuity.
"I was joking with Dad," said Marco, who finished 26th in the Indianapolis 500 last May. "I'm like, 'This is probably like my third legitimate shot as far as just outright pace in 15 years. When I lost the 500 in 2006, you saw me mad because I knew that it is possible that 15 years later, I'm talking to you guys and I haven't won one yet. That's why I was so mad.'
"It's a tough place. Last year I had the worst race of my career. Here we are, we can win it. We're going to take it one race at a time. The IndyCar Series is so competitive. [The] drivers and the teams, everybody is so close. It's easy to go from last to first if you just find that little bit."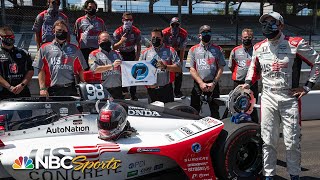 Indianapolis 500 date delay has driver anticipation pegged on red line
Indiana residents and IndyCar drivers recognize two time periods: May and not May.
And with the race that matters most and the defense that matters most to the previous 500 winner deferred by a quarter year, Pagenaud endured a unique anxiety in waiting for what may be the next-greatest moment of his life.
"It's been a long wait, that's for sure. The anticipation, I would say, it's been a serious anticipation on my part," Pagenaud admitted, "just because I love that race. I love the event, and I want to go back. I just want to. It's my favorite race, and not only because I won it. …
"I was very worried we weren't going to race this year. So I'm relieved that we are going. It's a pain that we won't have any fans, that's for sure. But we get to do what we love. We get to show what we love once again. And to me, that's everything."
Hondas in general and Andretti in particular have been fleet throughout the 500 preliminaries. Andretti's best lap of 38.5454 seconds, 233.491 mph was second-best in race history after Arie Luyendyk's 239.260 mph lap from 1996.
This Indianapolis 500 the first with legal Indiana sports betting
The first Indianapolis 500 with legal, mobile and online wagering in Indiana could be a boon for state tax authorities and the sportsbook companies that operate there. It might even be a beneficial orientation exercise for open-wheel fans who've never dabbled in betting. Having a go from the comfort of their couch couldn't be more convenient.
But it won't help the IndyCar Series much, said Mark Miles, president and chief executive officer of Penske Entertainment Corp., which owns the IndyCar Series and Indianapolis Motor Speedway.
There are two reasons. First, unlike Formula 1 and NASCAR, IndyCar has no commercial agreements to sell its data to companies like Sportradar or partnerships with gaming entities like DraftKings or FanDuel.
And the prohibition on fans for the entirety of the race run-up and running negated the chance to sell advertising to the eight gaming companies already taking bets in Indiana.
Miles thinks fans would have bet in the stands and at home. But having them in the massive old yard of bricks mattered, he said.
"The real incremental benefit would be us having the ability all May, for the million people who are out here for the month to be right there, encouraging them and then sending them to download the app in this market," Miles told PlayUSA.
Miles said the series could have done "a small deal, but we really think the value we add is when our fans are here, so we decided just to keep our powder dry for now.
"When we get to anything like normal, I think we can really reach a lot of people locally and particularly to get them to download."
Miles said IndyCar has discussed data deals with various companies, with all of them first offering integrity services and then offering to broker deals with gaming companies to turn their data into betting markets.
"We've talked to all of them. I think we can do that deal," Miles said. "We've just got to get back to having fans in the stands."
Fernando Alonso a point of interest and betting market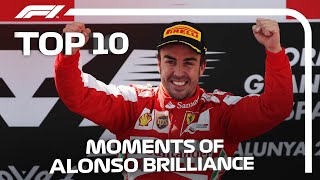 Two-time Formula champion Fernando Alonso made his first attempt at winning America's greatest motor race in 2017, exhilarating onlookers by leading 27 laps with McLaren Honda Andretti but finishing 24th when his engine expired with 21 laps left. Equally stunning, he failed to qualify for the race last year in a first bid with McLaren in a Chevrolet.
Alonso, 39, could join legend Graham Hill as the only drivers to win an F1 race at Monaco, the Le Mans 24-hour sports car epic and the Indianapolis 500.
Paddy Power in the United Kingdom memorialized his first attempt in 2018 by launching a market speculating whether Alonso could win the 500 by 2030, which would make him the oldest to ever do so if he dramatically held the market open for another decade.
Paddy Power listed the odds of Alonso adding a Borg-Warner trophy as +138 two years ago. They've lengthened to +300, according to a company spokesperson.
The Spaniard will have much ground to cover in 500 miles, starting 26th of 33 after posting a four-lap qualifying speed of 228.678 mph in his Arrow McLaren Chevrolet. That was nearly 3 mph off the pole-winning speed of Marco Andretti. Alonso confirmed last week that he will return full-time to Formula One with Renault next season, meaning this will be his last Indianapolis 500 attempt for at least two years.
Bet $5 Get $280 + Up to $1,050 Bonus
UP TO $1,050 FREE
New User Bonus. T&Cs Apply.
Special for bets on NFL Playoffs
Bet $5 & Win $280

$50 Free Bet On Deposit

Up to $1,000 Deposit Bonus
To Claim: Click Play Now
Former 500 winners look to come through the field
While 2017 race winner Takuma Sato produced his best starting position in the race (third) in his campaign with Rahal Letterman Lanigan and Ganassi Racing's Dixon is situated nicely, several other ceremonial milk drinkers will have much to do. And some, particularly Sato, present some extremely tantalizing odds considering his resume at Indianapolis beyond his victory. Fox Bet had his odds as +2200 on Monday. The odds on former 500 winners Ryan Hunter-Reay and Alexander Rossi also appear intriguing considering how strong the Andretti team has been.
(Former race winners in bold)
Row 1: Marco Andretti, Scott Dixon (+125), Takuma Sato (+2200)
Row 2: Rinus VeeKay, Ryan Hunter-Reay (+1500), James Hinchcliffe
Row 3: Alex Palou, Graham Rahal, Alexander Rossi (+900)
Row 4: Colton Herta, Marcus Ericsson, Spencer Pigot
Row 5: Josef Newgarden (+1100), Felix Rosenqvist, Pato O'Ward
Row 6: Ed Carpenter, Zach Veach, Conor Daly
Row 7: Santino Ferrucci, Jack Harvey, Oliver Askew
Row 8: Will Power (+1200), Tony Kanaan (+5000), Dalton Kellett
Row 9: Simon Pagenaud (+1400), Fernando Alonso, James Davison
Row 10: Helio Castroneves (+33)), Charlie Kimball, Max Chilton
Row 11: Sage Karam, JR Hildebrand, Ben Hanley