Online gaming and sports betting legislation have made headlines in several states this year. Now that the U.S. Supreme Court ruled Professional and Amateur Sports Protection Act (PASPA) unconstitutional, expect more headlines as the race to pass regulatory legislation at the state level heats up.
Connecticut was one of those states making headlines before the sports betting decision was handed down. Positive signs were indicating that enacting legislation in the Constitution State was a possibility – until it wasn't. Though, with the new ruling on sports betting, the desire to push a sports betting bill through is still burning.
The tribal casinos supported online gaming
The first hopeful sign for the legislation came when the two Connecticut tribal casinos, Mashantucket Pequot and Mohegan came out in support of the online gaming legislation.
"I am here to express the Mashantucket Pequot Tribal Nation's support for legal sports gambling – both on-reservation and online – and more broadly, for regulated online gambling," said Seth Young, Foxwoods' executive director of online gaming in a written statement earlier in the year.
Avi Alroy, the vice president of interactive gaming for Mohegan Sun echoed Young's sentiment in a statement of his own.
"To clarify, I believe that the state of Connecticut will benefit from both online casino gaming and sport wagering as it will reduce unregulated bets that are done locally and off-shore, and increase state revenues."
The support of both of Connecticut's tribal casinos was a solid foundation for the progression of legislation.
The complicated relationship between online gaming and tribal casinos
Connecticut is currently home to two Indian casinos, Foxwoods Resort Casino in Ledyard and Mohegan Sun in Uncasville. A third casino, co-owned by both tribes is under construction in East Windsor.
In their compact with the states, the tribes pay 25 percent of their slot machine revenue. In return, the tribes receive the exclusive right to operate slot machines in the state.
Nationally, online gaming legislation has more challenges in states where tribal casinos operate. Many tribal casinos have some sort of exclusivity agreement with the state in their compact, much like Connecticut's tribes do.
New online gaming or sports betting legislation may require renegotiating those compacts. That doesn't seem to sit well with the tribal casinos, and it isn't as easy as it sounds.
Hopes dashed around online gaming and sports betting
The tribes felt an expansion into online gaming was the better opportunity. The state disagreed by focusing on sports betting. It introduced an amendment to exclude sports betting from the state's gambling provisions.
That is when the tribe's support wavered. According to reporting at LegalSportsReport, the tribes "threatened to stop slot revenue payments to the state if sports betting is legalized in Connecticut without their blessing."
Connecticut Attorney General, George Jepsen was clear that tribes would not have exclusive sports betting rights in the state:
"Amendments to the Compacts would be necessary to authorize the Tribe's sports betting … Thus, our opinion is that the Compacts do not presently authorize the Tribes to conduct sports betting on their reservations. Nor are we aware of any other federal or state law that would be a basis for the Tribes to assert an exclusive right over sports betting."
The Connecticut 2018 legislative session ended without passing an online gaming or sports betting bill into law. It also left many open-action items that will require discussion to further the legislation in the next session.
$10 Free & 100% Up To $1,500 + 200 Bonus Spins On Deposit
$10 Free On Sign Up
100% Up To $1,500 On Deposit
Plus 200 Bonus Spins On 88 Fortunes
Use Bonus Code: PLAYBONUS
Gov. Malloy prepared to call a special session
It didn't take long after the U.S. Supreme Court decision on Monday for Connecticut Gov. Dannel P. Malloy and Speaker of the House Joe Aresimowicz to come out in support of holding a special legislative session to discuss sports betting.
"In the coming days, I plan to deliberate with legislative leadership regarding the impact of this decision on the state," Malloy said in a statement.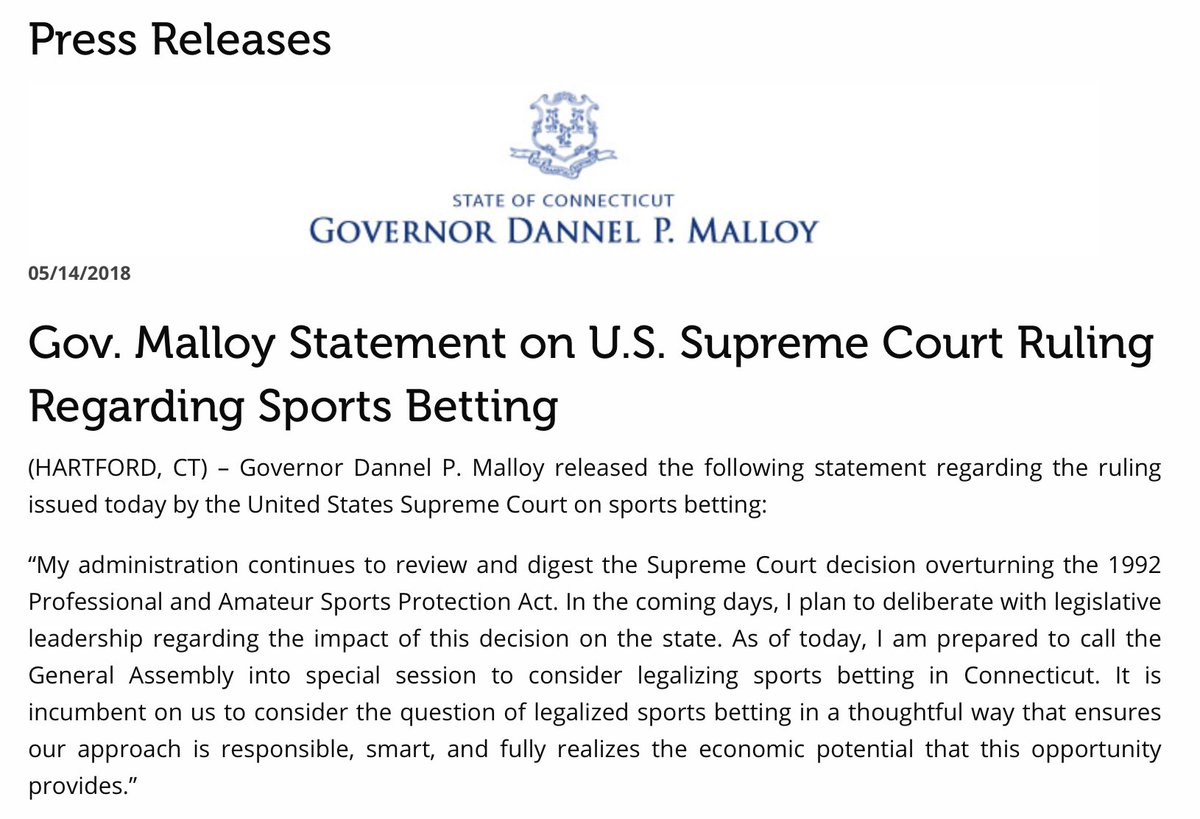 "As of today, I am prepared to call the General Assembly into special session to consider legalizing sports betting in Connecticut. It is incumbent on us to consider the question of legalized sports betting in a thoughtful way that ensures our approach is responsible, smart, and fully realizes the economic potential that this opportunity provides."
Aresimowicz agrees the Supreme Court's decision is important enough to require a special session.
"We have a bill ready to serve as a foundation that was worked on extensively this session in concert with many stakeholders including the NBA, MLB, the Tribes, OTB and the Lottery," Aresimowicz said in a statement with the Hartford Courant. "As a state where gaming is an important sector of our economy, we need to look ahead and be ready for what is coming and act to keep us competitive with other states."
The tribes and the state seem pretty far apart even with a bill ready to serve as a foundation. A compromise that both entities can agree on may be a lengthy process. A process that might be more appropriate to tackle during the regular legislative session.
What does the future hold for the national sports betting scene?
Discussions around online gaming and sports betting kicked into high gear this year.
The potential revenue for a state is enough of a reason to begin discussions. It doesn't mean there is an easy road to passing legislation.
According to the National Indian Gaming Commision, there are 28 states with tribal casinos. Most likely any sports betting legislation or gaming expansion will require the renegotiation of compacts.
Compact changes only happen after the new legislation becomes the law. Tribal casinos have powerful voices because of the revenue they pay to states. Supporting legislation without a new compact in place is not something the tribes seem comfortable with.
Changes also mandate the involvement of the Department of Interior. Supporting a law without a signed agreement in place and more governmental interaction is not something the tribal casinos are usually excited about.
The bright spot is that online gaming and sports betting are coming out of hiding and making it to committees in several state legislatures.
There was no urgency in passing the legislation while awaiting the decision. That has changed now that the decision is here. States will have to take a position – even if it decides to take no position.
It will be up to the states to figure out what their state's regulatory requirements are around sports betting and how that impacts the tribal casinos, if applicable.
The one sure bet is sports betting will continue to make headlines and fill our newsfeed for the next few months.
Stay tuned.