The first Saturday in May means the Kentucky Derby is here yet again.
And as if cosmically in a rush to make up for the world's most celebrated horse race being relegated to September last year because of the COVID-19 pandemic, the Run for the Roses will take place on May 1.
The 1 ¼-mile classic is back in its traditional spot as the commencement of the Triple Crown season – it slid to second last year – and fans will be in the stands at Churchill Downs, albeit with only about 45,000 spectators imbibing in Mint Juleps.
With two colts name-dropping bourbon, a Hidden Stash and a Soup and Sandwich combo, this Derby field feels extremely representative of a nation emerging from its COVID cave ready to wear a silly hat in the sunshine.
Let the Kentucky Derby betting begin
When: Saturday, 6:57 p.m.
Where: Churchill Downs, Louisville, Ky.
TV: NBC
Purse: $3 million
Distance: 1 1/4 miles
Conditions: 3-year-old thoroughbreds
How to bet: Local pari-mutuel outlets or online at TVG (which just debuted a major upgrade to its app that bettors will love) or TwinSpires, where betting on horse racing is legally available. For those in states with or without legal sports betting, DraftKings Sportsbook has a free-to-play Derby pool.
---
---

Photo by Charlie Riedel / Associated Press
Post Position | Trainer | Jockey | Odds
Known Agenda

, Todd Pletcher, Irad Ortiz Jr., 6-1
The Florida Derby-winner entered Churchill Downs as a strong choice, then the draw happened. Ferdinand was the last to win the Derby from the first gate. That was in 1986. Nineteen horses bursting from the start and angling for the rail is like everyone trying to get into the passing lane after speeding through the toll booth. Ortiz Jr. isn't going to have much room over there.
Side note: The colt is owned by Florida Panthers owner Vinnie Viola.
---
Like the King

, Wesley Ward, Drayden Van Dyke, 50-1
Deep-diving handicappers don't like the distaff bloodlines here.
---
Brooklyn Strong

, Daniel Velazquez, Umberto Rispoli, 50-1
New York-bred Brooklyn Strong was 23rd in qualifying points last week, but slid in because of defections, notably the highly regarded Caddo River.
---
4.

Keepmeinmind, Robertino Diodoro, David Cohen, 50-1

Has held lofty company, finishing second in the Breeders' Futurity and third in the Breeders Cup Juvenile, both Grade Is at Keeneland in 2020. This year, though: fifth in the Rebel Stakes and sixth in the Blue Grass.
---
Sainthood

, Todd Pletcher, Corey Lanerie, 50-1
A stalker with the lowest Equibase speed figure (93) of the field, he'll probably draw some interest because the trainer always has good colts.
---
O Besos

, Greg Foley, Marcelino Pedroza, 20-1
The deepest of deep closers in this field.
---
Mandaloun

, Brad Cox, Florent Geroux, 15-1
Will momentarily excite dabblers thinking they have a chance to bet on a colt named Mandalorian. He's won (Risen Star Stakes), but woefully unperformed (sixth at the Louisiana Derby), but those who love tiny little type will take note of some strong morning workouts.
"He catches the eye," said Cox, a first-time Derby trainer. "There's no doubt about that. I know he would.

"I've been around the backside of Churchill long enough to know that there's always a horse that people are going to fall in love with the way they move, the way they gallop, and how elegant they are. And he's going to check all the boxes from a visual standpoint."

---
Medina Spirit

, Bob Baffert, John Velazquez, 15-1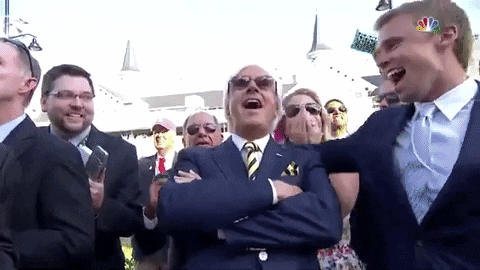 High-profile trainer alert. Odds-are-going-to-plummet alert. The six-time Kentucky Derby-winning conditioner has won three of the last five Derbies but has this one shot with, mostly notably, Concert Tour, not entered. Baffert can pass Ben Jones and move into solo immortality with another win.
---
Hot Rod Charlie

, Doug O'Neill, Flavien Prat, 8-1
O'Neill has two Derby wins and will need all that experience to corral a large, diverse ownership collectively running its first Derby. There's Roadrunner Racing (Greg Helm), Boat Racing, LLC (Patrick O'Neill), and William Strauss and Gainesway Thoroughbreds, Ltd. (Antony Beck).
Said O'Neill: "We got my nephew Patrick, who's 28 years old, a graduate of Brown University, and four of his fellow Brown football players put together this group. So Patrick, he knows the sport. He's been with me to a lot of races throughout the years. But a lot of his buddies were turned on to the sport through Patrick.
"And I remember one of the funniest stories was just, when they moved into the (Theta Chi) fraternity, and all these football players, and Patrick's biggest plea was, "We got to get TVG on this TV in the living room." So they're like, "What the heck is TVG?"
"So Patrick has really brought a lot of his friends into this sport, which is a beautiful thing. And you know, I often say horses are reflections of the people surrounding them. And we just got a really cool group of people surrounding Hot Rod Charlie. And he's a cool horse himself. And it's been a great journey so far. And we're hoping he can still continue."

---
Midnight Bourbon

, Steve Asmussen, Mike Smith, 20-1
Two-time Derby-winner Smith jumps aboard for 0-time-winner Asmussen. Stablemate Super Stock is higher-profile after winning the Arkansas Derby, but can one really discount a horse with 'bourbon' in its name at Louisville?
---
Dynamic One

, Todd Pletcher, Jose Ortiz, 20-1
Always be closing, Pletcher hopes.
"I'm hoping for a fast pace," he said. "Most of [my] four horses will be off the pace a little bit. I think, probably, Sainthood and Dynamic One would be a little bit closer to the pace. Then Known Agenda I would see being kind of in the backend of the second tier. And then actually, Bourbonic, we're going to try to apply the same tactics we did in the Wood, which is sit back and make a one-way run."
---
Helium

, Mark Casse, Julien Leparoux, 50-1
Undefeated in three starts – most notably the Grade II Tampa Bay Derby – and the colt got no morning line respect. A late closer, he could have bettors talking funny voices down the stretch.
---
Hidden Stash

, Vicki Oliver, Rafael Bejarano, 50-1
Starts right next to the colt that denied it in the Tampa Bay Derby. Oliver could make some major history by setting the record for highest Derby finish by a female trainer. Shelley Riley was second with Casual Lies in 1992. Oh, and Syracuse head basketball coach Jim Boeheim is a part owner.
Essential Quality

, Brad Cox, Luis Saez, 2-1
The undeniable favorite. Undefeated in five starts, including the Breeders Cup Juvenile at 2, and most recently the Blue Grass Stakes. Variable(s): Cox is the current Eclipse Award-winner as top national trainer, grew up in Louisville and has never won the Kentucky Derby. Another variable: Essential Quality is a worthy name for a Derby winner.
---
Rock Your World

, John Sadler, Joel Rosario, 5-1
Winning the Grade I Santa Anita Derby wire-to-wire was a signal of intentions and probably a playbook for the Derby.
---
King Fury

, Kenny McPeek, Brian Hernandez Jr., 20-1
Another of the deep-closing, heartbreaker candidates. He's raced just once this year, but is 2-for-3 lifetime at Churchill.
---
Highly Motivated

, Chad Brown, Javier Castellano, 10-1
Getting lots of morning line credit for only losing by a neck to Essential Quality in the Blue Grass.
---
Super Stock

, Steve Asmussen, Ricardo Santana Jr., 30-1
One of the better stories in a sport that has become as corporate and sterile at the higher levels as the Big Four. The surprise Arkansas Derby winner was bought for $70,000 at the 2019 Keeneland September Yearling Sale by Erv Woolsey and Asmussen's father, Keith. Steve's son, also named Keith rode the colt in his first-ever win.
Now Steve Asmussen, who has more wins than any active trainer in North America and closing on the top spot, gets another chance to break an 0-for-21 career in the Derby.
---
Soup and Sandwich

, Mark Casse, Tyler Gaffalione, 30-1
Folks just love this name. He's become the comfort colt and will probably be whim-bet down because of it. Casse might need a cup of tomato soup if he goes 0-for-10 in the Derby.
---
Bourbonic

, Todd Pletcher, Kendrick Carmouche, 30-1
Whoa, this is a drinky lineup even for Louisville. Pletcher's final entrant made the desired deep run to overturn the Wood Memorial field at 72-to-1. Carmouche is the first African-American jockey in the Derby since 2013.