The weather in Las Vegas is perfect as we head into October. Temperatures this month will mostly be in the 80s and 90s during the day and 60s at night. Visitors from cooler climates will find the days to be gorgeous and evenings comfortable with a sweater or hoodie.
While some day clubs will be closing for the cold weather, Marquee Dayclub at The Cosmopolitan installs a dome over the pool parties to keep the afternoon fun going through the winter.
The action inside the casinos is almost business as usual once again. MGM Resorts properties might be feeling the aftereffects of the cyberattack in September but many parts of the casino experience should be back to normal. After the Caesars cyberattack, their properties seem to be operating normally too.
The Sphere is now open and October is the first full month of the U2 residency. Las Vegas is also seeing regular season pro football and pro hockey games. The city is also welcoming some left-of-mainstream sports and big concert tours every weekend.
This month Las Vegas is busy during weekdays with two of the largest conventions of the year taking place:
The Global Gaming Expo (G2E) takes place early in the month
SEMA (auto) at the end
G2E is where gaming manufacturers roll out new products for casinos. Expect to start seeing new games in Las Vegas and around the country.
October ends with Halloween which is one of the best times for people watching in Las Vegas. There are also Halloween parties inside bars and clubs throughout Las Vegas
F1 race preparations ongoing on the Vegas Strip
Heads up for anyone visiting Las Vegas in October or November. The Vegas Strip is different than you might expect or remember.
The preparations for the Las Vegas Grand Prix can be seen from The Venetian to The Cosmopolitan. This hampering trips to Las Vegas for some visitors.
That said, people staying inside the casinos aren't bothered by anything unless they're stuck in traffic visiting other properties.
The Bellagio fountains and Mirage volcano will be partially blocked while grandstands are being built for guests who plan to watch the F1 race from Nov. 16-18, 2023.
The Mirage volcano is on hiatus until Dec. 8 while visitors can crowd the sides of Lake Bellagio to see the fountain show. The view of the fountains from the valet area at Bellagio is still one of the most underrated vantage points to watch the dancing water.
There are light rigs on the Vegas Strip throughout the race circuit that could make navigating the streets a little more challenging. The closer we get to race day the more structures like protective fences will go up.
Navigating the Vegas Strip could be hectic until a couple of weeks after the race.
October Las Vegas residencies
One of the most popular Las Vegas residency artists, Usher, will be performing in Las Vegas throughout October. He'll also be performing at the Super Bowl halftime show at Allegiant Stadium next year.
Here are the big Las Vegas residencies this month.
Lady Gaga (Jazz & Piano) at Park MGM: Oct. 1, 4, 5
Katy Perry at Resorts World: Oct. 4, 6, 7, 11, 13, 14, 31
Tesla at Mandalay Bay: Oct. 4, 6, 7
U2 At The Sphere: Oct. 5, 7, 8, 11, 13, 14, 18, 20, 21, 25, 27, 28
Kool & The Gang at Westgate: Oct. 5, 6, 7
Anita Baker at Park MGM: Oct. 6, 7
Jackson Browne at The Venetian: Oct. 6, 7, 11, 13, 14,
Lionel Richie at Wynn: Oct. 11, 13, 14, 18, 20, 21
Usher at Park MGM: Oct. 11, 13, 14, 18, 20, 21, 25, 27, 28
Earth, Wind & Fire at The Venetian: Oct. 20, 21, 22, 25, 27, 28
Billy Idol at The Cosmopolitan: Oct. 20, 21, 25, 27, 28
Thanks to gorgeous weather, October is one of the best months for an outdoor rock show. The When We Were Young festival is taking place at the Las Vegas Festival Grounds on Oct. 21 & 22. The show featuring Green Day, Blink 182, and many more is sold out but there are tickets on the secondary market.
Las Vegas residency news and rumors
The year is coming to an end and there are countless rumors and news about 2024 Las Vegas residencies. A Las Vegas rumor PlayUSA first shared in February is heating up again.
While still unconfirmed, it appears as though Harry Styles will start a residency at The Sphere next year.
Rumor has it that both Christina Aguillera and Britney Spears could be returning to Las Vegas for a residency in 2024. Fans of Xtina should keep their ears to the ground about tickets. Her residency is rumored to be taking place at the 1,000-capacity Voltaire venue at The Venetian.
Aguillera's previous Las Vegas residency shows took place at the 7,000-capacity theater at Planet Hollywood. Carrie Underwood signed an extension for her Resorts World Las Vegas residency for 18 more shows next year.
Shania Twain is returning to Planet Hollywood in 2024 with a new residency and 20 more shows. The popular Jersey Boys show is returning to the stage in Las Vegas. It's moving just off the Strip to The Orleans.
Illusionist David Blain is crossing the street to Wynn Las Vegas for his new round of shows at the end of this year and into next year.
Last but never least, Wayne Newton has extended his residency at the Flamingo into 2024.
Big Las Vegas concerts
There are arena and stadium concerts taking place every weekend in October thanks, in part, to two performers rescheduling previous appearances.
Madonna at T-Mobile Arena: Oct. 7
P!NK at Allegiant Stadium: Oct. 7
Shinedown at MGM Grand Garden Arena: Oct. 13
Wu-Tang Clan & Nas, and more at MGM Grand Garden Arena: Oct. 21
Ed Sheeran at Allegiant Stadium: Oct. 28
SZA at T-Mobile Arena: Oct. 28
Travis Scott at MGM Grand Garden Arena: Oct. 29
Sports in Las Vegas
Regular season NFL and NHL games take center stage on the Las Vegas sports calendar in October. The reigning Stanley Cup champion, the Vegas Golden Knights play the following home games at T-Mobile Arena:
Tue. Oct. 10 vs. Seattle Kraken
Sat. Oct. 14 vs. Anaheim Ducks
Tue. Oct. 17 vs. Dallas Stars
Tue. Oct. 24 vs. Philadelphia Flyers
Fri. Oct. 27 vs. Chicago Blackhawks
Mon. Oct. 30 vs. Montreal Canadiens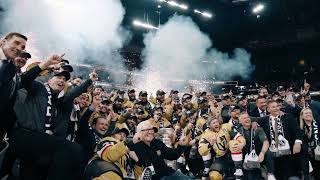 The Las Vegas Raiders will welcome plenty of visiting fans to Allegiant Stadium for two games in October when they play the Green Bay Packers on Oct. 9 and New England Patriots on Oct. 15.
The Los Angeles Lakers return to Las Vegas for a preseason game against the Brooklyn Nets on Oct. 9 at T-Mobile Arena.
NASCAR comes to town with races at the Las Vegas Motor Speedway on Oct. 14 and 14. Las Vegas is hosting the PBR Team Series Championship (bull riding) from Oct. 20-22 at T-Mobile Arena.
Las Vegas casino news & rumors
The new company overseeing Rio Las Vegas is preparing visitors for changes. We should learn more about the plans for Rio soon.
Fontainebleau announced it will be opening on Dec. 13. While the Las Vegas casino will be ready for guests in December, the restaurants and bars will open through next year.
The new(ish) owners of The Venetian and The Palazzo continue to upgrade the property. In Sept. The Venetian debuted a new sportsbook. As the month came to an end The Palazzo opened a new high-limit room.
Good timing on both improvements at The Venetian. It's the closest casino to The Sphere and should see new visitors before and after U2 shows throughout the month. Across the street, Wynn prepared for The Sphere opening by reinstating paid parking.
Las Vegas is known for its world-class dining experiences. Lately, it seems like the scene is growing.
Junior's Restaurant and Bakery from New York City is replacing The Kitchen at Resorts World. It will be located across from Los Angeles' popular Randy's Donuts.
Whataburger from Texas is currently under construction at Waldorf Astoria near Aria. Peter Luger Steakhouse from New York will open at Caesars Palace in December.
Norm's Restaurant/Diner from Los Angeles is opening about 10 minutes west of the Vegas Strip. Last but not least, Portillos from Chicago has eyes on Las Vegas for its future expansion efforts. Specifics on when and where Portillos will open aren't available.
While Caesars hasn't confirmed this, it appears as though the company will be opening another Vanderpump venue at Flamingo as the property sees renovation to the former Margaritaville casino.