Las Vegas is officially on the clock. The 2022 NFL Draft has been slated for April 28-30.
Congratulations to Philadelphia — the 2017 NFL Draft at the steps of the Museum of Art was raucous. And to Nashville in 2018. Broadway looked like a Saturday night in the summertime, minus the flatbed trucks hauling the dancing bachelorette party-goers around the bar district.
And to the event at AT&T Stadium, in Arlington, Texas, in 2019 … thanks for reminding everyone how fun the last two drafts had been. And for setting up Las Vegas to blow everyone out of the literal water the next year.
Yes, 2020 was supposed to be Las Vegas' time to prance down the promenade all aglitter and new as an NFL town. Or, according to plans Clark County had released, ride a boat to the red carpet stage in the middle of the Bellagio Fountains.
In an over-the-top spectacle befitting the city and channeling the energy of fans awaiting the Las Vegas Raiders' fall 2020 kickoff in the still-under-construction Allegiant Stadium a few miles away, it would h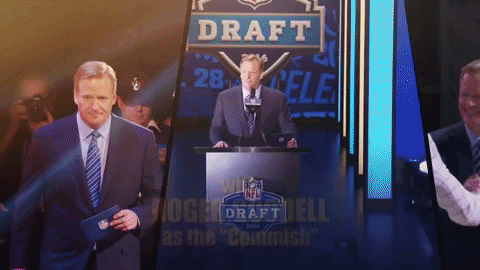 ave also perfectly symbolized the league's much-anticipated, Roger Goodell-at-the-draft-podium-style bro hug of legal sports betting.
This, after all, would have been the first time the NFL's ultra-hyped, mega-publicized talent market had been held in a city with legal sports betting.
It was going to be perfect. Then COVID-19, as it still too often does, ruined everything. The Draft was relegated to a mass Zoom call. It was kind of cool, really. But it wasn't Vegas.
However, with the Draft set for next year in Las Vegas, plus the aforementioned shiny new stadium a stone's throw from The Strip, and the legal betting aspect, the city could be gearing up to be a major football town.
NFL Draft blueprint remains for glitzy show
The 2022 NFL Draft in Las Vegas will mock all other drafts, go No. 1 overall.
All apologies to Cleveland, host of the 2021 NFL Draft on Thursday, April 29. The city aside Lake Erie, famous for the Rock and Roll Hall of Fame and, probably some other stuff, will probably put on a fine show.
But in 2022, Las Vegas gets its do-over. Or, more appropriately, its chance to just actually do it. And the plan was so good the first time, it's not going to change, said Circa Resort & Casino owner Derek Stevens, a member of the Las Vegas NFL Draft Committee the first time around.
"It's going to be great," Stevens told PlayUSA. "The great thing about 2022 is Vegas already has all the plans, everything laid out. It was in the process."
The anticipation of a local Draft with planeloads of fans mingling and wagering with Raider faithful prompted local sportsbooks to amp their betting markets a year ago.
William Hill Director of trading Nick Bogdanovich told PlayUSA last spring he planned to list "five or six times" more draft proposition bets than in a normal year because of expected interest in a Las Vegas-based ceremony. It was set to be – and will be – a Nevada sports betting spectacular. Betting on the proceedings spiked anyway, largely because of the dearth of any live sports in the early weeks of COVID shutdowns, but Bogdanovich had predicted a maelstrom of activity had the Vegas draft occurred.
"It was going to be crazy," he said at the time. "People just absolutely love the NFL Draft and there's not a better place in the world to hold an NFL Draft than in Las Vegas."
It certainly doesn't hurt that the Raiders also have a partnership with the city's tourism bureau, Las Vegas Convention and Visitors Authority.
Jon Barker, NFL head of live event production, told the Las Vegas Review-Journal that the league would "see if (there) are areas that we could grow, expand or change" regarding the 2020 draft blueprint.
Vegas could host the Super Bowl as early as 2024
Stevens admits the Draft is just the audition for the real prize: a Super Bowl.
By late 2020, the NFL had booked out its championship game locations through 2024, but that last spot opened back up when New Orleans' date was pushed to 2025 because the new 17-game regular season will push Super Bowl LVIII up against Mardi Gras. Advantage, Mardi Gras. And an opportunity for another party town.
Sports Business Journal reported in October that although owners were not ready to vote on the 2024 venue, but noted that Las Vegas had become the "front runner." The NFL has announced no timetable to officially fill the slot, but Vegas power players are hopeful. The selection would further validate Las Vegas as a full-fledged sports town, not just where sports are bet upon.
"The Draft is really the setup for a future Super Bowl," Stevens said.
The 2021 Pro Bowl would have been too, held right there inside the jet-black confines of Allegiant Stadium. COVID concerns prompted its cancellation, too. It will be held in Las Vegas in 2022, just months before the Draft hits the city.
Bet $5 Get $200 + Up to $1,050 Bonus
UP TO $1,050 FREE
New User Bonus. T&Cs Apply.
Special for Bets on NFL
Bet $5 & Win $200

$50 Free Bet On Deposit

Up to $1,000 Deposit Bonus
To Claim: Click Play Now
The other fancy new NFL arena already was served at Super Bowl, as Los Angeles' new showplace, SoFi Stadium, will host next season. State Farm Stadium in Glendale, Ariz., gets 2023. Such geographic bunching wouldn't seem to be a concern, as the last three Super Bowls were held in Atlanta, Miami and Tampa. NFL spokesperson Brian McCarthy said there is "no timeline" to announced a 2024 replacement.
"Certainly, certainly Allegiant Stadium is going to have a Super Bowl. It's going to be great," Stevens said. "And I think unlike maybe some other cities that have held Super Bowls, Vegas is going to be the easiest city to ever throw a huge, huge event like that because you don't have the constraints of not enough hotel rooms, you don't have the constraints of bad weather probabilities and things like that.
"Vegas is going to be an easy venue and it will be obviously an over-the-top venue for a Super Bowl down the road."
Just one more year to wait for the trial run.