Star Wars Battlefront II
is one of the most
controversial
video games in quite some time.
The game isn't controversial because it's overly violent or because of some glitch either. Star Wars Battlefront is controversial because of its reliance on selling loot boxes to players.
This led to angry players, who already shelled out $60 for the game. It also resulted in a debate over loot boxes. Namely, whether or not they constitute gambling.
Technically…
Loot boxes aren't new in video games, but Battlefront takes them to a new level.
Players can purchase loot boxes during game play that contain random rewards – some are good, some are not so good.
Even though players can eschew buying loot boxes and receive the same powers by advancing in the game, loot boxes are a shortcut. Moreover, n games where they're prevalent like Battlefront, purchasing them is close to a necessity.
As such, these random in-game purchases are drawing comparisons to gambling. However, these boxes have no real-world value. Players cannot exchange them, sell them, or convert them into money. So, those in favor of the game claim is it is technically not gambling.
The video game lobby (yes, that's a real thing) issued the following statement on the matter:
"Loot boxes are a voluntary feature in certain video games that provide players with another way to obtain virtual items that can be used to enhance their in-game experiences. They are not gambling. Depending on the game design, some loot boxes are earned and others can be purchased. In some games, they have elements that help a player progress through the video game. In others, they are optional features and are not required to progress or succeed in the game. In both cases, the gamer makes the decision."
Belgium leaning towards a ban
At least one jurisdiction is looking at banning loot boxes.
The Belgium Gaming Commission is currently reviewing if loot boxes should be regulated as gambling. The group is also considering a push for an EU-wide ban of loot boxes.
According to Gizmodo, Belgian Minister of Justice Koen Geens said:
"Inserting randomized pay-to-win schemes into video games as equivalent to the "mixing of money and addiction" and thus a form of gambling like video slot machines…Mixing gambling and gaming, especially at a young age, is dangerous for the mental health of the child."
Hawaii on the same page
Closer to home, Hawaii State Representative Chris Lee thinks the state should prohibit anyone under 21 from purchasing loot boxes. Lee and some of his colleagues are considering legislation.
"This game is a Star Wars-themed online casino, designed to lure kids into spending money… It's a trap," Lee said during a press conference.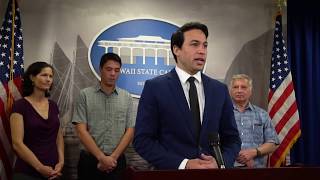 Did the Danes get it right?
The Danish Gambling Authority Spillemyndigheden is taking a less bombastic approach.
In an opinion on loot boxes, the Authority concluded the gaming act does not cover loot boxes. The game only meets two of the three criteria:
There must be a deposit.
An element of coincidence.
There must be a win. If the prize is a fictitious item, it should be able to translate it into financial terms.
The opinion also states:
"The winnings that can be obtained from a loot box in Star Wars Battlefront 2 cannot be converted into financial resources, as the fictional items in the loot box cannot be sold or otherwise converted into money. Therefore, loot boxes in their present form in Star Wars Battlefront 2 are not covered by the gaming act."
The opinion also goes on to say that skin betting does fall under gambling because the items can be traded and sold between players.
UK: Blurring the lines
The UK Gambling Commission largely agrees with the Danish report.
Gambling Commission Executive Director Tim Miller wrote in a statement:
"A key factor in deciding if that line has been crossed is whether in-game items acquired 'via a game of chance' can be considered money or money's worth. In practical terms this means that where in-game items obtained via loot boxes are confined for use within the game and cannot be cashed out it is unlikely to be caught as a licensable gambling activity."
However, the UK Gambling Commission is of the opinion that even if loot boxes aren't technically gambling, these transactions blur the lines. Moreover, it is very problematic when the content is targeting children and teenagers.
Here's what the UK said on that front:
"In early 2016 we identified loot boxes as a potential risk to children and young people as part of a wider review on our concerns around video games and gambling themes, resulting in publication of a position paper.

"[…]

"We are concerned with the growth in examples where the line between video gaming and gambling is becoming increasingly blurred. Where it does meet the definition of gambling it is our job to ensure that children are protected and we have lots of rules in place, like age verification requirements, to do that."
Why the game is a problem, even if it isn't gambling
Loot boxes are the latest in a growing list of pseudo-gambling items that are becoming harder and harder to classify,. As such, they are harder to regulate too.
Much like micro-transactions in social games, loot boxes can become addictive. With little regulation, the fear that teenagers or children might develop gambling problems is a real concern.
There's mounting research pointing to a possible connection between social games and problem gambling behavior. Related is the ability for young people to easily access these simulated gambling games.
A 2016 study titled "Is it gambling or a game?" summarizes the issue thusly:
"In today's digital landscape, potential for exposure to gambling-like experiences far exceeds that experienced by previous generations. Previously exposure to gambling was primarily through traditional land-based venues, involving travel to a venue, complying with dress codes and producing age-related identification. The advent of electronic simulated gambling games means that people today are much more likely to have a realistic gambling-type experience at a young age."
At the end of the day, loot boxes need more oversight than a video game. Even though they may not be gambling, regulating them as gambling might be in everyone's best interest.
[show-table name=cta-golden-nugget]