Two different colts could have had a chance to take the second step toward horse racing immortality on Saturday in the 146th Preakness Stakes.
If you're confused, then you're up to speed. But trainer Brad Cox's decision not to run Kentucky Derby runner-up Mandaloun in Baltimore not only saves the Preakness the complicated storyline, but potentially dooms the Triple Crown.
This is where a last-century sport in dire need of avoiding this-century scandal finds itself after Medina Spirit was found to have 21 picograms of an anti-inflammatory in his system while holding on as a 12-to-1 long shot for as-of-now seven-time Kentucky Derby-winning trainer Bob Baffert.
A second or "split" sample could exonerate Baffert, whose horse has failed drug tests five times in the last year. That could take more than a month, however. Before the Maryland Jockey Club decided that Medina Spirit would be allowed to run with numerous provisions, Baffert announced he would not attend the weekend card. He remains currently banned at Churchill Downs, however. This gave him plenty of time for tone-deaf interviews and excuse-making.
So, in the meantime, Mandaloun, which could be awarded the Derby win with a Medina Spirit disqualification, has a box to check, just in case, in the 1 3/16-mile second leg of the Triple Crown.
Baffert, betamethasone and a trail of excuses
The anti-inflammatory in question, betamethasone is legally generally, but not in quantities more than 10 picograms on race days. Ironically, the infraction occurred in the first Derby run with the anti-bleeding drug Lasix disallowed in any starters. By July of 2022, the Horseracing Integrity and Safety Act is scheduled to lay a federal layer of drug code atop a confederation of state-level guidelines.
The frenzy was unbridled because the trainer was Baffert, a figure as polarizing as he is successful and one of the very few recognizable figures on the few days a year horse racing penetrates the mainstream. The 68-year-old didn't help himself or the sport when he first called the ruling a "complete injustice," then invoked "cancel culture" in a Fox News interview, then tried to pin the incident on a urinating barn worker mucking a stall. Then he issued a statement on Tuesday admitting that Medina Spirit had been administered a balm containing the drug.
It would stand to reason, therefore, that the split sample will not be exculpatory. But that can has been kicked far enough that the general public won't likely notice or care, unless Medina Spirit has a Triple Crown nullified because of it. As it is, no horse has had a Kentucky Derby win stripped because of a drug infraction since 1968.
Let the Preakness betting begin
When: Saturday, 6:50 p.m. ET
Where: Pimlico Race Course, Baltimore, Md.
TV: NBC
Purse: $1 million
Distance: 1 3/16 miles (1/16 miles shorter than the Kentucky Derby)
Conditions: 3-year-old thoroughbreds
How to bet: Local pari-mutuel outlets or online at TVG (which just debuted a major upgrade to its app that bettors will love) or TwinSpires, where betting on horse racing is legally available.
Claim your $300 Risk Free Bet at TVG!
Risk Free Bet Up To $300
Wager Rewards & Live Promotions
Use Promo Code: LSRTVG

Possible Media Spirit disqualification has Mandaloun bettors irate
Bettors have fumed through the past week since the Medina Spirit revelations became public, demanding their tickets on Mandaloun be paid out – whether they knew better or not – that wagers are graded at the end of the race and deemed final.
That's unfortunate for the broader industry, which, government subsidies notwithstanding, owes its entire existence to the good faith of horse racing bettors. On the Derby weekend above all others, some occasional bettor or potential longer-term customer, perhaps in a state where the arrival of legal sports betting has piqued interest, was likely put off. Sports betting in Maryland should be online by the time the next Preakness rolls around.
According to Churchill Downs Corp., wagering from all-sources on the Derby card totaled $233 million, up 85% from the 2020 edition that was moved to September because of COVID-19 measures.
And consider this: $1,352,157 worth of win bets were placed on Mandaloun at 26-to-1.
---
Post Position | Colt | Trainer | Jockey | Morning Line Odds
1. Ram, D. Wayne Lukas, Ricardo Santana, Jr., 30-1
Lukas can tie a Preakness record with a seventh win. Bettors will see his name and remember yesteryear. And others will note Ram son is a Triple Crown-winner American Pharoah and bet it down even though Lukas told Bloodhorse he doesn't have any "grandiose ideas" about the outcome.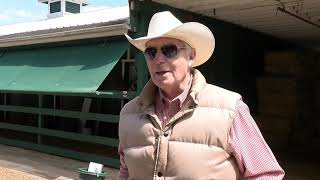 2. Keepmeinmind, Roberto Diodoro, David Cohen, 15-1
Seventh in the Kentucky Derby.
3. Medina Spirit, Bob Baffert, John Velazquez, 9-5
Perhaps you've heard of him. The colt won the Kentucky Derby, but his asterisk is as big a Black-eyed Susan – and kind of looks like one, too – as he guns for the second Triple Crown leg.
4. Crowded Trade, Chad Brown, Javier Castellano, 10-1
One of two Brown entrants, was third in the Grade II Wood Memorial.
5. Midnight Bourbon, Steve Asmussen, Irad Ortiz Jr., 5-1
A hard-charging sixth in the Derby after a bump sunk him to 14th, the son of Tiznow will likely become a hot choice this weekend.
6. Rombauer, Michael McCarthy, Flavian Prat, 12-1
Third in the Grade II Blue Grass with early speed, which might play over the shortest Triple Crown distance.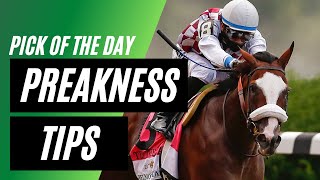 7. France Go De Ina, Hideyuki Mori, Joel Rosario, 20-1
Sixth in the Grade II UAE Derby, the well-traveled colt is actually Kentucky-bred and has a Japanese owner.
8. Unbridled Honor, Todd Pletcher, Luis Saez, 15-1
Newly enshrined Hall of Fame trainer Pletcher has won every Triple Crown race but the Preakness. Saez replaces Julian Leparoux for his first ride aboard the colt.
9. Risk Taking, Chad Brown, Jose L Ortiz, 15-1
Re-directed from a start in the Grade III Peter Pan Stakes at Belmont to owner Seth Klarman's hometown race.
10. Concert Tour, Bob Baffert, Mike Smith, 5-2
Denied a Derby run after a disheartening third-place finish in the Grade II Arkansas Derby, the son of Street Sense is Baffert's second entrant as he attempts to become the all-time Preakness winner (8).