Veteran oddsmaker Johnny Avello left his position at the Wynn in Las Vegas for burgeoning national sports betting purveyor DraftKings.
Jennifer Roberts left the UNLV Center for Gaming Research to help develop the fledgling market opening of sports betting in Tennessee. Danielle Boyd left William Hill, the first British bookmaker to be licensed in Nevada, to become the Tennessee Education Lottery Corporation's vice president of sports gaming operations when Roberts opted for another job in the private sector recently.
Jimmy Vaccaro, another veteran bookmaker, spent half a year giving the new Rivers Casino sportsbook near his childhood home in the Pittsburgh area a push before returning to his longtime post at the South Point Casino in Las Vegas.
Jay Rood went from running 10 sportsbooks on The Strip and three more in New Jersey and Mississippi to joining nationally focused startup Bet.Works as chief risk officer in 2019.
They all had something in common: expertise that was increasingly valuable in a nation where legal sports betting was increasingly a reality and accepted as a mainstream pastime and business.
Avello, whose position allows him to remain in Las Vegas (where DraftKings now has an outpost), articulated it well, saying he made his move because "the whole national gaming scene is going to be bigger than everyone anticipated" and that he embraced the chance to help it get there. He wasn't alone.
Other facets of the national sports betting intelligentsia concentrated in Nevada — where legal sports betting has a 67-year jump on the rest of the nation — have, in ways less noticeable or less formal, seeded their knowledge to other states considering or attempting to launch the industry since the Supreme Court mooting of the Professional and Amateur Sports Protection Act in 2018.
They should be heard, Brendan Bussmann, the director of government affairs for Global Market Advisors told PlayUSA.
"As new jurisdictions look to either start legislation, regulations or operations, they should not try and reinvent the wheel and [should] lean on individuals that have market experience across all levels of the sports betting spectrum. Whether it is a longtime policy adviser, known bookmakers or understanding the operations/economics of sports, there are solid resources that these new markets can rely on as they look to engage the marketplace," he said. "Nevada has been conducting sports betting for decades, and they can serve as a knowledge base just as those as operators that understand the dynamics of working in a legal market. Experience matters and should never be overlooked by those that have actually been in the trench and know market, trends and regulatory structures that allow competition and innovation to thrive."
America's gaming capital is the place to mine for gaming capital
Roberts called Nevada regulators and operators "the old man on the mountain that you go see" when problems arise, but the new vice president of GameCo is surprised that more states, even considering their uniqueness, have not more faithfully mimicked Nevada's regulatory bones.
"I thought that there would be more Nevada influence in states from the start, simply because they have the history and they have the experience," Roberts told PlayUSA, "so I was a little surprised that you didn't see every state trying to model Nevada. And yes, of course, there's always improvements that could be made, or differences. It's going to depend on each jurisdiction. If you have mobile, that's going to be different and with different decision-making.
"I never would advocate for a cut-and-paste model. I just thought there might be a little more Nevada influence than [there] was originally. Now, that being said, I think a lot of jurisdictions did look to Nevada to kind of understand some of the regulatory processes."
David Schwartz, former director of the UNLV Center for Gaming Research, said this is just the latest version of a national harvesting of Nevada know-how.
"I think people who have knowledge of the Nevada market would be very much in demand in a lot of different markets," he told PlayUSA. "So, yeah, I think we would see what you certainly saw with gaming in the seventies, eighties and nineties as that diversified and you saw the exodus from Las Vegas and Nevada. So, yeah, I think you could do that with sports betting."
An even more pronounced trend, Roberts noted, has been foreign sports betting companies hiring domestic expertise to spearhead launches in the United States, including Seth Young, formerly of Foxwoods Resort Casino in Connecticut and now of PointsBet, and Will Green, former senior director of state policy for the American Gaming Association, now at bet365.
Nevada's 'difficult lessons' an education for nation
One industry analyst noted that while Nevada's knowledge base is valuable and "very important at the outset," it's less exclusive each year.
"Mississippi and Louisiana, Illinois and Iowa have 25-year histories in establishing rules for gambling," they noted.
Boyd is a product of that new knowledge base. She joined William Hill US as head of government relations after serving as managing general counsel for the West Virginia Lottery. Tennessee's pending sports betting model will also be run through a state lottery.
Other states, though, continue to benefit from what Roberts called Nevada's "difficult lessons."
"Certainly, you have to look at Nevada just to understand some of the questions like, 'Why do we have a reserve requirement? Why do we have to set aside money?' And you go back to issues that occurred in the 1990s with Sport of Kings, where this group basically took unlimited amounts of wagers and just kind of tried this new, innovative product. And they went bankrupt, which is, you know, pretty unusual," Roberts said. "And so that's how you see why we have some of these regulations and why you might see things like the palpable error.
"I think that's where you can really learn a lot. Nevada has its model for a reason."
Bet $5 Get $200 + Up to $1,050 Bonus
1
UP TO $1,050 FREE
New User Bonus. T&Cs Apply.
Special for Bets on NFL
Bet $5 & Win $200

$50 Free Bet On Deposit

Up to $1,000 Deposit Bonus
To Claim: Click Play Now
Colorado benefiting from Nevada influence
Colorado has quickly begun to fulfill the promise forecast by industry analysts since voters approved a referendum legalizing sports betting last year and the enterprise got underway in May. Costs of entry seen as reasonable by operators have enticed 16 combined online and physical sportsbook operations, including bet365 and BetFred, which are predominantly focused globally. Nevada sports betting now has a successful neighbor in the business.
"Obviously, you have population there, but I think the regulators have clearly embraced and welcomed operators into the state [with] the ease of access and entry into the state. It's not overly taxed, it's not like a Pennsylvania with a $10 million entry fee," Roberts said. "What you have right now is you have new operators that want to enter into the space. You have a lot of competition right now, and this is the best place right now to get it, because Nevada has a huge barrier to entry. Pennsylvania has the big fee. New Jersey, they have a limited number of skins.
"And Colorado, you still have to have some kind of tie-in, but it's much more open right now for entry into the market and to kind of see what the competition is going to bring, because a lot of the other states, you're either single-source through the lottery or there's just a limited number of licenses. This just kind of presented itself as a way to test 'Can [we] survive as a US sports betting operator?'"
Acceptance and participation have been strong, and the state has served as a laboratory for the mainstreaming of sports betting business deals as the Denver Broncos became the first NFL team to secure an official sports betting partner when they announced a pact with BetMGM.
Neighboring Nevada's rules and rule makers have had an impact as a comparison and counsel.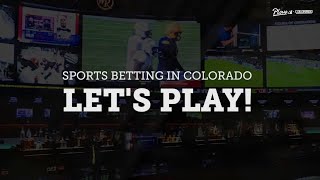 "I think one of the things that Colorado did very well is they brought in a lot of industry stakeholders from Nevada, from New Jersey, from places they identified, 'Hey, these states really did this right, and they were pretty transparent.' They said, 'Anyone that does it right, we want to know what works for you and what doesn't work for you,'" Circa Sports sportsbook operations manager Mike Van Ermen said. "So they accepted feedback, they accepted constructive criticism and said 'We as an industry think this will work and won't work,' and I think Nevada does maybe lag behind in certain technological aspects, such as remote registration and remote funding.
"I think from an operations standpoint, such as consumer protections and things like that, they are probably among the industry leaders. So, I think it's just about taking the best parts from State A and State B and kind of morphing them into an overall regulatory and legislative environment, and I think Colorado did a really good job of that."
In the process, it underscored for Nevada-based operators the ways in which their state needs to modernize.
Van Ermen said his company is "kind of looking at every single state" and "evaluating what our priorities are," but asserted that the availability of remote registration — which is being considered by the Nevada Gaming Commission but is currently unavailable, meaning new customers must register in person at sportsbooks — made Colorado immediately attractive.
"Here in Nevada, with the absence of remote registration, we're somewhat beholden to our physical location, which is on Fremont Street. If you live up in Reno, it's a little bit harder for you to currently get a Circa Sports mobile wagering account and so on and so forth," he said. "But with Colorado, the presence of remote registration, that takes all the physicality out of it, and now, if you compare something from Point A to Point B, we can sit there and say, 'Well, look at our golf odds, look at our NASCAR odds, look at the limits we're taking on the app.'
"We want to compete based on product, and we don't necessarily want to be beholden to a specific location, so something like New Jersey, something like Colorado that has remote registration, now the key factor for a customer can be product, and I think that's where we really shine."