It was a big win for Portland. But maybe not as important as it once would have been.
Whole and healthy for the first time this NBA season, the Trail Blazers held off the Toronto Raptors, 122-117, before a smattering of fans in the Raptors' COVID-19 encampment of Amalie Arena in Tampa last week. The victory could eventually help set them up for a top-four seed in the Western Conference and the home-court advantage that brings. But the traditionally raucous Moda Center still echoes only with artificially generated enthusiasm, as has been the new norm in many venues worldwide since the pandemic changed everything more than a year ago.
Home has its comforts, still. But does it affect outcomes unless those cheers and boos are real, and in force?
Oddsmakers are still trying to figure that out. So are bettors.
"I would absolutely have to factor in whether or not fans are in a building and how many of them are allowed to be in a particular stadium or arena," Randy Lee, winner of the 2019 DraftKings Sports Betting National Championship told PlayUSA. "The weight that they carry also varies depending on the sport, the arena, and the level of competition we are talking about."
Bubbles, empty stadiums, to mostly-empty stadiums
The so-called "bubbles" in which the National Basketball Association and National Hockey League concluded their 2019-2020 seasons during the height of the pandemic provided an unprecedented clinical trial on the benefits of cheering fans in home arenas. In short, they matter.
While there is already a read on some good teams' performance playing in a sterile home atmosphere – think Tampa Bay Rays – how much better would the Blazers be with fans energizing Damian Lillard in the waning moments, or Gerrit Cole in the ninth inning at Yankee Stadium? And how would that affect the markets bettors find on their computer screens and phones in those moments?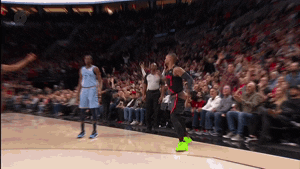 With more NBA, NHL and beginning this week, Major League Baseball teams set to admit fans in numbers unseen since before COVID-19, how that translates into a home advantage is a timely matter.
"I've always taken the approach that we'll adjust as we move forward. But I think what we've noticed is that if there are some fans in the stands, it makes a difference," DraftKings sportsbook director Johnny Avello told PlayUSA. "It doesn't make the full impact of a full house. But if some of these places are going to have a full house, we're going to go back to the full home field or home court advantage for those games.

"If they're at 25%, 10%, we're going to take that number down a little bit."
Avello said that fans impact baseball and therefore baseball betting most with the stands full, noting the din that traditionally builds in the Bronx when Yankee pitchers are working with leads and two-strike counts in the late innings.
"When you think of the New York Yankees playing, when do the fans come into play? They come into play in the eighth inning when the fans are all standing and the pitcher has the crowd behind him, they're really pumped up," he explained. "I think that's when fan interaction really comes into play or in a basketball game when it's the second half and the team is making a run.
"The crowd can really get behind the team and make it make a difference. A smaller attendance will not be as strong."
Avello said DraftKings would likely revert to trusted pre-pandemic formulas for NBA betting – accounting more for the quality of the teams – if franchises are allowed full capacity. Betting on the NHL would be impacted by the same forces.
In some cases, though, some teams, Avello added, "they're just terrible. Case in point, the Timberwolves. They're [6-17] at home, so it doesn't matter."
"There are definitely plenty of professional athletes that have honed their craft so well that when they are at the foul line, all the yelling and hype in the world won't be the reason Steph Curry misses that shot," Lee said. "On the other hand, there are plenty of people throughout sports who can be obviously hindered, or equally as lifted, by the crowd. So there are definitely more careful considerations now with the way things are as it pertains to fans in arenas and at sporting events."
NBA bubble devalued top seeds, says oddsmaker
Andrew Mannino, PointsBet senior sports analyst said that figuring out the value of a home game is "something we've sort of struggled with all year," specifically in an unpredictable NFL season where hosts finished 127-128-1 and sub-.500 for the first time. Noting that the nature of travel and familiarity matter, he acknowledged that fans are part of the equation. NFL Commissioners Roger Goodell wants to return to full capacities as teams set their own reduced or zero capacities this year.
"Guys, they're still sleeping at home. They're still with their families," Mannino told PlayUSA. "So far, right now we think that some fans in attendance does have an impact. But we just have such a small sample size right now that it's not exactly clear what that will be. So we're going to keep tracking the data, keep seeing what's going on, but it looks like it's going to be having an impact.
Mannino pointed to the NBA playoffs at the ESPN Wide World of Sports complex at Walt Disney World last year, where Milwaukee, the top seed in the East, was ousted in the second round and the conference was represented in the final by a five seed, Miami.
"This year, looking at Utah, who could have a home-field advantage through the playoffs, with some fans in the building and on top of that with an altitude factor for their home-court advantage," he observed. "And that's a tangible impact, right? That's a real change to the situation. So I think we're going to see more impact outside of the bubble than we ever did of it."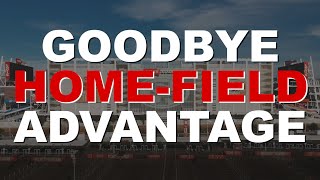 What COVID-19 taught us about fans and home advantage
Everything, and very little, all at the same time. Sports psychologists continue to debate whether supportive onlookers arouse the desire of their team to play better.
But empty stands seem to have nullified home-field advantage in the English Premier League. And in the NBA, teams with fans are holding close to statistical expectation, while those without are wallowing.
"It's an advantage for us," Suns head coach Monty Williams told The Ringer of having upwards of 3,000 fans at home games. "Early on, when we would go to Memphis, Utah, and Houston, you could see the advantage for those teams, having fans in the building. And so for us to have the number of fans that we have, you can feel it."
An analysis by the Harvard Sports Analysis Collective determined that compared to the 'Bubble" campaign of last summer, this NBA season through March 1, with games played in home venues, but without fans, generated a home-court advantage of roughly .88 points. The study concluded: "The home advantage just doesn't seem to have as strong and clear of an effect as it does in past seasons, but may change at the end of the season when we have a larger sample size."
NBA arena capacity allowances are scheduled to gradually increase this season, as is the case in the NHL.
This spring New York officials announced a 10% allowable capacity at in-state venues, marking the first time in more than a year that local teams would hear local fans inform them they were terrible.
The rebuilding Texas Rangers announced in early March, however, their intention to welcome a capacity crowd of as many as 40,158 to their new ballpark for Opening Day on April 5 before returning to social distancing protocols thereafter. They did, and fell to 1-3 before a packed house. Mike Foltynewicz allowing four runs on four hits and three walks in four innings apparently negates positive vibes.
But is doesn't change he broader calculus.
"You think about it, if it was like a back-to-back game, if let's say that the Texas Rangers were playing the Mets in back to back games, which wouldn't happen because the travel's too far, but if they were, when Texas was at home, they get the full home-field advantage and the line would be whoever the better team was plus that home full home-field advantage," Avello said.
"Whereas if they travel to the Mets the next day, who didn't have fans in the stands, the better team would get the higher odds because they're the better team and there would be no home-field advantage. So those lines would look strange. They would almost look the same, to be honest with you, even though the Mets were playing at home."
Even with pitching the ever-present equalizer and "the fact anybody can win any day," Mannino said, he believes home teams in baseball enjoy a preset advantage in batting last.
"So whether there's fans there or not, baseball maintains that sort of pronounced advantage that probably has more of an impact most of the time than any fans cheering will," he said. "It's part of a thousand calculations we're making. And in this situation, what we've learned over the past year is that there's only so much we can do.
"We'll have a conversation in the trading room, we'll come to a consensus, we'll put up a line and we'll listen to bettors, and bettors tell us when we're wrong and we'll move off the action and move the line in response to that and not be too held down to it or too attached or to making certain we say what we thought before, and being willing to listen to bettors and respond to that action is really what we have to do, because with everything so fluid and without the benefit of the statistics that we've relied on in the past of, 120 years of baseball history, we have to be open and fluid in this, in this environment."
Sportsbooks' benchmarks for home edge now moot
While baseball and hockey moneylines will demand recalibration, pre-game point spreads for baseball and hockey remain simple as run lines and pucklines almost always open at least at 1.5 because of the comparatively low-scoring nature of the sports.
"You keep that sort of standard run line/puck line, which doesn't allow for huge variations in the spread," Mannino explained. "Basketball, I wouldn't paint a set number on it. I would say it's a mashup, depending, for sure."
And in the NFL, playing at home is just another data point.
"It's part of a thousand factors that we use to calculate the spread line in the NFL," Mannino said. "All this stuff is going into the spreadsheets that are crunching the numbers. It's certainly a factor. I don't know if it's as cut-and-dried in any case as saying, 'It's three points.' But it's certainly been a factor.
"The old adage of three points for home-field advantage in the NFL is the sort of thing that's not going to survive when we get back to a post COVID world."
When expensive and cheap seats alike are eventually filled with maskless partisans, this period, like that of the Orlando, Edmonton and Toronto bubbles, will provide information. Whether it will be applicable to anything, he's not sure.
Except for one detail.
"I certainly think bookmakers will come out of this more flexible, less tied to their own opinions and more willing to listen to what the markets are saying," he said.