It seems like there is a surprise in at least one category at the Academy Awards every year. And now that you can legally bet on the outcome of the Oscars in New Jersey, predicting what the latest shocker will be at the 91st Academy Awards ceremony on Sunday, Feb. 24, could prove quite profitable.
There are dozens of Oscars predictions available online. Plus, the many different film industry awards and honors handed out in advance of the Academy Awards can be great predictors as to who will take home the Oscar in several categories.
However, even the entertainment press filled with Hollywood insiders gets its Oscars picks wrong sometimes. In fact, surprise Oscar winners have been shocking the world for at least the past 25 years.
This dates back to 1974 when The Honeymooners' Art Carney won Best Actor for his performance in Harry and Tonto over Al Pacino in The Godfather Part II and Jack Nicholson in Chinatown. Shocking moments have continued even to the present with the Moonlight–La La Land snafu in 2017, where the overwhelming favorite to win Best Picture was announced as the winner before it was discovered presenters were given the wrong envelope and a huge underdog actually won. The Academy continues to prove that no one outside of accounting firm Price Waterhouse Coopers knows what's written inside those envelopes until they're opened on stage.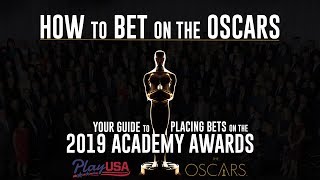 There's value in Oscars underdogs
What that means for Oscar bettors is there may be some value to be found betting underdogs at the various in New Jersey sportsbooks taking Academy Awards bets this year.
The Best Actor category may just prove to be a great example of that.
As of Feb. 8, most NJ sportsbooks had Rami Malek as the big favorite to win for his performance as Queen frontman Freddie Mercury in Bohemian Rhapsody. After all, he took home the Golden Globe award in January.
Malek currently sits at -250 on FOX bet and -210 on FanDuel Sportsbook. However, a win for Malek is far from a foregone conclusion.
The 1974 Carney win is just one example of the Academy going against popular opinion for the Best Actor nod. In 1999, pundits had either Edward Norton winning for American History X or Tom Hanks for Saving Private Ryan. Instead, Italian actor Roberto Benigni shocked them all, winning an Oscar for Best Actor for his performance in Life Is Beautiful.
The Academy seems to have a penchant for giving the acting awards to performers they believe are due and the long shot in the Best Actor category this year appears to fit that bill.
Is Willem Dafoe due?
This year marks the fourth time the Academy has nominated Willem Dafoe for an award. However, he hasn't won one yet. Dafoe's portrayal of artist Vincent Van Gogh in At Eternity's Gate earned him the nomination. The performance earned him Best Actor honors at the Venice Film Festival. But since the Academy has left the film out of the rest of the big award categories, most NJ sportsbooks have him as the big underdog to win Best Actor.
In fact, Dafoe currently sits at +7500 on BetStars and +4500 on FanDuel Sportsbook. That means a $100 bet would win you thousands of dollars at either if Dafoe can pull it off. Even if it is a win that probably wouldn't even make the list of the Oscars most shocking upsets.
PlayUSA's Jessica Welman already put together a list of the five biggest Best Picture upsets in Oscars history so that we won't rehash that here. But suffice it to say pundits have been wrong in this category before and they will be wrong again.
Oscars betting on Best Picture and Director contenders
This year, the Spanish-language film Roma is the odds on favorite to win. The film currently sits at -175 on both BetStars and FanDuel Sportsbook.
The Academy gave the ultimate underdog Rocky the Best Picture nod in 1977. Everyone thought it would go to Network if All the President's Men didn't win. Therefore, no can say with any certainty the other Best Picture contenders this year don't stand a chance. And they are all more attractive bets than Roma:
Green Book (+380 BetStars, +330 FanDuel)
The Favourite (+900 BetStars, +850 FanDuel)
A Star Is Born (+2000 BetStars, +1200 FanDuel)
BlacKkKlansman (+6600 BetStars, +1600 FanDuel)
Black Panther (+1800 BetStars, +1800 FanDuel)
Bohemian Rhapsody (+2200 BetStars, +2000 FanDuel)
Vice (+6600 BetStars, +5000 FanDuel)
Roma director Alfonso Cuaron is at -5000 on BetStars and -900 on FanDuel Sportsbook to win Best Director.
However, knowing that Cabaret director Bob Fosse beat The Godfather director Francis Ford Coppola to win the Oscar in 1973, when The Godfather won almost every other major award, and Dances with Wolves director Kevin Costner beat Goodfellas director Martin Scorsese in 1991, when everybody had Scorsese taking home the Oscar, can anyone honestly say Cuaron can't lose?
Also, knowing you can get directors Spike Lee at up to +1000, Yorgos Lanthimos and Pawel Pawlikowski at +4000, and Adam McKay at +7500, can anyone say betting on the best director underdogs isn't a wise move?
Claim Your $1,250 Bonus at DraftKings Sportsbook
New User Bonus. T&Cs Apply.
DraftKings Promo: Bet $5 Win $200 

PLUS $50 Bonus Bet On Deposit 

PLUS Up to $1,000 Deposit Bonus 
To Claim: Click Play Now

There will always be a few Oscar surprises
Look around, and you'll find long shots in almost every Oscars category. And they come with big paydays if they can pull off the upset.
Remember, there are upsets at the Academy Awards every year. Now that NJ betting is on for the Oscars, it's just about being on the right side at the right time. Right when the thing that wasn't supposed to happen actually does.