This year's Academy Awards is surrounded with controversy. One thing this show has going for it though is that there are plenty of surprises in store. Sure, most of the acting awards are foregone conclusions. But there are several categories without a clear favorite.
One of those categories is the biggest one of all: this is arguably the most wide-open Best Picture race in decades.
In fact, it is history-making. For the first time ever, all of the major guild awards went to different films. That means, dating back to 1989 and the launch of the Producers Guild of America award, there has never been any overlap across the four major guilds. Just look:
Producers Guild of America: Green Book
Directors Guild of America: Roma
Screen Actors Guild: Black Panther
Writers Guild of America: Eighth Grade (original) / Can You Ever Forgive Me? (adapted)
Throw in the fact that the editor's guild backed The Favourite and Bohemian Rhapsody and things get even more confusing.
Best Picture is far from the only category with fierce competition and no clear frontrunners. Several smaller categories are clouded in uncertainty. Let's try to read the tea leaves and see if there any good Oscars betting opportunities as the big day draws closer.
Best Documentary: RGB or Free Solo?
The documentary competition was weird from the jump. The Academy snubbed commercially successful documentaries Three Identical Strangers and the Mister Rogers biography Won't You Be My Neighbor?
That leaves RGB, the profile of Supreme Court Justice Ruth Bader Ginsberg as the fan favorite. However, the technical achievement of Free Solo is winning voters over.
Typically the road to documentary success at the Oscars is to find a fascinating and politically timely subject. That should work in RBG's favor. However, the planning around shooting climber Alex Honnold's solo venture up El Capitan sans ropes is truly remarkable. It is rare to get a visually stunning documentary like this, so maybe voters will award the change of pace.
Given the Academy's complete snub of On the Basis of Sex, the theatrical Ginsberg film, time might be up on RGB mania. It looks like Free Solo has a slight edge.
Best Film Editing: Who makes the cut for Oscars betting?
This race is shaping up to be a three-way endeavor between these films:
Vice
The Favourite
Bohemian Rhapsody
As mentioned, the American Cinema Editors backed the latter two films. Vice won at the BAFTAs, but there is a very important distinction to note. Unlike the Oscars, the BAFTAs have everyone vote on each category. The Oscars only let editors vote on editing.
With that caveat, Vice, which is more the most obviously edited film than the best edited one, is listed as the frontrunner at PointsBet, but we would say that is a pricing mismatch.
Things are much more neck and neck with the other two titles, so we favor betting on Bohemian Rhapsody. The film is going off at +325 to The Favourite's +200, so it is the better value.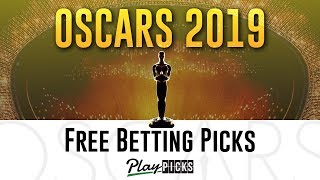 Best Score: The insider and the outsider
The haunting score of Moonlight lost the Original Score award to La La Land two years ago. This year, Academy voters could make it up to composer Nicholas Britell for his work in If Beale Street Could Talk.
There is a promising Option B too though. The Black Panther soundtrack was its own cultural event independent of the movie. To be clear, this Oscar is not for the Kendrick Lamar track "All The Stars" or the other pop songs. Instead, it is for the Ludwig Göransson score.
Göransson is a fascinating nominee. In addition to working as a film composer, he also produces music. He is a credited producer on every Childish Gambino album. In fact, he just took home three Grammy Awards, two for Song and Record of the Year for "This Is America" and one for the Black Panther score.
The Grammys and Oscars don't jive all that often on winners in part because the eligibility windows are very different. As a composer, Göransson is a bit of an outsider to the composer branch, whereas Britell is one of their own who they will likely choose to honor after just missing out in 2017.
Best Production Design
Best Production Design and Best Costume Design are both dealing with the same battle of The Favourite vs. Black Panther. Both films do an exceptional job of creating a sense of place. It seems most likely these awards will split. Costumes will go to Black Panther and its longtime designer Ruth Carter.
That leaves Production Design for The Favourite. Honestly though, both awards are pretty split down the middle according to prognosticators. It is a matter of picking nits to determine how a split might go. The Favourite did get a lot of notices for the recreation of the noble life that infused a lot of thematic elements into the production design, so this seems like one that will go its way. Really though, it is not much better than a coin toss.
Rank
Casino
Bonus
Features
Play
$30 Gold Coin PACKAGE FOR $10
+ Bonus 2 Sweeps Coins Free On Signup
US Players Accepted 
Daily FREE Sweeps Coins Just For Logging In
Redeemable For Cash Prizes

GET 10 FREE SWEEPS COINS ON SIGNUP
+$10 Gold Coin Package on your first Purchase of $4.99
US Players Accepted
Daily FREE Sweeps Coins Just For Logging In
Available on Android App, Desktop, and iOS Web
Redeemable For Cash Prizes
$22.50 FREE
New Player Welcome Bonus
US Players Accepted
$2.50 in Premium Funzpoints at Sign Up
+ Up to $20 Free With Your First Deposit
Best Sound Editing and Sound Mixing
Yes, Sound Editing and Sound Mixing are different things. Let's not dwell on the differences though. These technical awards are all over the map. At first, First Man racked up the technical recognition. After just a handful of nominations though, the film's momentum wilted.
There are also two concert-heavy movies competing for accolades with A Star Is Born and Bohemian Rhapsody. Each has its own technical marvel. In the Mixing category, A Star Is Born earns points for the execution of hearing how the world of a musician with tinnitus sounds, while Bohemian Rhapsody's Live Aid centerpiece is a tour de force.
In the Sound Editing category, it could be a surprise win for the sound-forward film A Quiet Place. The concept allows for sound to take center stage, which could win the hearts of voters while these other contenders cancel each other out.