Penn Entertainment and ESPN announced that their new ESPN BET will officially enter the US online sports betting space on Nov. 14.
The planned debut is still subject to final regulatory approvals, but according to the companies' statement, ESPN BET will go live in 17 states:
Arizona
Colorado
Illinois
Indiana
Iowa
Kansas
Kentucky
Louisiana
Maryland
Massachusetts
Michigan
New Jersey
Ohio
Pennsylvania
Tennessee
Virginia
West Virginia
To promote the launch, ESPN BET released a teaser spot for the new sports betting platform showcasing SportsCenter anchors Scott Van Pelt and Elle Duncan.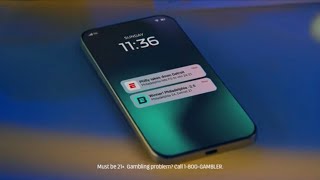 Meanwhile, PENN released financial results for Q3 2023, ending Sept. 30, and noted the future launch is making an impact on the company's numbers.
ESPN BET's Nov. 14 launch coincides with busy sports calendar
The release of ESPN BET results from a $1.5 billion partnership with Disney-owned ESPN, signed in August when the brand replaced Penn's Barstool Sports operation.
The companies planned to choose Nov. 14 for a debut to coincide with the busy sports calendar during Thanksgiving week. Penn CEO and president Jay Snowden commented in a Penn Entertainment press release:
"We are extremely excited to announce the planned launch of ESPN BET prior to the active Thanksgiving week sports calendar that includes the NCAA college football rivalry week and the Super Bowl rematch of the Kansas City Chiefs and the Philadelphia Eagles televised on ESPN's Monday Night Football."
He also emphasized that their ESPN BET product will include an array of popular betting options, including:
Featured bets
Quick bets (micro-markets)
Player props
Same game parlays
Snowden went on to add: "In connection with the launch, ESPN will be implementing an initial wave of exclusive integrations targeting their 200 million loyal fans across their linear and digital platforms, including an advertising campaign headlined by SportsCenter anchors Scott Van Pelt and Elle Duncan.
Looking ahead, we will be introducing even deeper platform and media integrations with ESPN over the upcoming months, providing an unmatched and seamless media/betting experience that will appeal to sports fans across the country."
Summary of Penn Entertainment's Q3 2023 results
Earlier this morning, Penn also announced its Q3 results and held an earnings call. Snowden said the company's property level performance was "stable" in Q3 2023, showing "solid results" from their rated traditional core customer.
Throughout the third quarter, Penn generated:
Revenues of $1.62 billion (34% yearly decrease and almost a 3% drop from $1.67 million generated during Penn Entertainment's Q2 2022)
Adjusted EBITAR of $445.1 million
Adjusted EBITAR margins at 27.5%
The notable figure for the quarter is also a $724.8M net income loss due to the divesture of Barstool in August.
Interactive segment highlights include:
Revenue of $196.3 million (up 24.0% year-over-year)
Adjusted EBITDA loss of $50.2 million
The company emphasized that Q3 results reflected reduced marketing in the US while it was planning to transition online sportsbooks to the ESPN BET brand.
Snowden also noted in the company's earnings call: "Overall, I'm pleased with the strength and resilience of our properties, particularly our casinos in Ohio. Kansas, Massachusetts and Missouri.
The broader stability of our operations and performance this quarter highlights the benefits of our geographically diversified portfolio, as well as new and sustained customer engagement driven by the growth of our database and ongoing investment in our properties."