Welcome back to the PlayUSA Bets Navigator!
Holy Hell! How crazy were those divisional round matchups? For fans of Kansas City, Cincinnati, San Fransisco, and Los Angeles, they were both stressful and glorious. Unfortunately, for everyone else, nothing but heartbreak.
But now, we have arrived at championship weekend. Two games to decide who will be playing in Super Bowl LVI.
First, in the AFC, we have the No.4 Cincinnati Bengals traveling to the No.2 Kansas City Chiefs.
Then, the NFC features the No.4 Los Angeles Rams playing host to the No.6 San Fransisco 49ers.
Each game will have its own storyline. Can Joe Cool and the underdog Bengals take down the legend of Patrick Mahomes? Can Matthew Stafford reach a Super Bowl after all these years? Or, will the Niners' defense be too much for the Rams?
We still have the handy COVID-19 Live Updates page just in case anyone is out for the conference finals.
We don't need to rehash the Bills v. Chiefs game from last week, but if you want to hear our opinion on the NFL overtime rule, check out the HeyUSA Podcast.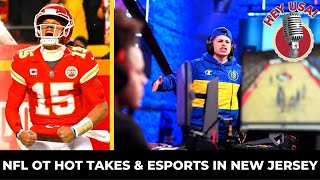 For those needing a refresher, each week, PlayUSA will gather three bets we are watching throughout the NFL betting season.
You should know we are not professional oddsmakers in any way, shape, or form. Although we follow the legal US betting market and NFL odds, this content is strictly personal. In short, we want to have a little fun with it.
Now, let's dive into the conference championships.
Bets we are watching: NFL Conference Championship Round
As we arrive at the end of the NFL season, what a ride it has been. But I said it last week, I'm riding the Joe Cool factor into the ground! Thanks to some last-minute heroics, we missed the Bills v Chiefs spread. However, Cincinnati did upset the Titans, giving me a win on the moneyline bet.
Let's not talk about that 3-leg parlay.
This week's bets come by way of DraftKings Sportsbook. More odds below:
Season record: 8-22
Playoff record: 2-4
San Francisco at Los Angeles
So here are my thoughts. Do I want the Rams to win? No. Can, and should they win? Absolutely.
They have all the weapons necessary to notch a 10 point victory. However, this is the playoffs, and anything can happen. The 49ers defense is hungry, and SoFi Stadium will be packed with Niners fans. I expect this to be a back-and-forth affair.
Remember, this is a point spread bet. The Rams need to win the game by more than 4 points to win the bet.
Cincinnati Bengals over Kansas City Chiefs
Moneyline: +280 Cincinnati
I said I would ride the Joe Cool wave as far as it can take me, and that's exactly what I'm going to do.
Nothing else needs to be said.
This is a classic moneyline bet. Thus, the Bengals have to win the game to win the bet.
Claim Your $1,050 Bonus at DraftKings Sportsbook
New User Bonus. T&Cs Apply.
NFL Promo: Bet $5 Win $200

PLUS $50 Free On Deposit

PLUS Up to $1,000 Deposit Bonus
To Claim: Click Play Now

Tyler Boyd + Byron Pringle + CIN Moneyline
This is what's called a "same game parlay." It simply means all the bets are happening within the same game. There is a function on the DraftKings app that allows you to parlay all three of these legs.
Since this is a parlay bet, both players listed above need to score, and the Bengals need to win the game.
If you enjoyed the above selections, be sure and follow the PlayUSA Picks Navigator each week for more exciting content. Be sure also to check out how I'm tracking future odds for the NFL Offensive Rookie of the Year.
For even more NFL coverage, be sure and follow @VisitPlayUSA | @reporternickg | @brantjames | @dhellingsports for all the latest insights.