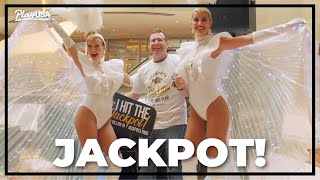 One Florida resident just may have proven that good karma is very real.
Duane Kelloway, a nurse, had planned to drive south from his home in exurban Tampa to play slots on Friday, his day off. His wife, Kelley, talked him out of it.
He had some school work to do anyway, and hours had been long and exhausting in operating room at St. Joseph's Hospital – especially with the increasing volume of patients with COVID-19. So on Saturday, they hopped in their 2013 Ford Taurus, the one with about 200,000 on it, and tooled on down to use up some of their free play earned from numerous other visits to Seminole Hard Rock Tampa.
Around 2 p.m. Kelloway, working his favorite game, a double hit progressive "Oriental" slot was for one second joyous, then terrified. A $2,450 jackpot off a $3 bet flashed on the screen. Then an error message. "Malfunction, voids all." Something had gone wrong, he thought. The body language and the instructions of the on-the-spot casino attendant were different than the few other times something like this had happened.
"She came and said, 'Congratulations,'" Kelloway recalled. "I said, 'Thanks.' And I give her my card and I stand up because they always just reset the machine and she's like, 'I can't do that.'
"And I'm like, 'Why?' She goes, 'This has to be verified.' I tell her I've won jackpots before and they didn't have to verify. She said, 'No, no, this is what they're doing today. They're verifying all the jackpots and you have to wait." I looked at my wife and went , 'Oh, no."
The attendant led the bewildered Kelloway, 50, through the casino, into the high-ceilinged atrium and onto a stage before the golden piano once owned by Elvis Presley.
With his jackpot, Kelloway had pushed the Florida casino past $1 billion awarded in slots payouts for 2021. As of Kelloway's win, Seminole Hard Rock Tampa had awarded 360,000 jackpots to more than 43,000 individuals in eight months. To mark the occasion, Hard Rock would either write him a check for that sum times ten … or he could have the $112,245's worth of 2022 BMW X7 M50i on the side of the stage. He breathed, laboriously, and took the car. And then posed for a lot of pictures. And kept trying to breathe. And eat.
Oh, and Tampa Bay Bucs legend and Hall of Fame linebacker Derrick Brooks was there to greet him. And explain what was going on with the gathering crowd, the stilt-walkers and the Dixieland band.
"I thought I was going to pass out on stage. We've got to something to eat," the blanch-faced Kelloway said. "I feel like my glucose went through the cellar."
Those BMW seats sure look comfy.
ONE OF THE BEST SOCIAL CASINOS IN AMERICA WITH A CHANCE TO WIN CASH PRIZES
Get $30 of Gold Coins for $10
+ Bonus 2 Sweeps Coins Free On Signup
US Players Accepted 
Daily FREE Sweeps Coins Just For Logging In
Chance to Win Cash Prizes