In a board room not far off the New York Stock Exchange floor, Super Group executives Richard Hasson and John Collins tried as best they could to absorb the moment, but remember its place in the company's history.
With a merger with partner Sports Entertainment Acquisition Corporation completed just a day earlier and the plan to take the SPAC public having just come to fruition, they spoke with PlayUSA about how the group that owns the Betway and Spin gambling companies would pivot into its next chapter.
Betway, Spin, long-term partnership and more
Question: What's it like to finally get this done?
Richard Hasson: I think the big moments have been built up over the last 20 years. It's a milestone after milestone, it's brick by brick, building the business across the globe. Of course, now that it is a listed business. It's putting together the work of thousands of people over many years and today is one day.
Today's perhaps the end of one chapter, but definitely, the beginning of a very, very exciting chapter ahead, long-term, continuing executing on our strategy. And, yeah, perhaps with a brand-new platform, being a publicly-traded business, but continuing doing what we have been doing.
John Collins: I would just say, having spent now nine months with Richard and [CEO] Neal [Menashe] and really gotten to know them and their business, that's been great. But being here today with them and their colleagues at SuperGroup – many have been together for 10,15, 20 years and have built this into nearly a $5 billion company – it's a very humbling experience. And it's a real privilege to be part of it.
I've been to the New York Stock Exchange before. When I worked at the NFL and the NHL, you'd come in and kind of ring a bell, but it never really had that emotion as it does watching guys who are seeing the culmination of a lifetime of work. But are still ready to keep to throttle down for the next 20 years.
Do you get to ring the bell, then get a souvenir cup and a T-shirt or something?
RH: Our CEO rang the bell for the opening of the market, and I think we perhaps get a token medallion. A really, really exciting milestone that's one of many, but a really exciting milestone and it's one that's going to kick-start into the next chapter.
What is that next chapter?
RH: I think a lot of it like I say, we have access now to the public equity markets but as we've done for the last 20 years, it's continuing to build the business, say market-by-market, milestone-by-milestone, continued improvement of the product, continuing understanding about customers through data.
It will be a number more markets being launched, a number of improvements to existing markets and effectively continuing to execute on the strategy, the one the strategy that's got us here today. And the strategy that's going to continue helping us build the business of the long-term into the future.
How has the Betway partnership with the NHL benefited you so far, and vice versa?
RH: So I think that the NHL partnership, there was one with the Stanley Cup and there's also a number of team partnerships. And those form part of a portfolio of over 65 brand partnerships around the world. The way Betway is really unique is that it's a single brand across the world. So it's one sports brand regardless of which market and, of course, it's operating in many, many markets.
When you look at those 65 partnerships – there are more than 65 now – that's across numerous sports and numerous eSports. Of course, NHL is one, but there's NBA, there's soccer or football or tennis, there's eSports. There's numerous different partnerships around the world and that really has helped build the global brand that Betway is today.
Of course, branding is just one part of the marketing spend. It's supported by numerous other channels and we have a multi-channel very coherent very data-driven marketing strategy and the brand is a key part of that.
We've heard for years that eSports is going to be the next big thing as far as a betting market. Do you agree?
RH: We were one of the first movers in eSports a number of years ago, and we have a really, really strong product and a really incredible eSports-focused team. For us, we have, in a month, up to around 3 million customers. And for us, it's about being able to give each customer around the world exactly what they're looking for.
This business is not about one market, it's not about one sport, as an example. eSports, it's a part of the portfolio. It's definitely a growing part of the portfolio. And it's something that teams have been working on for years. And for us, I say it's another product, another offering that our customers like and we'll – as we do with all our products – we'll continue to find ways to enhance the eSports product as we continue to grow.
What was the thinking behind the new long-term partnership with Genius Sports?
RH: Within the platform, we take a number of external content. So, if it's data feeds or if it's casino content, say, stocks as an example, table games, of course, on the sportsbook, where Genius fits in, we bring a lot of data into our product.
And then what we do with that data in terms of how we differentiate because we have our proprietary trading team within the business. They will take that data and they'll use that data to provide customers with the types of markets, type of offering that they are looking for. We've been working with Genius for a number of years and we will continue to use it.
Where do you see the online gambling market going?
RH: We focus on the globe. We hold licenses in 25 jurisdictions and the history of his business over 20 years. On the gaming side and over 10 years on the sports building side, and when you look at where the business stands today. We're roughly 50/50 split between the Betway offering and the Spin offering.
And for me, we look at each market individually, where we have an opportunity to have both Betway and Spin live, so regulation-dependent, licenses-dependent, then that's what we'll do. A casino customer or gaming customer is a very different customer to a sports betting customer.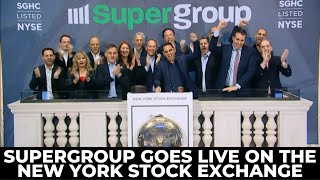 Do you agree with the Wall Street Journal story saying SPAC's are dead and investors want their money back?
JC: I read that article. It was an interesting one, but I think it actually underscores some of the value that Super Group brings to the public market. It talked a lot about, sort of these high-flier revenue companies where profitability was five or 10 years down the road.
We've been at it since April. That's what the market has begun to understand about SuperGroup. They're global they've got the casino, as well as sports betting. They have the operational scale, the decades of experience, but they're high-growth and they're in a high-growth sector, but they're already profitable.
So these guys are making money every single day and that really is a differentiator in the whole gaming sector. And it's a differentiator from other companies that have gone public via SPAC.
We've seen it in sort of a shareholder base: a lot of retail, a big international following because the international guys, in many cases, they know the story a little better, maybe even better than some of the US investors, and then some really long-term thinking institutionals.
Look, I think long-term. As Richard says all the time, this is just the beginning, So we're not really focused on the next week or day of trading. It's more of a long-term play.
NOTE: On Feb. 23, Super Group reported revenue growth of 36% to $1.52 billion in its preliminary 2021 full-year results.