If you can't make it to the 2023 World Series of Poker in Las Vegas, there's no reason for you to miss out on at least watching the action. PokerGo will again provide a live stream of the Main Event table this year for poker fans.
Although the Main Event is the biggest draw, PokerGo's content around the 2023 WSOP doesn't begin or end there. PokerGO has made a new deal that will allow app users to get even more out of the experience.
PokerGO publicizes 2023 WSOP content details
Caesars finalized the 2023 World Series of Poker schedule about three months ago. The 54th iteration of the event will run from May 30 through July 18. The two Las Vegas casinos hosting the tournament are Horseshoe and Paris Las Vegas.
Part of the preceding announcements was that PokerGO would again provide live coverage of the games on its app and website. PokerGO has now finalized the details of that coverage plus additional coverage. According to an April 13 press release, PokerGO plans to provide 47 consecutive days of coverage.
The content will focus on the Main Event, running from July 3 through 17. There will be other live coverage, including 30 unique WSOP gold bracelet events like the $1,000 Ladies Championship and $250,000 High Roller tournament.
The release states that the majority of the content will be exclusive to PokerGO's app and website. PokerGO has apps available not only for Android and iOS devices but Amazon Fire TV, Apple TV, and Roku as well. However, some of the live content will also be available on PokerGO's YouTube channel.
Between live streams, there are other ways for poker fans and players to engage with PokerGO. Those options just saw an increase.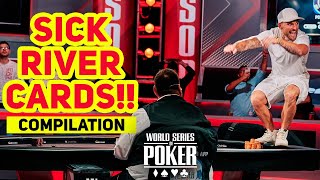 PokerGO takes a seat at GTO Wizard's table
An April 26 press release shares the details of a new partnership between PokerGO and GTO Wizard. GTO Wizard is now the official strategic partner of PokerGO. PokerGO President Mori Eskandani spoke about its value to poker players and said:
"Poker strategy is constantly evolving. It's highly evident through watching PokerGO content that the game is much different than it once was and today's poker viewer is more savvy than ever.

With its state-of-the-art platform and forward-thinking approach, GTO Wizard is truly the best of the best. As we continue to advance our content at PokerGO, the partnership with GTO Wizard allows us to provide enhanced access to industry-leading tools that can help poker players take their game to the next level."
Among the strategy tools that GTO Wizard provides to users are:
Hand history analysis
Coaching
Practice modules
Study plans
Combined with the live streams of WSOP hands, it's an impressive opportunity for poker enthusiasts to expand their knowledge.