Andrew Cuomo probably didn't realize he was indulging in a bit of local political tradition, nor that he might be stoking a debate that continues to grow with the legal sports betting industry in the United States.
Bet on US Politics with PredictIt and claim your $50 Free
1
$50 FREE
When you deposit $50
$50 free on $50 Deposit
Bet on US Political events
Use Promocode: PREDICT50

The Democratic governor of New York was, in the moment, simply engaging in a colloquial response to a frequent adversary when he refuted Republican President Donald Trump's boast that he could carry Cuomo's very Democrat-leaning state against presidential rival Joe Biden.
"Whatever he wants to wager on his winning New York, I would like to take him up on it," Cuomo said at a news briefing in early September. "So, if he is serious … the old expression [is] 'Put your money where your mouth is.' How much do you want to wager you're going to win New York? You're going to lose New York. Why? Because those who know the president the best like him least."
Whatever Cuomo and Trump can work out among themselves is their business, because they can't meet at one of the eight New York casinos currently taking sports bets and belly up to the counter, or in the District of Columbia and handle it on their phones. A great photo op lost.
Currently, there are no legal American options for bettors to wager on politics at sportsbooks. That said, there is quite a bit of interest in US election betting markets, and there have been many efforts over the years to reverse its illegal standing.
Although betting on political elections pre-dates the country and was active as a form of polling, influence-peddling and entertainment until just before World War II, it's banned in the United States. There are moral arguments and integrity arguments and those who contend that politics are a sacrosanct American act even as election betting — including on American races — remains wildly popular globally, particularly in the United Kingdom.
That doesn't mean those on both sides of the aisle and ticket window aren't interested. A Nevada lawmaker attempted to introduce a bill to allow betting on politics in 2014 but got nowhere.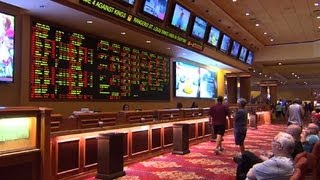 FanDuel CEO Matt King told Yahoo! Finance in 2019 that offering bets on the 2020 presidential election was a company goal.
"We would love to offer politics. Frankly, we like to offer games that everybody loves to play. Our parent company, Flutter Entertainment, does a huge business on the Betfair exchange with political betting," he said. "So, the reality is it's just a question of: Will it be allowed from a regulatory perspective?"
Oddsmakers like Jimmy Vaccaro and Johnny Avello continue to lobby for its legalization, with Vaccaro regularly commenting on elections on Twitter and posting "for entertainment purposes only" odds.
But both admit it's not likely coming any time soon. Offshore bookmakers gladly soak up all the business Americans care to offer, but using these sites puts the bettors at great risk.
Former New Jersey Gov. Chris Chris Christie, who helped tip the first domino that allowed sports betting to become a legal possibility nationally, wishes that would change.
"If the regulators believe that they can handle it in a way that's appropriate … people are doing this stuff anyway," the Republican said at the Global Gaming Expo in 2019. "This is the joke of this: People are betting on presidential elections, people are betting on the Oscars, they have office pools and all the rest of this stuff. So this stuff is all going on anyway.

"… I don't know how much more interesting presidential politics could be other than it is right now, but if they think betting makes it even more interesting, I don't have any problem with that."
Support is not universal in the industry, however. Circa Resort & Casino CEO Derek Stevens told PlayUSA that although he is "more indifferent," he doesn't "know how it would benefit anyone" and would therefore oppose political betting being legalized.
"When you see these offshore lines of US presidential betting and things like that, I really don't take them all that seriously. They're limited-action markets, basically [a] small sample size, and I don't believe it's really a true market," he explained. "I mean, the wagers that they take are not that large, so the variability and the quick movements of probabilities in the odds on presidential betting, it's not something that I currently take very seriously.
"If the question then comes to would I be supportive of it in the United States? I would say I would be someone that would lean against [it]. I don't necessarily know that it's a positive thing for our country."
What could political betting look like in the United States?
Victor Matheson, an economics professor at the College of Holy Cross who studies the gambling industry, doesn't believe there would be enough volume to energize bettors, who are becoming conditioned to slates of games and in-play markets. But Avello sees value in political betting as a futures market.
"The presidential alone will generate just a tremendous amount of handle, even if we did it this late in the game with only a few months ago," Avello told PlayUSA. "When you do a proposition like that, you can put up 'Democratic against Republican Party' and you can book that for four years. I think that there's just a great opportunity in doing it now."
Matheson's point, though, is bolstered by the premise that the 1939 legalization of horse racing in the political betting hotbed of New York was a factor in the demise of electoral wagering in that state. This was because bettors had multiple chances to wager every day on something else.
Still, Avello envisions a breadth of markets similar to a sporting event.
"There's just so much. I think about it. I mean, not only the presidential election, we can get into so much more, A versus B, electoral votes and electoral votes for particular states," he explained. "And then do it in a particular state. It could just be a whirlwind of action.
"It hasn't been done … [but] t was close to being done."
It was, sort of, by FanDuel, in West Virginia, but only for about two hours in April before state officials shut down the market, citing a misunderstanding from the operator over their approvals. State officials said there were none, and West Virginia Secretary of State Mac Warner later called political gambling "a terrible idea."
"One of our competitors tried to do it in West Virginia for like about three minutes before it was shut down. That was a step in the right direction. I was hopeful that was going to happen, because we would have been right behind him with it," Avello said. "It didn't happen. We'll see. We're still pushing, and I'm hopeful for that."
However, Avello worries the backlash from the fitful start might have pushed back regulatory and philosophical acceptance further.
"I didn't like it," Avello said of the reaction within the political and industry spheres. "I'm just hoping that we can pick this up at another time. Certainly not now. The climate's not right now."
Bettors have wagered on popes, presidents, parliaments
Many other countries have bet on significant political happenings in past centuries (not in the United States, but elsewhere, and for a long time.)
Italians were wagering on the outcome of papal conclaves in the 1500s. Irish bookmakers laid odds on the victor of the American Revolutionary War. Sometimes it was for money; sometimes "freak bets" were settled through acts of hazing.
English politics and gambling have long been inexorably linked, with markets as granular as the composition of incoming Parliaments springing up in betting parlors and the parlors of aristocrats taking tea.
According to historical works cited in "The Long History of Political Betting Markets: An International Perspective" by Paul W. Rhode and Koleman Strumpf, a common phrase in English politics in the 1800s was "bet or be silent."
According to one observer of the times, "As far back as the reign of William the Third, foreigners had observed that, on matters great and small, the only sure test of English opinions was the state of the odds."
The tradition immigrated to North America with English colonization, becoming entrenched until just before World War II, when legislation followed public sentiment and other forces in banning it. An estimated $160 million was wagered on the 1916 US presidential election, underscoring how dollars followed opinions and passions in politics as in sports.
From "The Long History of Political Betting Markets: An International Perspective":
"First, pivotal elections energized these markets. Not only would important contests lead to greater betting activity (such as the 1916 U.S. election or the 1948 Italian race), it could even lead the markets to re-emerge from extended dormancies (as with the 1964 contest in Britain). Alternatively, there was far less betting in periods of political apathy or one-party rule (such as in the 1930s and 1940s when the Fianna Fail party dominated the government of the Irish Free State and Republic of Ireland). Second, while newspapers were often uncomfortable reporting on domestic markets, they were less averse to stories on political markets abroad. This likely reflects the moral uncertainty surrounding election betting. Third, there was a general parallel between Britain and the U.S. in terms of a rapidly changing but generally unfavorable legal environment and their disappearance around the start of WW II."
Political betting had also taken on a utility beyond speculation or the backing of a boast, with the movement of presidential election betting odds and others serving as a predictor of public sentiment before straw and exit polling arose with companies like Gallup.
Though American television has no equivalent of Ron Pollard, the Ladbrokes bookmaker who offered election-night analysis on British television, the affinity for media in the United States to equate politics and sports has created comparable figures. Prominent among them is Nate Silver, an avid poker player/data scientist/political pundit, whose FiveThirtyEight website is a Venn diagram of sports, politics and, at times, gambling.
Another thing that doesn't make any sense about betting markets is that their state-by-state odds are very close to 538's projections but their national projections are quite different. https://t.co/qpmkmQfImF pic.twitter.com/Yy9OXpC5N5

— Nate Silver (@NateSilver538) September 5, 2020
Bet $5 Get $200 + Up to $1,050 Bonus
UP TO $1,050 FREE
New User Bonus. T&Cs Apply.
Special for Bets on NFL
Bet $5 & Win $200

$50 Free Bet On Deposit

Up to $1,000 Deposit Bonus
To Claim: Click Play Now
How can Americans legally speculate on election betting markets now?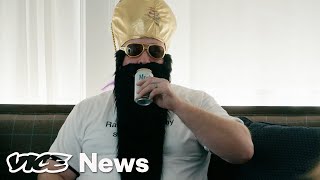 Though political betting is illegal in the US, there's some clever nibbling at the edges, as with DraftKings' free-to-play pool that poses questions as to the presidential winner and which states Trump and Biden could win.
DraftKings and FanDuel each offered similar fantasy contests for the Biden-Bernie Sanders Democratic presidential debate in March, with both registering more than 50,000 entries.
UK-based exchange-betting platform Smarkets, which claimed $4.6 million in handle on the presidential election as of Sept. 3, has aspirations but no regulation for an American launch.
BallStreet Trading, whose stock-market-style platform offers free-to-play contests on various sporting events with $2 and $5 payouts, also has dabbled in it.
PredictIt boasts a slew of political celebrity endorsements, mainstream media credibility as an ancillary method of polling and a loophole to allow money to be ventured without being classified as gambling. Like the Iowa Electronics Market, PredictIt's association with academia affords it special dispensation from the US Commodity Futures Trading Commission, albeit with rules limiting the wagered amount.
PredictIt users are offered a raft of propositions with binary choices priced by market forces. On any given day, these markets could range from the margin of victory in the New Hampshire gubernatorial primary to whether Speaker of the House Nancy Pelosi becomes acting president on Jan. 20. ("No" shares were trading at 93 cents, "yes" shares at seven cents on Sept. 9).
https://www.reddit.com/r/predictit/comments/fl2xis/so_is_this_site_easy_money/
But that's currently the extent of it. And with less than half of the states offering sports betting and the culture of this uniquely American version of the enterprise still figuring itself and its potential new customers or opponents out, that's how it looks to stay for a while.
Avello is perplexed. Bettors want it, he said. Politics is of interest to millions who may have never placed a bet before.
And it's not like political betting should have integrity concerns, he said. A politician is less likely to tank a debate at the behest of gamblers than a kicker to intentionally shank a point-after.
So Avello and his like-minded peers are left to ponder the possibilities.
"I think I selected the correct pope back a few years ago at about 8-to-1," Avello chuckled. "So I hope the presidential election is something that we do sooner than later.
"Maybe a nice parlay. … You could parlay the pope with how many puffs of smoke."
That, too, is very much up in the air.