The high-profile acquisition of William Hill US by minority owner Caesars Entertainment further reveals just how much gaming companies are willing to spend to access the burgeoning American sports betting market — and just how misguided the involved valuations may currently be, an industry analyst told PlayUSA.
In a deal announced in late September, Caesars would pay $3.7 billion for the elder sports betting operation that turned attention away from its United Kingdom base in the face of toughening regulation. In the process, it was revealed that Caesars already owned 20% of William Hill and had threatened to nullify that relationship had William Hill accepted another takeover bid, speculated to be coming from Apollo Global Management.
Company Chairman Tom Reeg acknowledged at the time that the deal was constructed to "complement Caesars' current offering, enabling the combined group to better serve our customers in the fast-growing US sports betting and online market."
The deal is one-sided, said Gaming USA Corp., CEO Alan Woinski.
"It's a great deal for Caesars. When they first made the deal, I was one of the few people that came out and said 'That sounds like a much better deal for Caesars than for William Hill,' because the reality is whether it's William Hill, whether it's DraftKings, FanDuel, they're all making lousy deals," Woinski said. "They're making deals for market share almost as if we're in a mature industry instead of this high-growth industry."
Added Woinski, "It's a brilliant deal for them, and they kind of boxed William Hill into a corner. They had no choice but to say yes to them, because otherwise, if they went with Apollo or somebody else, they lose Caesars, which is a good portion of their US business."
The deal is expected to attain approvals in 2021, with Caesars raising $1.7 billion through equity offerings and applying $1.3 billion in cash.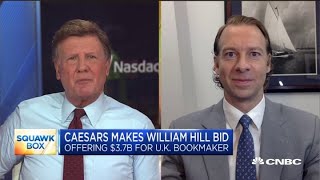 Other industry analysts see the deal as a balancing of an equation in which Caesars owning just 20% of William Hill was a poor proposition for the megacompany formed after merging with Eldorado Resorts in July. Still, added Woinski, "it's pretty dangerous that there are deals being made like this with public companies and nobody sees these minor details [like the previous 20% stake]. William Hill shareholders, at least, lost a billion dollars because of how low that offer is."
Woinski said another beneficial aspect of the deal for Caesars is its plans to sell a European wing of William Hill that figured to be valuable considering the mature markets it serves and its lengthy standing there. Despite announcing plans to close 119 betting shops in the UK and being beset by changes to taxation, betting limits at kiosks and public perception, William Hill retains value, Woinski said.
"They're kind of taking something here that's not going to cost them anything," Woinski hypothesized. "They already own 20% of William Hill US. So they're buying this thing for [$3.7 billion], but then they're going to sell the European assets. And if you believe some of the analysts, that's almost worth the entire amount. Now, they just did an offering where they raised $2 billion, of which they're paying down debt. So they're going to save so much on interest expense by the time that deal would close. Then, in essence, they're getting William Hill for free."
Sports betting companies staking claims as markets open
The inconsistency in how sports betting laws are drawn by individual state regulators makes for a complicated planning process for sports betting companies. Numerous executives, including DraftKings Chief Executive Officer Jason Robins, have noted that while they support state-level versus federal regulation, the patchwork process makes entering a state more complicated.
New Jersey requires a sports betting company to be tethered to a casino. Tennessee is the first to offer only online betting, because there are no casinos in that state. There is a multitude of variations in between. DraftKings and FanDuel were able to avoid 18-month waiting periods to launch their online products in Illinois by partnering with license holders with retail shops.
The trend, Woinski said, will continue, permeating all levels of the sports betting industry. He mentioned Full House Resorts, a Nevada-based company favorably rated by stock analysts that leases sports betting access to properties in Colorado, Indiana and Mississippi to operators such as William Hill, Bet America and Wynn.
"There's a tiny little company called Full House Resorts that is losing their shirt on their casinos. And they're only afloat because they get about $7 million that sports betting and online casino companies paid them to get their skins," Woinski said. "That's pretty ridiculous, because it's going take a lot of money, a lot of betting to make $7 million for some of these companies, because sports betting is not this high-profit business that everybody thinks it is. And that's why FanDuel just announced their preliminary third-quarter earnings and they were actually horrible. They spent $200 million to take in $130 million in revenue."
For companies, sports betting garners more attention than dollars
Sports betting has long been regarded as just an amenity by gambling executives, a low-margin enticement to draw customers into casinos with the hope that they might buy a beer, play a hand of poker or, ideally, sidle up to a high-revenue slot machine. The sports part of it is the key, as those companies attempt to make bettors of fans.
The proliferation of online and mobile sports has been wielded as a boon for state budgets and the campaign to root out illegal bookmaking, but it can also serve as the bridge to online casino play. When the COVID-19 pandemic shut down North American sports and casinos and hammered the sports betting industry, online casino play mushroomed in popularity, and so did online poker.
But this new revenue stream, Woinski said, has not been as mesmerizing to gaming executives as the potential of the sportsbook. Caesars, whose sports betting platform had already been run by William Hill, is just the latest example.
"People that have been in the casino business for a long time are just astounded by what they're seeing, because it was always the same thing, whether it was poker, whether it was sports betting, it was there just to bring people into the casino to make money in the casino," he said. "So a guy like Tilman Fertitta from Golden Nugget, he says it point blank: 'I have sports betting online just to get people into my online casino. He knows he's not going to make money on sports betting."
Prospects of sports betting growth titillates the industry
Sports betting has been legalized in 23 US jurisdictions and is currently underway in 18 states and the District of Columbia. Populous states like California, Texas, Florida and, to some extent, New York, because it lacks mobile wagering, remain on a game board being carved up like pre-World War I Europe.
According to an American Gaming Association report, a record $2.19 billion was wagered in the United States in August. That will only inflame the process.
Vixio Gambling Compliance estimates that online sports betting alone will be a nearly $6 billion industry by 2024.
"They're making deals for market share without even a thought of the profits or what happens to them in the future. It just makes no sense at all, because we're only in maybe the third inning of a nine-inning game for the growth of sports betting in the United States," Woinski observed. "Imagine what this is going to be like in two or three years."
Brendan Bussmann, governmental affairs director for Global Market Advisors, described the sports betting industry as being in the "first quarter" of mergers and acquisitions. He described the Caesars deal as "expected as Caesars looks to expand its reach in the space and the pre-existing relationship between the two companies."
Added Bussmann: "In a fast-moving sector, the acquisition of customers is key as the expansion moves across the country, and part of that is shoring up your brand with a solid operator and reach into the market."
Jamie Dimon, CEO of JPMorgan Chase, described it to Seeking Alpha this way: "Companies that grow for the sake of growth or that expand into areas outside their core business strategy often stumble. On the other hand, companies that build scale for the benefit of their customers and shareholders more often succeed over time."
Barstool and Penn National a catalyst in recent partnerships
Woinski said the Penn National acquisition of 36% of Barstool Sports "kind of threw everyone off," expediting an industry trend toward conglomeration by potentially repeating how DraftKings and FanDuel brought massive user bases from daily fantasy to sports betting, and being able to "eat everybody's lunch" immediately after the Professional and Amateur Sports Protection Act was mooted in 2018.
"So the thing starts off, and FanDuel and DraftKings just … kind of just took everything. The Rush Street guys, they were trying, they were putting up a good fight because they have great software, they do their own software and everything, but they don't have the database that DraftKings and FanDuel have," Woinski said. "When Barstool and Penn struck that deal, that changed everything, because Barstool has such a big fan base. And it just neutralized FanDuel and DraftKings. The difference is Penn is not going to give away the store. Penn's too smart to do that. And they don't have to, because they got David Portnoy, a built-in PR guy.
"So then everybody started scrambling, and now Caesars struck the deal with ESPN and they're thinking they can do it that way."
Bussmann agreed, saying, "Data truly is king as long as you execute properly with it to expand into a market to attract customers into the legal market.
"As new markets emerge, the path to launch varies by operator between those that are land-based and [have] been in the market for some time, those that have existing data-based from fantasy or free to play and those that are new market entrants," he continued. "Acquisition is key, and operators figure these costs per player into their market launches, especially those in a competitive and dynamic market."
Claim Your $1,050 Bonus at DraftKings Sportsbook
1
New User Bonus. T&Cs Apply.
NFL Promo: Bet $5 Win $200

PLUS $50 Free On Deposit

PLUS Up to $1,000 Deposit Bonus
To Claim: Click Play Now

Caesars and William Hill have massive reach
Caesars' presence in states where sports betting has yet to be legalized — 16, including California, Louisiana and Maryland — could provide a hedge against the advantages DraftKings, FanDuel and Barstool bring with their legions of loyalists from daily fantasy and bro-centric media, respectively. Barstool's marriage with Penn National, which operates 41 gaming or racing properties in 19 states, is a synthesis of both approaches, but William Hill offers brand-name gravitas, according to a Seeking Alpha analysis of the deal:
"The move on sports betting is an extension of a core strategy to command more of the total gaming wallet of every customer on the database as well as new ones attracted to the Amazon-like customer centric approach: Everything you want in gaming, we have. Every transaction, be it the casino floor, the sportsbooks or on mobile, is easier to process. Because you can get an A-to-Z set of gaming products from a single source, your patronage is more highly prized. Your service will be as attentive and warm as we can make it.

"And the true test of fame, as we've often noted, is this: How do you know when someone or something is truly famous? Answer: When, after you repeat the name, you do not need to say what it is or what it does. So anywhere in the world, say the name Caesars and you do not have to explain that it's a gambling business. No other operator enjoys that deeply etched stamp in the leisure sector.

"First-to-market movers are important as sports betting emerges in new jurisdictions. Marketing dollars are becoming the largest variable in cost to operations. Some operators want to focus on acquisition through aggressive marketing with the goal of making money in years three to five, while others want to be slow and steady in looking at the long-term race. At some point, it will come down to revenue generation over marketing dollars, and those that take the initial gamble will need to show a payoff worked."

"Data, innovation, and conversations are the keys to any sports betting operator successfully interacting and retaining customers. Some operators feel that they can market the way to do this, while others are also investing in the longer-term play not just through marketing but also innovation. While it is too early to tell which strategy is the best bet, operators should be focusing on the long-term reward and not just the short-term fix."
Woinski said that if the deal receives final approvals, he expects Caesars to follow the same tack as Golden Nugget, which is using sports betting as another tool to crack into an increasingly lucrative online casino market in the United States.
"They're going to use the sports betting to push through more online gaming because they have online operations now in every state that's legal," Woinski said of Caesars. "They're obviously the biggest regional casino operator now in the United States, so as online gambling expands, they are going to be able to use this more and more.
"In the meantime, they were already getting a percentage of the revenue on the sports betting. They've already been doing the operating with them, so there's not going to be really any change there."
Woinski said he was unsure if there are prospects for expansion at Caesars, considering its current national reach. He expects the company to fortify at the properties level instead of affiliating with other retail partners as digital-forward DraftKings and FanDuel have done to gain market access.
"They're the opposite," Woinski said of Caesars. "They go in and they buy casinos. And all they do is exploit how lousy the properties were managed beforehand. Then they can increase the profits by like 20% within six months.
"So I think they're going to use this to drive their business more and more, and in different ways. They have the physical presence, they have the online presence and now they're going to have the online presence with the sportsbooks. So it's just all going to be about volume and how they can take that volume and turn it into profits."