The NBA Playoffs are underway, and fans across the country are about to get a heavy dose of Charles Barkley.
The former Philadelphia 76ers rebounding machine and NBA Hall of Famer is part of a new ad campaign from FanDuel called "Think Like a Player." The ads encourage bettors to gamble on same-game parlays.
FanDuel Executive Vice President of Marketing Andrew Sneyd said in a statement:
"We're excited to tap into the energy of the NBA playoffs as well as the fanhood for Charles. This campaign will not only cement FanDuel's place in the conversation of brands that are adding to the sports experience but continue to give us the opportunity to flex our creative muscle and demonstrate how we're reaching our target audience in unique ways."
FanDuel became an official NBA sports betting partner in November 2021.
Sports betting commercials feature a Barkley deep fake
FanDuel's new ads involve two Barkleys. The current Barkley, a firebrand NBA analyst at TNT, enlists his younger self, "Young Chuck," to help fans "think like a player" when placing a same-game parlay bet.
FanDuel is offering a special promotion along with the ad campaign. New customers get $150 in bonus bets when they make at least a $5 bet.
According to the company, it will roll out more ads throughout the playoffs, with the final spot coming during the NBA Finals.
This isn't Barkley's first time appearing in sportsbook commercials. "The Round Mound of Rebound" starred in DraftKings Sportsbook commercials in 2018.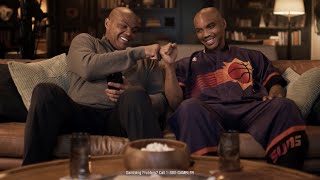 How FanDuel's same-game parlay bet works
Same Game Parlay allows users to place bets on multiple outcomes of a game. For example, a customer could bet put together the following same-game parlay for a Kings-Warriors matchup:
Total points in the game
1st-half spread
Total points in the first half
Total points from the Kings in the second half
FanDuel's Same Game Parlay also has a plus version, that allows bettors to link parlay bets from two separate games, increasing the potential payout.
Stringing the bets together as one leads to bigger payouts if each leg of the parlay hits, but if one leg doesn't hit, then the entire parlay loses.
Barkley is the latest sports personality to join FanDuel's ranks
FanDuel's lineup of brand ambassadors, spokespeople, and ad cameos is a long one. Previous to Barkley, the company featured former NFL tight end Rob Gronkowski in its Super Bowl ads.
Former ESPN co-anchor Lisa Kerney is a regular in FanDuel commercials and the company's More Ways to Win show.
Last summer, the company rolled out a series of golf commercials featuring Abraham Ancer, Will Zalatoris, Harold Varner III, and FanDuel spokesperson Jordan Speith.
As for NBA-specific content, FanDuel launched Run It Back late last year. The show features former NBA forward Chandler Parsons and former ESPN radio anchor and SportsNation co-host Michelle Beadle. The pair discuss NBA storylines, key matchups, and other league-related chatter.