Cryptocurrency's moment in the national consciousness continues. It's evolved from ethereal money-but-not-money-because-I-can't-hold-it into something more conservative investors have been forced to seriously consider.
Stock prices for Bitcoin, the market leader and most recognizable platform, soared past $50,000 per share on the NASDAQ in February, minting fringy speculators as millionaires.
The amount of information for the devoted and the curious to absorb is overwhelming because the cryptocurrency revolution is part finance, tech, and to some, borderline religion. And it changes hourly, meaning there are more questions than answers. But oh, so many opinions.
Will the blockchain technology that underpins crypto emerge as the main benefit as a means of online security? Can economies utilize multiple forms of currency like basketball shoes, beer and big-box stores? What will we even be able to buy with this stuff? What if it all just goes away? For that matter, is the environmental impact of mining it even ethical?
Weighty issues, very much in real time. There are equally many questions about whether cryptocurrency could or should be applied to online gambling. With operators inclined to move away from the handling of dirty green paper on casino floors and betting windows – a philosophy supported by the American Gaming Association and certain to be propelled by COVID-19 mitigation procedures – a digital currency would seemingly fit perfectly. ATMs already dispense the stuff.
But then there's the possibility of criminality, specifically money laundering, with a currency made of code that is years ahead of state and federal regulations.
PlayUSA distilled the debate down to its simplest equation – pro vs. con – and enlisted decidedly pro-crypto Andrew Barber, a professional poker player finishing his PhD in economics at UC Santa Cruz, Jason Ader, a gambling industry analyst and managing partner and CEO of SpringOwl Asset Management LLC, and decidedly-con Victor Matheson, a professor of economics at The College of the Holy Cross.
The pros of cryptocurrency and online gambling
Barber is a self-described 'Hodler,' an acronym born when an inebriated investor in 2013 posted on a message board that he was 'hodling' his Bitcoin portfolio despite one of many market spasms. He meant hold. But it stuck, and the term has since been back-filled with the slogan "hold on for dear life." Barber doesn't gamble with crypto, but he takes payment in it. And he hodls what he can find.
Bitcoin, he notes, has a major edge over its numerous competitors – including Dogecoin, Ethereum and Litecoin – in that its practitioners believe it's governed by the Lindy Effect, meaning that the longer something has existed, the greater the likelihood it sustains.
"So every time it survives a crash, it's a little stronger," Barber said. "It seems to be anti-fragile to all of these crashes and all of the press negative press about it."
Recent developments in the almost-post-COVID-19 landscape allude to a belief in that strength although most of the leading gambling companies in the United States remain officially noncommittal. Actions are speaking for them, though. In January, International Game Technology received a patent for a means of transferring cryptocurrency from an individual wallet to an online casino loyalty or rewards program.
In March, Atari SA – the French holding company that owns the iconic American video game brand – announced it will launch an online casino in concert with Ethereum blockchain. The company, which is still reconstituting after a 2013 bankruptcy, will feature Atari-themed games and non-fungible tokens (NFTs), which will, according to Bloomberg, "can be leveraged to earn more digital currency."
Even websites that chronicled the gaming industry, like CoinGeek, are becoming crypto media.
Something's happening.
"Many people I know who have acquired Bitcoin have acquired it through cash-outs from casinos and, to a certain degree, I guess that is kind of money-laundering, that you might deposit in cash or credit card and then cash out via cryptocurrency," Barber told PlayUSA. "I guess, kind of, this gets into the criminality aspect, but I think it's easier for casinos or online casinos to work with cryptocurrency rather than having to go through banking regulations or what have you. Most people I know who are cashing out, I mean, these are poker players, but I think the same applies to any form of gambling, that online casinos are making it easier to cash out with cryptocurrency."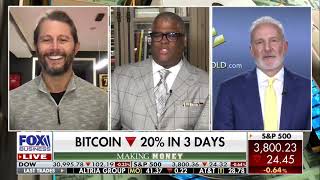 Will the online gambling industry naturally follow into crypto?
"I don't see it being used for commerce. I know it's not a great use-case. I think it can make sense for large purchases," Barber added. "Tesla is accepting it for cars. And I've heard of people transacting real estate with Bitcoin. But I don't think that's going to be the use-case. I think that the market is supporting the thesis that in the last few months, it disrupts gold. I think gold is the safe asset class. If you don't want to be in cash, you want to be protected against inflation and you don't want the risk premium associated with equities, I think that you'd go into Bitcoin. I think you'd go into Bitcoin instead of gold and silver."
Ader predicts the use of cryptocurrency will expand after watching the attention that online casino Roobet, which utilizes BBI crypto, gained as an entertainment platform.
"It has gotten a lot of influencers, YouTube influencers, sort of streaming gaming on Roobet via Twitch, big YouTubers streaming on Twitch," Ader told PlayUSA. "It's a hundred percent cryptocurrency. It works pretty well.
"It's a small segment of the market now, but cryptocurrency is becoming much more mainstream. Forget the price, It's being accepted in more places. The banking industry started to accept it. It's relevant. It's on PayPal. It's small, like just esports is small, but esports is growing. I'm not convinced on Ethereum and Litecoin and all these other sort of iterations, but Bitcoin is, I do think, will grow in relevance in online gaming."
So, is the gambling industry a natural fit as a crypto adopter?
"Yes," Ader said. "And that's a good thing for those that love Bitcoin. It's not such a good thing for taxing and banking authorities. So there needs to be a balance. it becomes a very, very fertile ground for money laundering and that's not a good thing."
REGISTER TO CLAIM YOUR FREE SWEEPSTAKES COINS
15 FREE SWEEPSTAKES COINS
With a Gold Coin Package
US Players Accepted
$9.99 Gold Coin Package Includes 15 SC
Daily FREE Sweepstakes When Logging In
The cons of cryptocurrency and online gambling
In some ways, Barber admitted, the nature of the unhackable logs of code that underpin the belief in crypto make it less-than-perfect for online gambling. Operators speak at length about reducing the "friction" that players encountering while funding, playing and withdrawing, and cryptocurrency simply is not built speed.
"There's things that it does really poorly, like, I think it's not a great medium, especially, for things where you need to have quick transactions," he said. "In transfer, the transactions take like a decent amount of time because they have to be confirmed three times. And even if you pay high transaction fees, that's still going to take a non-trivial amount of time, half hour, an hour."
Matheson, who describes cryptocurrency as "a horrifically stupid, stupid currency compared to every other currency in the world" sees criminal elements benefiting from its broader adoption in the economy in general.
"My sense of Bitcoin has always been that it's only real function is to hide money. It's the only possible real function of that. It's the only thing that Bitcoin does well that other currencies don't do as well," he told PlayUSA. "And every other thing about Bitcoin is, it's awful, right? It's wildly expensive to make. It's totally illiquid. It's really hard to buy stuff with it. It costs a few cents to print a $100 bill. It costs hundreds and hundred dollars of electricity to a mint a hundred dollars worth of Bitcoin. So it's a horrifically stupid, stupid currency compared to every other currency in the world.
"The real practical application, where it actually has an actual function is to hide money and a huge number of those of those people trying to hide money are not trying to do it because they're trying to escape [something nefarious]. They are drug-runners or they're people-runners or they are evading taxes or any of these other things. And of course, gambling fits into that pretty well. Gambling has long been a very effective and widely used way to launder money and hide money. I don't think Bitcoin is going away. not because it's, it has any uses in actual money. It's a terrible money, terrible stupid money but there will always be criminals and thieves and it, and it is an extremely useful product for criminals and thieves."