Earlier this week in Las Vegas, Nevada, Daniel Negreanu was in contention to win his seventh bracelet in the World Series of Poker $1,500 Eight-Game Mix event.
In the end, Negreanu had to settle for third place, but he most certainly learned something from the experience.
You are going to make a lot of mistakes. Learning nothing from those mistakes is the mistake.
The above quote comes from Negreanu's new MasterClass on poker trailer.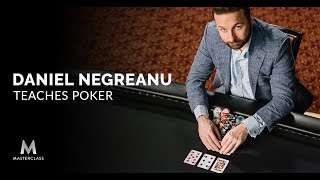 The Poker Hall of Famer announced this week the launch of a new poker class. The poker MasterClass is designed to help players with a solid understanding of the game get better at the game.
Negreanu joins a star-studded cast of instructors online at MasterClass. MasterClass is an educational platform offering online courses taught by the greatest masters in the world including:
Christina Aguilera
Martin Scorsese
Wolfgang Puck
Bob Woodward
Shonda Rhimes
Learn how to play poker from Daniel Negreanu
Negreanu has never shied away from sharing his opinion and advice, especially as it relates to the game of poker. In the MasterClass, Negreanu commits to sharing new strategies and tactics that he has never shared before.
Poker players with a fundamental knowledge of the game may want to pay close attention. It's rare that an old-school player breaks out new tricks, but that is precisely what Negreanu has done.
Negreanu stays relevant in an ever-evolving game because he continually seeks to improve and learn. He admitted to himself last fall that he was getting outplayed.
Negreanu hired a couple of coaches and worked on his game for three months towards the end of 2017. He was putting about 20-25 hours per week into learning new concepts and advanced game theory. He basically took his game to a new level.
The results of his learning are paying off – big time. In his first tournament following his coaching sessions, Negreanu finished second in a $100,000 buy-in poker tournament at the Bellagio for $936,000.
He has made a combined six final tables at the PokerStars Caribbean Adventure and US Poker Open to start the year. Just before the beginning of the World Series of Poker, he placed second in the Super High Roller Bowl for $3 million.
Claim Your $50 Free at WSOP
$25 Free On Sign Up
$25 Free On First Deposit
100% up to $1,000 On Deposit

Use Bonus Code: 25FREE
What poker players can expect to learn in the masterclass
"The course itself is not exactly a beginners course, but what they've found works is not offering something ABC," Negreanu said. "It's more effective to give people a little bit more. I'm discussing stuff I've never shared publicly before. A little bit on physical tells and we're going to get into body language, which is not something I've typically done before. Plus we're going to talk a little bit about ranges — how to break those down — and think about the game from a more game-theory approach."
The course costs $90, or customers can choose an all-access pass for $180 per year to all of the MasterClass courses. Inside the Negreanu's MasterClass, players will find:
Over 33 video lessons
A downloadable class workbook
Office hours where Negreanu answers student's questions
"I've never been involved with a more high-end production in my life. The Masterclass team is world class. My Masterclass isn't for rank beginners, it's for those looking to understand the new age approach to the game," Negreanu said to PlayUSA.
Students should plan on spending a minimum of 15 minutes a day over a minimum of a 30-day period to properly instill the intermediate and advanced concepts into their game. The curriculum covers:
Tournament strategy
Betting tactics
Bluffing
Hand ranges
Theory and math
Why should a poker player want to learn from Negreanu?
Negreanu's list of accomplishments is the stuff poker player's dreams are made of. Negreanu isn't resting on his laurels, though. Teaching is just one more way Negreanu is working to stay at the top of the game.
In an interview with ESPN, Negreanu said:
I've always loved watching the light bulb go off for people. You're explaining a concept, and they're looking at you like, 'What in the world are they talking about?' And then when they get it, and you see the aha moment, that's really, really fun. And it's fun for me to think of ways that I can communicate it, in such a way that the person understands.

When I started, you had to do the hard work on your own; there was no easy road map to teach you exactly what to do in every situation. Today, that software is available. … It escalated the complexity of the game to another level. That's where MasterClass is different. For people who watched the poker boom in 2004, not even the top players understood these concepts. Introducing a new way, similar to what these kids are learning on computers, and explaining it and teaching it in a way that is more easily understood, and I believe I'm uniquely qualified to do that.
There is a famous saying by George Bernard Shaw, "Those who can, do. Those who can't, teach." In Negreanu's case, he is able to both "do" and "teach." That is indeed a rarity in the industry.