The development team behind Norfolk's proposed casino has submitted its development certification application to the city.
The developers are applying for the first phase of the Virginia casino project, more than a year after it was initially supposed to open.
The developer released new renderings of the project yesterday. They revealed that the overall project of the Headwaters Resort & Casino would include a hotel resort with a pool and an entertainment venue.
The project would be built in a parking lot adjacent to Harbor Park, home of the Norfolk Tides minor league baseball team. But for the project to move on, the city must sell the land to the developer.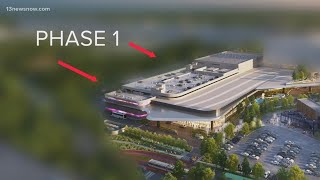 Phase one to include a 90,000-square-foot Virginia casino
HeadWaters Resort & Casino represents a partnership between the Pamunkey Indian Tribe and Tennessee magnate Jon Yarbrough.
In a joint announcement from Wednesday, the companies said the application is for developing the "initial phase" of the project. It also shows a vision of their overall resort casino.
According to a WAVY news article, Jay Smith, HeadWaters' spokesperson, said phase one will include:
90,000-square-foot casino with a 45,000-square-foot gaming floor
A 4,500-square-foot sports bar
A 5,000-square-foot lobby
In its master plan renderings, the company shared plans for a future entertainment venue and hotel at the site next to Harbor Park.
Phase two would incorporate the resort with a 300-room hotel.
Next steps for the Virginia casino in Norfolk
The development team says the city will only sell 5.28 acres of the 13 acres until the final site plan is submitted. HeadWaters also hopes to receive a temporary casino license before the opening of the entire project.
Followed by the city council, the city's Architectural Review Board and the Planning Commission will have to review the application. Once the casino plan gets the city's approval, it could take up to two years for the tribe to build the permanent casino.
Norfolk voters okayed the development of a casino in a 2020 referendum vote. Since then, the city and developer have been negotiating the project's next steps.
The new casino's main competitor will be Rivers Casino Portsmouth across the Elizabeth River, which has been operating for about five months.