Two ads. Not that big of a deal. Two Super Bowl ads? A much bigger deal, and markedly more expensive.
These particular 15-second DraftKings Super Bowl LV ads, which will put the daily fantasy and sports betting behemoth on the biggest national sports stage for the first time are worth skipping the cheese tray over on Sunday. The ads will air on the big day, while the ones included in this article are either recent or older, just for context.)
Granted, the notable absence of traditional heavyweights such as Coca-Cola, Budweiser and Pepsi from the heavily anticipated Super Bowl ad lineup already clears the deck for DraftKings' pitch.
But the company's position as both a DFS purveyor and legal sports betting outlet with the greatest national reach – 14 states – will make this an interesting study in balance.
DraftKings' ads will tout a free-play pool, but sports betting will come quickly to mind for many viewers, even if their state hasn't legalized it yet. And that seems like part of the calculus.
DraftKings co-founder and president Matt Kalish said in a statement to PlayUSA, "As an Official Partner of the NFL and Super Bowl LV, DraftKings is thrilled to be the first in our industry to run national Super Bowl spots," and although these spots are for a pool, he noted to AdAge that since the resumption of team sports following COVID-19 lockdowns, "there's tremendous momentum in not just fantasy sports, but also sports betting, which is … rapidly expanding throughout country."
With DraftKings spreading into those states with it, especially those with mobile and online markets, its 30 seconds will be a timely refresher on the brand for potential customers who don't currently play DFS or wager much more than Super Bowl squares on an NCAA Tournament pool.
Landscape crucial as DraftKings enters Super Bowl ad mix
The timing, said Victor Matheson, a Holy Cross economics professor who studies sports and gambling, is therefore perfect. "We've seen a huge expansion of legalized sports gambling. Most of the states are at least contemplating legalizing it, so that's a totally different environment," he said. "There's a difference between advertising beer in 1926 in Prohibition and advertising it 10 years later and once it's lifted. so that's one thing.
"A second thing is, they're not the only vice that advertises during the Super Bowl. Budweiser has been kind of the king of advertising during the Super Bowl – although they're not doing it this year – and they concentrate their ads on not advertising sloshed drunken freshmen after their 30th beer. It's always followed with a 'drink responsibly' sort of tagline. It's a different world and of course it's perfectly possible to advertise sin products pretty successfully during the Super Bowl."
The Super Bowl spots, produced internally and hosted by familiar company presenter Jessie Coffield, will air in the second and third quarters to promote a fourth-quarter prediction pool with fare such as last touchdown-scorer and yardage markets, according to AdAge.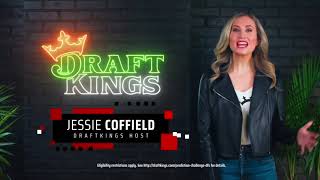 All entrants are assured a prize from $3 to $25,000 with a winner share of $1 million.
How could ads differ from vintage DraftKings spots?
The ads figure to be much more tame than the edgy offerings that irritated television viewers because of their content and volume six years ago as DraftKings and FanDuel battled for national supremacy when space in the wording of the Unlawful Internet Gambling Enforcement Act of 2006 allowed DFS to mushroom into a billion-dollar industry. It could also spark a furious grab for customers.
According to commercial tracking service iSpot.tv, DraftKings and FanDuel bought the equivalent of a national television spot every 90 seconds for 21 straight days preceding the 2015 National Football League season, with DraftKings purchasing 41,064 commercials for $131.6 million and FanDuel 22,058 for $75.4 million. They had combined to purchase around 22,000 total in 2014.
Researcher Bandwatch reported that 76% of FanDuel's spots and 75% of DraftKings' were viewed negatively by audiences at the time.
Stung by the backlash and how it eased numerous state attorneys generals' public perception effort in their attempt to crack down on the industry as gambling, both companies vowed moderation and the American Gaming Association devised an advertising self-regulation "code of conduct" for stakeholders as sports betting began to proliferate.
But companies will still fight for what is being realized more and more as a lucrative legal sports betting pie. The content of DraftKings' Tennessee sports betting commercials have been heavier on local pride than snarky pitchmen in tweed jackets as it competes with five other operators for market share there.
But University of Memphis associate professor and gambling observer Cody Havard told PlayUSA that the frequency of sports betting ads in general, was "like every commercial break," though he noted BetMGM and FanDuel as the most ubiquitous.
Choosing tone, tempo key in marketing anything
Eric Bradlow, Professor of Marketing, Statistics, Education and Economics and Chairperson of the Wharton School Marketing Department at the University of Pennsylvania, said the key is segmentation, or "choosing your target customer."
"This at times comes with alienating those who would potentially buy your product or service," he told PlayUSA in an email. "DraftKings, like any company, should think about the differentiating attributes of its product and service that are attractive to its customers."
Funny. Timely. Not intrusive. Alluring. Quite a dance.
"That happens with every ad, right? You always have the possibility of oversaturating things where people just get sick of it and say, 'You know, I'm never drinking another Budweiser again if anyone says 'Wassuuup?!' to me one more time," Matheson agreed. "Knowing when to pull it while it's fresh and before it becomes annoying is probably one of the things that a lot of time and energy has gone into in the marketing world."
Super Bowl could presage big DraftKings year
A bite of the national apple culminates a heartening week for the Boston-based company. First, Google announced it would allow sports betting apps for download on its Play Store beginning March 1, then DraftKings' stock prices twitched up 9% on Friday when an ARK fund began buying in.
But the national sports betting handle skewing ever-farther toward online and mobile – and therefore toward DraftKings' strength – is what really puts the company on solid footing heading toward its cameo, Matheson said. It's a different company, he said, with a different trajectory since those 2015 days of models twerking in togas and voiceovers by Ed Norton.
"That's why DraftKings is in this great, unique position, and I don't think people thought this a few years ago. I think a few years ago people were saying, 'Oh, this is a clever way for a startup company to get around the betting problem, the illegal betting issue," Matheson said. "But now they already have people with their app on the phone and the world is not about fantasy football.
"The world's about DraftKings becoming a comfortable enough thing for people that people are making all of their sports bets on DraftKings. It won't be about becoming king of your league. It'll be about putting $10 on the Celtics versus the Pistons on Wednesday night."
DraftKings has 30 seconds to make its case on Sunday.