The US casino industry definitely caught the skill-based gaming bug.
From Atlantic City to Las Vegas, and from North Carolina to Oklahoma, casinos across the nation are placing skill-based games on their casino floors.
And those machines only represent the first wave of skill-based games too. The next generation of skill-based gaming products were on display at the recently concluded Global Gaming Expo.
Moreover, ne of these next-gen machines recently made its debut in a casino. It is the TriStation by Gamblit Gaming, seen in the picture and video below.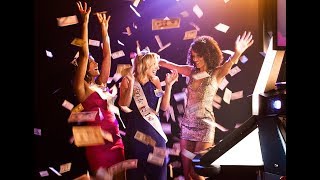 According to the press release "Gamblit's TriStation hardware offers a fun and engaging experience where single-players can choose from six exciting skill-based video games that are a blend of Gamblit-created original content and popular partner games."
"We are incredibly excited to launch our second line of hardware and six new games onto casino floors," said Eric Meyerhofer, founder and CEO of Gamblit Gaming.
Early feedback is positive so far.
Games available on TriStation
There are currently six titles available:
Into the Dead®– PikPok developed this fast-paced zombie shooter. This global sensation with over 72 million downloads arrives on casino floors where players shoot zombies to stay alive.
Catapult King® – Developed by Wicked Witch, this worldwide smash hit with more than 35 million downloads comes to casinos. It is a highly engaging physics game where consumers launch shots and topple knights to come out on top.
Lucky WordsTM – This is a Gamblit-developed word game. Players use their wordsmith skills to chain letters, form words, and win in quick 30-second rounds.
Match 3volutionTM – This one is a Gamblit original for puzzle game lovers. Players put their skills to work by evolving adorable creatures in this dynamic match-three adventure.
Smoothie BlastTM – A wildly fun Gamblit match-three title where players swipe fruit to make the best smoothies.
Slice of CakeTM – A Gamblit-developed fast and furious slashing game. In this one, users slice ingredients to bake the ultimate cake.
According to a Gamblit spokesperson, the company will add more games over time. Gamblit also pulls from a list of proprietary and partner games that includes the following titles:
Cut the Rope
Jetpack Joyride
Doodle Jump
Playboy Pinball
Breakneck
Road Redemption
High Orbit
Caesars and Gamblit
After a cup of coffee with GameCo's skill-based machines in its New Jersey casinos, Caesars Entertainment seems to now be in a more committed relationship with Gamblit Gaming.
Planet Hollywood was the first casino to debut Gamblit's multiplayer Model G™ gaming tables in March. Caesars then added the tables at several other properties.
The TriStation debuted at Planet Hollywood. Following a successful field test, Caesars will install it at other properties, including:
Caesars Palace
Paris Las Vegas
The LINQ Hotel & Casino in Las Vegas
Caesars Senior Vice President of Enterprise Gaming Melissa Price commented on the partnership in a press release.
"Part of Caesars Entertainment's ongoing commitment to gaming innovation involves taking risks and investing in new product offerings that we believe give our customers original and exciting experiences. Gamblit's TriStation game machine is an exciting venture because it's the first time that individuals can play some of their favorite video games on a casino floor."
"Caesars has been a fantastic partner who understands the need for innovation and reaching new consumers already on the floor. With our great range of games at launch, we think the TriStation™ hardware truly offers something for everyone," Meyerhofer added.
Per Jeff Hwang, the following casinos have TriStations on the floor:
Planet Hollywood
The Venetian
MGM Grand
Level Up at MGM Grand
Photo by littlenySTOCK / Shutterstock.com
[show-table name=cta-caesars]