A stroll along the two-mile distance of the National Mall is easier these days. There are not as many joggers, tourists or federal employees scouting out favored lunch spots in the sun or shade.
Swiping through a phone with impunity is much less likely to result in a collision along the many steps from the Federal Triangle Metro stop to the Washington Monument.
There's time to throw together a playlist, answer email or trade some stock. Since May in the District of Columbia, there's also been time to make a legal sports bet, although finding sports playing games during a pandemic was problematic for months.
That's not the only problem. In DC, more than any of the other states and jurisdictions where sports betting is legal and underway, where you are when attempting to bet matters. And the borders of the District are just part of it.
In the convoluted ecosystem of the legal DC sports betting market, lottery platform Intralot holds the monopoly everywhere except where pro sports franchises have been able to carve out enclaves around their arenas. So far, that's just the denizens of Capital One Arena, most notably the Washington Capitals and Wizards.
But while the GamebetDC app has the monopoly everywhere else, it's not actually everywhere else.
That's why the Lakers -7.5 in the NBA Finals over the Heat, however enticing, was no longer an option as the Washington Monument loomed larger on a particular October day earlier this month.
In a jurisdiction seemingly as laced with places where betting is forbidden as it is legal, GeoComply, the company charged with geofencing bettors to prevent wagering where it is unlawful, has found in the ninth year of its existence what vice president of regulatory affairs Lindsay Slader deemed "probably the most challenging geolocation use case we have encountered."
Everything is complicated in the District of Columbia
The District of Columbia is a 68.3-square-mile inverted cube cleaved by the Potomac River and wedged between Maryland and Virginia. These are states whose commuters increased its workday population upward of 80% via train, bus and notoriously crunching rush-hour traffic before coronavirus shuttered the office buildings and monument grounds. Government parklands surround national icons and obscure swathes of grass, setting the aesthetic of the world capital but creating a technological dilemma for the regulators and operators attempting to run a sports betting market within its borders.
Margins are tight for GeoComply, which uses a combination of location methods including Wi-Fi and cell tower identification to ensure wagering is conducted according to legal regulations.
According to the DC Lottery sports betting rules executive director order, "Class A Operators or the District over the internet, or through mobile applications, one hundred meters beyond their respective inclusion zone boundaries" will be allowed to account for "slight variances in location data and accuracy."
But sports betting cannot be conducted on these federal lands, which comprise almost 29% of the District, meaning there can be no wagering on the Capitals while strolling the "monumental core of the District, along the Potomac waterfront and Rock Creek Park," according to the DC Lottery. That also includes the tiny triangular patch of grass at 16th St NW and New Hampshire Avenue NW, as DC law allows no buffer zone for federal lands.
GeoComply noted that vice president of government relations Elizabeth Cronan said that her company is "compliant with these boundaries," though, adding, "We have sophisticated capabilities to effectively geofence or restrict any exclusion zones pursuant to regulatory requirements."
"The geography of DC and the nature of the sports betting law has led us to develop and deploy innovative solutions. We are constantly refining our product to improve the consumer experience and to ensure that mobile sports betting remains in full compliance with DC and federal laws," she said in an email to PlayUSA. "Our technology is extremely accurate and allows us to geofence right up to borders and to handle exclusion zones of all sizes. We don't just do this in DC but in every state where precise geolocation isn't a suggestion, it's a requirement."

https://www.youtube.com/watch?v=w0vSEVgGk2I&t
DC sports teams become betting purveyors
Slader, telegraphing the complicated nature of the District project, described it last fall as "definitely technically possible, but not necessarily technically feasible or particularly user-friendly."
"There's a lot of quirks that they built into the DC legislation. That came as a surprise to us, given all the technological challenges," she said. "We'll definitely be able to block users who should be blocked, but ensuring that every individual that is in an eligible area … there may be all kinds of circumstantial factors for that user and that moment in time and where they are and what device they're on and inside, outside, where are they traveling, to make it pretty difficult.
"The District itself is seven by 10 miles. It's pretty small. It's people commuting in and out of the District."
Under DC law, operators possess a zone of exclusivity in a two-block radius of sports venues if they have partnerships with teams. William Hill aligned with Monumental Sports & Entertainment to open the nation's first in-venue retail betting parlor in Capital One Arena, where the Capitals (NHL), Wizards (NBA) and Mystics (WNBA) play. The Nationals do not yet have a partner.
The DC United MLS franchise in February entered into an accord with Caesars Entertainment that would include opening a sportsbook at Audi Field. The DC Lottery has also formulated the exclusivity zone for a proposed 35,000-square-foot entertainment venue near Nationals Park, which could serve as the baseball team's retail sportsbook site.
Slader predicted in the fall that exclusivity zones could be a source of consternation. Capitals owner Ted Leonsis sees sports betting as a new form of digital engagement, but a friction-filled user experience entering and leaving his geofenced perimeter could be off-putting once fans are allowed back in the arena for games.
"I just can't even imagine, for the user or even the operators, the challenges that they are going to be faced with trying to figure out how to market to their customer base, but also help them understand that the apps are only going to work in the stadium or the two blocks around, and you're going to have to switch to a different app because you crossed the street," she said. "How do you send those messages to the user when they're walking out of the zone to say, 'Well, our app only works here' and then when they're thinking, 'Well, I thought I could play everywhere. Another app?' It can be quite confusing if you're riding a train into town and you're going in and out of these federal areas, exclusion zones on different apps."
Dissatisfaction with the mobile options in the District has sent bettors flocking to the physical Caesars Sportsbook in a converted restaurant at Capital One Arena. The DC experience has not lived up to what GeoComply CEO David Briggs suggested at the Global Gaming Expo a year ago could become a source of envy for those scrutinizing in-venue sports betting as a revenue stream.
"Every legislator or team owner that goes to Ted Leonsis' Capital One Arena, if they see a wonderful sports betting experience which enhances the entertainment value of the game and the environment," he said, "if there's a nice cash experience and nice remote experience and they go away to their state or their team and their stadium … they're going to say, 'I want this here too.' "
Claim Your $1,050 Bonus at DraftKings Sportsbook
New User Bonus. T&Cs Apply.
$50 Free On Deposit

PLUS Up to $1,000 Deposit Bonus

To Claim: Click Play Now
Geofenced borders still important even when DC's neighbors can bet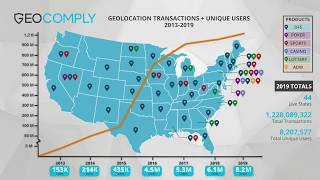 Even with Virginia hashing out sports betting regulations and Maryland legislators showing signs of moving toward legalization, tracing a bettors' location will matter in the future if DC eventually allows for competition with the widely panned Intralot app.
"I think we've seen for DFS, there are some states that have different taxation requirements, where if you are a resident of one state but you are physically located in another state at the time you enter, say, a DFS contest, there may be tax implications for the operator in both states, just having you as a customer," Slader explained. "I'm sure there are a lot of scenarios like that. Right now we are already helping operators deal with some taxation challenges. An example: New Jersey, where the land-based tax rate is lower than the [mobile] tax rate. So we have functionality that helps operators understand, well, if I'm on a mobile app, but I'm physically standing in an Atlantic City property, we can confirm that the user was there.
"If they have endeavored to seek out a lower tax rate for the bets that they can associate with being at the property, we can help them have access to that lower tax rate."
But not at the Washington Monument.