Update: Jermz just hit a huge score while he was streaming! Watch the video below to see what happened at Chumba Casino on March 25!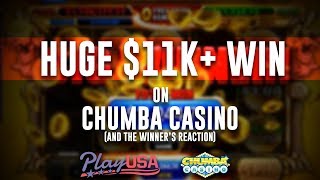 Professional online poker player Jeremy 'Jermz' Sissman counts himself as one of the fortunate ones. He has been making a living playing a game he loves for more than a decade.
"I played poker as a kid with my brother and turned it into a job after graduating from college."
Now, he translates his love of poker, his fascination with live streaming and one of his favorite hobbies, playing New Jersey online casino games, into a side hustle.
As a Twitch streamer for PlayUSA.com, Sissman admits he can live without "cable television, but not without the internet."
However, it's the people that keep him coming back for more. When asked what made him choose to stream online casino games for PlayUSA.com, Sissman didn't even have to think about his answer.
"I definitely love the people. I play casino games for recreational fun and I have been streaming for four years which led me to meet a lot of great people. My twitch community has made it really easy. "
Dad jokes and '90s culture
Besides partaking in online gambling for fun, Sissman is an amateur stock trader. His degree in Economics most likely plays a role in his success when it comes to understanding the gaming and national economies.
"I find a lot of correlations between finance and poker which definitely helps my game," said Sissman.
This self-proclaimed extroverted introvert also tells a pretty mean dad joke. In fact, Sissman says to expect a lot of them when you tune into his streams. Additionally, he is "really big on 90's culture including music, movies, games, etc."
Gaming is a central theme in Sissman's life–even when he's not playing poker or streaming online casino games. He also spends his free time playing video games. Specifically, he's "currently on a Fortnite kick."
To support his work and gaming needs, Sissman has a pretty sweet streaming setup that includes three monitors, among many other gadgets. While the setup is constantly evolving, Sissman is grateful for the extra digital real estate.
"For years I streamed poker using only two monitors," said Sissman. "I honestly don't know how I did it. Streaming 10+ poker tables at once, takes up a lot of monitor space."
South Jersey living
Sissman, his wife Danae, and 6-year-old son recently moved from North Jersey to Cape May County. Sissman works a lot on the weekend, but he makes it a priority to spend Saturdays with his family. They enjoy getting out and participating in local community events.
"My wife and son love a lot of the same things I do, including video games, Twitch, Ninja Turtles, rock music, etc. They make being a dad really fun. I love South Jersey living, it's a lot calmer and a lot less traffic."
He also likes to spend time away from the digital world reading good old-fashioned books. The last book he read was The Subtle Art of Not Giving a F*** by Mark Manson. "I learned to give less f***s," said Sissman. No doubt something that comes in useful during a trying day at the casino or on the felt.
Advice for online casino gamblers
It is not unusual for online casino gamblers to dream of hitting a big progressive jackpot. We asked Sissman about his biggest score. However, it didn't come from a machine, it was in the cards.
"My biggest win was an online poker tournament on Easter in 2016. I won over $21,000. I had a tournament ticket, but I did not want to use it because it was my birthday weekend and Easter. The poker site wouldn't let me trade it for another Sunday, so I begrudgingly played, and it worked out in my favor."
That does not mean you should play when you don't want to, though. The best advice Sissman has for new online casino gamblers is:
"Start with small bets and make sure you check for bonuses on each site."
Over the years, sensible advice like that has allowed Sissman to find a successful balance between work and life. That can be a hard thing to do when your work and salary is not always unpredictable. When all is said and done, though, Sissman is living the dream.
"I have been fortunate enough to find a career within something I love to do."
Come hang out with "Jermz," or our other streamers, "Hoagie" and "Goombatz" live on PlayUSA's Twitch channel. Learn about New Jersey online casino games, have some fun, and win some prizes, all while hearing a dad joke or three.