Although California Prop 26 might be facing an uphill battle to become part of the state's constitution, one ramification of the vote defying some expectations is clear. For certain lawyers in the state, it would mean a potential trove of new billable hours.
Just how lucrative that haul would be depends on several factors. Legal disputes over the implementation of Prop 26 in regard to tribal casinos' exclusivity and card room operations in the state are likely to be a significant part of that treasure chest.
California Prop 26 might become a moot issue
In August, gambling research firm Eilers & Krejcik published a report that expressed pessimism that either California sports betting measure on the ballot this November would get the requisite 50% support from voters to become law in the state. Among other factors, they cited "voter confusion" over the two separate measures as a reason behind that expectation.
Prop 26 and Prop 27, while both aiming to legalize sports betting in California, take different approaches to that end. They aren't necessarily competing measures but many of the proponents behind Prop 26 have also sponsored messaging encouraging "no" votes on Prop 27.
If Eilers & Krejcik are right then the entire conversation over how to implement Prop 26 becomes a non-starter. Should voters surprise the analysts, though, that conversation could quickly involve the state's courts. In fact, that's completely by design.
Prop 26's non-sports betting clauses
While Prop 26 has been labeled a sports betting measure, swaths of it actually have nothing to do with wagering on sports. For example, the measure would give tribal casinos in the state freedom to add certain dice games to their available table games.
Additionally, the measure would enhance tribal casinos' ability to bring lawsuits against card rooms in the state that they feel are violating the exclusivity terms of their compacts with California. Card rooms' offering of some player-banked games has been the subject of several lawsuits brought by disparate tribal casinos in the past.
The main differences between card rooms and tribal casinos in California are their ownership and the terms under which they operate. Tribal casinos are run by gambling interests of sovereign Indigenous peoples groups within the state and offer gambling according to terms of gaming compacts between California and those tribal authorities. Card rooms, on the other hand, are commercial properties that get their licensure from the state and municipal authorities. Another key differentiation is that tribal casinos offer some table games.
Prop 26 would essentially give any person in California standing to bring a civil suit against any company they believe is violating the state's gambling laws. Currently, residents of the state would have to show how they were harmed by such conduct to substantiate such a complaint.
If voters in the state expand casinos' ability to bring those suits against card rooms, it's almost a surefire bet they will employ that new freedom. To what extent they will do so, however, depends on several factors.
There will be lawyers
The question is just how many lawyers and for how long this issue will employ them. As Oklahoma State Assistant Professor John Holden explains, courts in the state might act decisively and quickly on the issue of tribal sovereignty over card games.
"Prop 26 contains a number of nuggets that I think have been overlooked by those who simply see it as the tribal brick-and-mortar sports betting ballot initiative," Holden said. "Amongst these, the proposal includes a private enforcement provision that would allow persons in California to notify the Attorney General of certain alleged violations of the California Code, and if the AG does not commence an action within 90 days, the person may commence their own civil action. While some fear this may lead to zealous enforcement efforts between competitors, I think that it is more likely that the judicial system determinations of the first few cases it sees will shift actions one way or another. I think should this measure pass (which I think is unlikely, and I have the same feeling about Prop 27) the court system will sort these things out relatively quickly (which in real-time may not be that fast), without a ton of individual lawsuits."
Holden describes a situation in which the courts set a new, strong precedent in favor of or challenging tribal sovereignty over card games. Should California Attorney General Rob Bonta act on the issue, for example, the ruling from that case would go a long way toward setting such a new norm.
However, that might be unlikely. Bonta could be representing the state against a card room in that scenario. California has hesitated to wade into the card room vs. tribal casino debate in the past because its cities depend on card room revenue.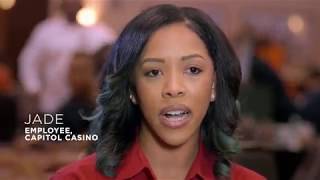 The state is also party to gaming compacts with tribal casino operators, however. For those reasons, Bonta might opt to simply let the 90-day window expire on complaints to keep the state as neutral as possible. Should California citizens use their leverage to file their own civil suits at that point, there are a couple of possibilities.
What might happen if Californians take the law into their own hands
At that point, the outcome will depend on the cohesiveness of the first few court rulings. If local courts uniformly rule that card room operations violate state law in the first handful of cases, for instance, all card rooms across the state might adjust their offerings respectively to avoid litigation.
Should the first few court rulings defend card room operations, that could similarly discourage plaintiffs from bringing further challenges. Superior courts could complicate and prolong the situation if they render differing opinions for various parts of the state, though.
With dozens of individual card rooms operating across the state, it's feasible that a patchwork of varying rulings could result in dozens of individual lawsuits. In that instance, parties to the suits will file appeals and ultimately the California Supreme Court might have to weigh in.
That all could be averted if California Prop 26 fails at the ballot box or the first few rulings form a new standard for card games in California. If Prop 26 passes in November, the people most excited about that could be constitutional and gaming lawyers in the state.