Mike Crawford spent 24 years as a high-level executive for Walt Disney Company, an entertainment colossus that has used both its vocal power and financial might to rebuff the spread of legal sports betting and any direct association with it.
But Crawford, now with Hall of Fame Resort & Entertainment Co., has his own plans. The developer plans to transform the real estate around the Pro Football Hall of Fame in Canton, Ohio, into a "Disneyland of Football." And he hopes that as an emerging media platform, Hall of Fame Village (HOFV) will attempt to leverage the millions of pieces Hall of Fame intellectual property the company now has access to into various projects, with sports betting very much crucial to both.
Crawford isn't the only executive thinking that way. But he's among the first not directly associated with the gaming industry or a media company to act on it. He's not likely to be the last. The legal sports betting economy is continuing to metamorphosize 27 months after the repeal of the Professional and Amateur Sports Protection Act. As the enterprise gets underway in 19 jurisdictions, companies tacitly and seemingly distantly connected with sports betting continue to see it as both an engagement tool and future revenue stream.
Media keeps poking around, too. Sinclair Broadcast Group, the second-largest television affiliate in the United States, is investigating. Sports media giant ESPN on Monday unveiled a new studio on the Strip in Las Vegas, which will serve as the emanation point for much of its increasing volume of sports betting content.
Paradoxically, Disney, which owns ESPN, helped fund a successful campaign trip to attempt to legalize sports betting there in 2018. But with sports and sports betting ever entwined, ESPN continues to lead the mainstreaming efforts of the business and pastime in the United States. Others were certain to follow, and it's becoming ever clearer which businesses sports betting can penetrate.
An immersive sports betting experience in Ohio
As with all the entities utilizing sports betting, Crawford hopes to create the type of immersive experience he feels has become important for modern consumers. In the case of HOFV, it would be centered in and around the grounds of the football shrine and the stadium where the annual Hall of Fame game is played.
"As technology continues to advance, the other vertical that we're really interested in, obviously, is sports betting," Crawford told PlayUSA. "It's not this ugly thing anymore. It's not something you go down an alleyway to hand a yellow, pink sheet, to a bookie to make a bet.

"And it's very prolific, and fans like to do it. It enhances how they engage with whatever sport. And so, when you think about 5G and microbetting and things of that nature, it's something that's on my mind and something I think we have to be able to plan for in the future as well."
Bill Pascrell III, a partner at Princeton Public Affairs Group, the largest statewide lobbying firm in the United States, doesn't think Crawford will have to wait long.
The Ohio State House passed a sports betting bill this summer, with the Senate to consider it beginning in the planned September session. Pascrell expects legalization by early 2021, at least. Wagering is underway in four of five bordering states.
Crawford is already making plans for it.
"While it's illegal to do on-site betting here in Ohio, I do believe it will become legal, and we have the chance to create an environment that allows that to be done in a very sophisticated way [and] enhances why guests come here," he explained.
"In the meantime, these sorts of online relationships and others give us [the] potential to leverage our brand and our celebrity in terms of players and those types of things. I think [this] is a very viable chance for our company to be in that sports betting world."
Sinclair Broadcasting intends to get in the game
Whereas HOFV is a development company expanding into sports betting through a new content-creation wing, Sinclair is yet another major media outlet attempting to cultivate dollars from the venture, potentially joining Fox Sports and theScore, and soon, Barstool Sports. CBS Sports, Yahoo and ESPN, meanwhile, have turbo-charged their content production.
Outkick Media, the online home to sports wagering personality Clay Travis, was newly listed as a sports wagering registrant in Indiana on Aug. 21.
Pascrell said Penn National's acquisition of 36% of Barstool has been a model of meshing content and branding with enterprise, especially with the gaming company scheduled to launch a Barstool-themed betting app in Pennsylvania in September. While Barstool provides the unshaven face, coveted demographic and zeal of its massive user base, it remains insulated from the actual seller of bets. Pascrell believes that is important.
"When Penn National acquired Barstool, my counsel to them, because they're a client, was, 'Do not let Barstool become a sports betting company that takes bets. Let them be the marketing affiliate company, the good guys,'" Pascrell told PlayUSA. "People love Barstool because the company wasn't sucking and bleeding money out of you. So they could take advantage of the brand and bring it into the Penn National content, but let Penn take the bet, let Barstool be a separate brand to acquire players, and boy, what a successful company that has been."
Massive media companies looking if not leaping
Comcast is, at the very least, preparing for the synergized future of sports and betting, as NBC secured NBSportbook.com and NBCSportsSportsbook.com and multiple similar domain names last year. Sports betting has also become a more ubiquitous presence in regional Comcast broadcasts in Philadelphia and Washington, DC, where dedicated channels have operated alongside traditional game feeds.
PointsBet on Thursday announced a potentially landscape-changing deal with NBCUniversal that will ingrain its content within a network that broadcasts some of America's most iconic events. The Australian bookmaker with a growing footprint in the United States becomes the network's "official sports betting partner," while NBC becomes an investor in PointsBet.
Sinclair's move would bring sports betting content into the living rooms and onto the devices of 40% of the American population, predominantly in the South and Midwest.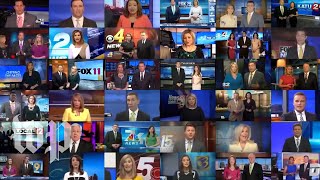 In an Aug. 5 Q2 earnings call, Sinclair president and chief executive officer Christopher S. Riley signaled a new company interest in sports betting through an expansion of duties for chief strategy officer of sports Scott Shapiro. Riley said Shapiro "will focus on some of our larger growth opportunities, such as those associated with legalized sports betting." Sinclair's media revenues decreased by 7% compared to the same period last year.
"We're expecting the sports app that is in development will give viewers an experience unlike anything they have encountered in the past, with enhanced graphics and sound, as well as the ability to interact with the content in numerous ways, including with advertisers and free-to-play games," Riley continued. "We spend a lot of time meeting with many of the major players in sports betting and we expect … to be able to more fully detail our plans in this area later this year. As the exclusive provider of local sports content for more than half of the MLB, NBA and NHL teams, we believe we are in a unique position to monetize the significant sports betting opportunity that exists."
The publicly traded company is the second-largest television station operator in the United States, as it "owns and/or operates 23 regional sports network brands [and] owns, operates and/or provides services to 191 television stations in 89 markets," according to the company website. Also in its portfolio are Fox Sports Networks and other sports properties, including The Tennis Channel and Stadium.
Sinclair's rightward skew, according to independent researchers, would theoretically put sports betting content at odds with what would be expected to be a socially conservative viewership, although some form of gambling, whether casino, poker or sports betting, is available in several of its markets.
Pascrell said that "companies that tend to be a little bit more politically aligned with one side of the aisle or other are going to have a challenge, because they're only going to be able to speak to half the market." But the company, he said, could be a major player, like ESPN, in familiarizing the uninitiated with an activity that is decreasingly taboo for sports leagues, televisions networks and fans. Sports betting might even fill a void for nonpartisan content.
"Why would you want to limit your reach or your net to only half the population?" Pascrell pondered. "We can disagree on politics all day long, but we can agree on having fun over a sporting event. I think Sinclair will learn that if they haven't already. It's just good business sense."
The American sports betting industry has been forecast to be worth up to $8 billion by 2024.
ESPN and Caesars unveil their partnership with studio
ESPN broke in its new 6,000-foot Caesars Entertainment studio at The LINQ by producing SportsCenter segments and elements for digital platforms beginning this week.
According to a press release, "ESPN will expand its content with Caesars to bring more robust, Vegas-exclusive sports betting and entertainment news to fans around the world."
ESPN's Daily Wager and a new sports-betting-themed digital show will be headquartered there later this autumn. The digital show will be produced three times weekly and made available on the ESPN app, Facebook, Twitter and YouTube.
"The appetite for sports betting content continues to grow among fans," said Connor Schell, EVP of content for ESPN. "Our new studio will not only operate as the headquarters for that content, but it will also anchor our year-round presence in Las Vegas, a city that has become a destination for the biggest events in sports. The LINQ studio allows us to meaningfully cover the lineup of major events on the horizon with our league partners like UFC and Top Rank, the NFL regular season with the Las Vegas Raiders — beginning with the Monday Night Football home opener on Sept. 21 — the Las Vegas Bowl, the NHL's Vegas Golden Knights, NBA Summer League and the rescheduled NFL draft in 2022."
Bet $5 Get $200 + Up to $1,050 Bonus
1
UP TO $1,050 FREE
New User Bonus. T&Cs Apply.
Special for Bets on NFL
Bet $5 & Win $200

$50 Free Bet On Deposit

Up to $1,000 Deposit Bonus
To Claim: Click Play Now
Expert: Ohio will soon legalize sports betting
Pascrell, who will attend a conference in the coming weeks with Ohio State Senator William Coley (R-4th District) in attempting to forward sports betting legislation in numerous states, foresees success soon — if not after the full state Senate returns in September, by early 2021.
"I think there's a very good chance. I think Ohio has a governor [Republican Mike DeWine] that's a conservative, but also forward-thinking. I think there's a great chance it can happen by the end of the session," Pascrell said. "If not, it will definitely, for sure happen in the first quarter of next year. Ohio has seen the tremendous revenue and job creation that New Jersey has set. New Jersey is the third-largest jurisdiction in the world for online gaming, and they've already eclipsed Vegas in sports betting. So I think there's a lot of opportunity. I think Ohio is going to be onboarding soon.
"You never know with politics. There may be other reasons to delay it, but it's not a question of if, it's a question of when, when meaning either September, October, or if not, sometime early next year."
Ohio is the seventh-most populous state (11.7 million), with two NFL and MLB teams, an NHL and NBA franchise, and a widely supported college football program in Ohio State. For those who choose to wager legally in Ohio, neighboring Pennsylvania, West Virginia and Indiana have mobile and online sports betting underway, and Michigan is endeavoring to do the same.
Pascrell offered no estimate on the size of the illegal or potential legal sports betting market in Ohio, but again analogized using his home state, where 25% of New Jersey sports betting handle is provided by mobile users making junkets from New York to bet via mobile.
"We're eating the lunch of New York right now," he said. "People are literally coming across the border at lunchtime or before an NFL game, placing their bet and going back. And Jersey gets all the benefit from that. So I think Ohio has to play catch-up. And once they do, the market will normalize itself."
Crawford's next phase would then become possible, and more executives will be likely to see sports betting as a part of their business plan.