Officials at multiple horse racing and former greyhound tracks in Florida are negotiating with the Seminole Tribe in hopes of opening retail sportsbooks at their venues and offering mobile betting on Oct. 15 or whenever it would be allowed in the state.
As the spokes in the so-called "hub-and-spoke" model detailed in a 30-year compact struck between the tribe and the state, these pari-mutuel sites can enter "marketing agreements" with Hard Rock Digital, the gaming platform owned by the Seminoles, in exchange for 40% of revenue.
The hitch: multiple lawsuits at the state and federal level contend that the unprecedented power granted in the compact to offer gaming off tribal lands contradicts the Indian Gaming Regulatory Act.
Bureau of Indian affairs Principal Deputy Assistant Sec. Bryan Newland allowed the compact to pass into law without rendering it legal or not, leaving the courts to decide.
If those courts strike down the plan to run sportsbooks off tribal land with servers located on it, pari-mutuels will be shut out – and so will the Seminoles in their quest to offer state-wide mobile and online sports betting to Florida on their own. But retail sportsbooks on tribal lands would not be affected and the Seminoles would be free to offer Florida's first legal sports bets at their six Florida casinos in Week 6 of the NFL season.
A note in a second lawsuit filed by West Flagler Associates alleging the compact is illegal contends the Seminoles have informed them that Nov. 15 is now its target date for a mobile launch.
The race for FL sports betting is on
Among the hopefuls is Tampa Bay Downs General Manager Peter Berube, who told PlayUSA he has been in negotiations with Seminole Tribe officials about bringing a sportsbook to augment his thoroughbred offerings and poker room.
"Obviously, it's another amenity that we can offer our fans," he told PlayUSA. "I think it would bring in a different type of customer to the facility and, hopefully, have them experience the horse racing side of it also, and vice versa.
"It's added foot traffic. There is some money to be made, though it is not a great deal of money."
The current compact between the state and Seminoles requires the tribe to, within three months of ratification, "negotiate in good faith with any and all willing Qualified Parimutuel Permitholders." If the tribe doesn't have valid written contracts with at least three pari-mutuel outlets by the time it launches sports betting commences, its payment amount to the state increases. The Seminoles are also required to "make good faith offers to other Qualified Pari-mutuel Permitholders, upon request, with terms similar to those of its executed contracts."
A spokesperson for Palm Beach Kennel Club told PlayUSA that it was interested in offering retail and mobile wagering and was also in negotiations. Stocky Hess, president of Ebro Greyhound Park & Poker Room does also, but told PlayUSA he's not yet had discussions.
"I hope so," he said. "We're definitely interested. But they've not contacted us yet."
Of the 20 venues licensed by the Florida Division of Pari-Mutuel Wagering, "many" will seek an agreement with the Seminoles, an industry source told PlayUSA. One of them figures to not be Bonita Springs Poker Room, whose parent company filed one of the first lawsuits after the compact was signed.
It's unclear whether Florida's prestige horse racing venue – Gulfstream Park, owned by the Stronach Group – will be among them. Aidan Butler, the chief operating officer for Eastern Racing Operations for the real estate and entertainment giant and point on sports betting talks did not immediately return a call on Friday.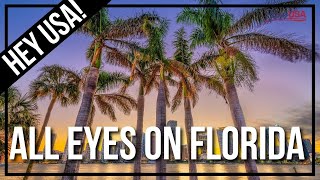 Hub-and-spoke would make race tracks satellite sports betting operations
Tracks signing sports betting deals with the Seminole Tribe are able to contract out deals with other national sportsbook operators, but the system would still run through Seminole servers, making it less likely outside operators like FanDuel or Caesars would enter Florida. Though Berube wouldn't characterize the progress of his discussions, he confirmed that the possible deal as currently discussed as a Hard Rock Digital-branded sportsbook.
Tampa Bay Downs fields two Grade II and five Grade III stakes, but with just 90 days of live racing has plenty of space and opportunity to erect a sportsbook in its location north of Tampa. Berube finds this key even with mobile betting a key cog of the compact.
"Part of the experience of sports betting is that sportsbook environment. People do like to come out. They like to watch the games with groups," he said. "So we do anticipate either retrofitting something over here or possibly building something additional to accommodate it."
Bet $5 Get $280 + Up to $1,050 Bonus
UP TO $1,050 FREE
New User Bonus. T&Cs Apply.
Special for bets on NFL Playoffs
Bet $5 & Win $280

$50 Free Bet On Deposit

Up to $1,000 Deposit Bonus
To Claim: Click Play Now
Could sports betting in Florida give Derby Lane its next gambling chapter?
Across Old Tampa Bay, underneath one of the area's most iconic snapshots, Derby Lane, which coincidentally opened the same year as Tampa Bay Downs, continues to seek its place in its 96th year of existence.
With greyhound racing outlawed in Florida as of 2020, the track that served as a backdrop in "Oceans Eleven" subsists on simulcasting and poker, as do the other 10 dog tracks still regulated by the Florida Division of Pari-Mutuel Wagering.
The jammed parking lot is deceptive, a staging area for a fleet of Amazon delivery vans. But the poker room is often brimming. There's a die-hard crowd in the simulcast parlor upstairs and a stylish grandstand dining area ghostly empty and overlooking the lawn and unused track.
Sports betting could help pull the track into its rapidly approaching second century of existence, if Florida bettors, as Berube hopes, seek a communal experience. If the compact survives legal challenges. And if Derby Lane officials seek out sports betting.
Alexis Winning, Derby Lane marketing director, told PlayUSA in an email, "We have always said we will gladly take anything offered to us; however, we have not had any discussions with the Tribe."
Foes now possible business partners in Florida sports betting
Ironically, the poker rooms that have helped sustain pari-mutuel racing through a steady business wane were long a point of contention with the Seminoles. That was until the new compact granted them sports betting exclusivity in addition to their virtual monopoly on gambling in the state and the right to offer roulette and craps in their casinos. As a hedge against a national decline in popularity and profitability, the Florida pari-mutuel industry began offering so-called "banked" card games that the Seminoles considered their province under the previous contract. Courts agreed, but then-governor Rick Scott didn't enforce, prompting the Seminoles to begin withholding $350 million yearly revenue sharing payments beginning in 2016. Those payments resume at $500 million with Gov. Ron DeSantis leading the new compact push this year.
It remains to be seen whether the hub-and-spoke plan will follow the likes of DeSantis' anti-riot and anti-mask mandate laws as being deemed over-reaches by courts.
Newland wrote at length about potential problems with the marketing agreements in the DOI's review of the compact, saying:
"IGRA requires that a tribe have the sole proprietary interest in, and responsibility for, the tribal gaming operation to ensure that it receives the primary benefit of its gaming revenue, consistent with IGRA's statutory goals. … the Department does not endorse the marketing agreement arrangement provided in the Compact."
So for now, pari-mutuel operators continue to negotiate or decide whether to, all the while unsure if its time wasted. But the lifeline seems worth the reach.
"We'll see what happens," Berube said. "If the lawsuit doesn't move forward or it gets thrown out, we could have some potential over here. It all depends on the negotiations with the Seminoles on how that goes."