Florida's sports betting path remains as treacherous as a slog through the Everglades.
First the Seminole Tribe negotiated the ability to offer retail and mobile sports betting in Florida through a new compact, spear-headed by negotiations with Gov. Ron DeSantis.
A legion of existing opponents sued. Those foes, primarily comprised in litigation of a pair of pari-mutuel interests, won in federal court last week. A three-judge panel refused to stay an order from a federal District Cout judge shutting down the Seminoles sports betting app. That app, which went live on Dec. 1, was still taking bets and deposits as the Seminoles requested the stay. The Tribe "temporarily," it said on Friday, stopped taking bets on Friday. It has filed an appeal.
Further litigation and a likely renegotiation of the compact Judge Dabney Friedrich voided is considered likely. So is an absolute blitz by national sportsbook operators hoping for an entry point into the lucrative Florida market now that the Seminoles' precedent-setting monopoly has been derailed.
888 executive on Florida, 'nation-states' of US sports betting market
It's complex. But it was always going to be, 888 Senior Vice President of the US Yaniv Sherman said. It was always going to be such because the friction is going to be worth it for whoever is eventually allowed to do business in a sports and tourism mecca that's home to more than 21 million.
"I think that the Tribe's position and the fact that they deployed was an interesting experiment in challenging the federal government," Sherman told PlayUSA. "I'm sure that they've taken multiple advices and have had multiple people look at this. But here we are. So I think on the other side there'll need to be some sort of compromise and, naturally, if there's a path forward in Florida, we'd love to exercise that, and so we're monitoring this quite carefully."
Sherman and the industry at large have been for years, just like they have the rest of the 'big four' in terms of population: California, New York and Texas. New York has legalized sports betting and a full state-wide launch is imminent after years of wrangling.
"I'd rather them being sort of the icing on the cake than an anchor," Sherman said. "And from what we were seeing so far, you have one state – New York – that has put forward and have so far has executed on a very commercially challenging framework. You have Florida that tried to go down a semi-monopolistic route and was stopped. You have California that is engulfed in a decades-long tussle between tribes and card rooms. And you have Texas that tried to figure it out last year and probably try again in 2023. Point is, the larger states are nation-states. They sort of work by their own rules. And that's why I'd like to consider them sort of icing on the cake."
Sherman said he always prefers to see a state "go alive even with unfavorable conditions – but at least get the ball moving – than have it in gridlock."
New York appears as if it will – with an unprecedentedly high tax rate for operators – but would-be legal Florida bettors could be in for a years-long process unless state legislators and the Seminoles can hammer out a fix amenable to the courts. At issue will remain the housing of servers on tribal land, as they facilitate state-wide sports bets. The initial suit filed by West Flagler Associates against the Department of the Interior won out by contending this violated the Indian Gaming Regulatory Act.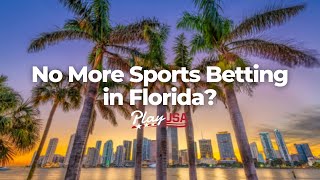 Seminole Tribe challenges mount as national companies seek a piece of the Key Lime pie
Even before the Seminoles' legal entanglements led to an interruption, opponents were massing. DraftKings and FanDuel are backing an in-state political action group with the professed desire to legalize sports betting throughout Florida to benefit education funding. And the Sands Corp. is actively soliciting signatures for a potential ballot measure that would allow it to expand a casino property near Jacksonville. Last week, a cadre connected with Sands filed a suit in Leon County court alleging that the Seminoles are bribing signature-solicitors to do a bad job.
"I think that for Hard Rock, this is naturally a very challenging moment because Florida is at the base or the anchor of everything that they're trying to build with a great brand," Sherman said. "But I think that everybody is following this very, very carefully because it also sets a precedent of what you cannot do.
"I think in this case, everyone discounted the existing operators, mainly the big three's interest in Florida and the fact that they wouldn't just throw in the towel and skip that state. And they've deployed significant capital into it. And some of the activities that you've seen in the state, they weren't going to take this laying down. I mean, there's too much at stake. They've invested too much. It's too big of an economy. I don't think their models had Florida excluded to that degree. So they would rather have the tussle for it in the short term than just give up on it entirely. So I think there'll be a deal at some point, because everybody loses under this condition. But it may get a bit worse before it gets better."
Bet $5 Get $280 + Up to $1,050 Bonus
UP TO $1,050 FREE
New User Bonus. T&Cs Apply.
Special for bets on NFL Playoffs
Bet $5 & Win $280

$50 Free Bet On Deposit

Up to $1,000 Deposit Bonus
To Claim: Click Play Now