During the COVID-19 pandemic, customers became more accustomed than ever to trying and buying everything on their devices – and becoming annoyed when it didn't work. This was especially true for the iGaming industry, which saw substantial records in profit in 2020, especially during lockdown.
PayNearMe is a licensed money transmitter in every state and licensed to facilitate iGaming transactions in 14. The company processes cash deposits for nine of the 10 largest US operators and 16 of the 17 largest online casinos in the US, including BetMGM, TVG, PointsBet, and FanDuel.
With the greater gambling industry convening at the Global Gaming Expo (G2E) at Las Vegas' Sands Expo and Convention Center this week, PayNearMe announced today its latest solution for bringing ease to the process of funding and withdrawing from gambling accounts: MoneyLine. The company's in-house-built MoneyLine platform is scheduled to launch in Q4 at the Cordish-owned PlayLive! online casino affiliated with Live! Casinos & Hotels in Philadelphia and Pittsburgh.
How PayNearMe is revolutionizing gaming payment processes
PayNearMe's Chief Revenue Officer and General Manager Michael Kaplan said the tech will revolutionize a process his company considers "broken." Denied credit transactions, debit card hassles and requests for levels of information put off some new customers, and has created friction for would-be players and a loss of business for operators, he said. PayNearMe aims to integrate cards, cash, ACH and popular mobile deposit options including Apple Pay and Google Pay into a uniform platform for ease of use.
"Early on, because of the issues around payment-acceptance, operators were forced to integrate a bunch of these disparate point solutions. And [they] really didn't take the time to smooth it out and sort of remove, frankly, the seams between all those different solutions," Kaplan told PlayUSA. "And that's a big part of what we're solving with the announcement of MoneyLine."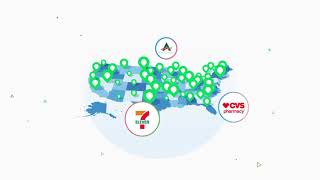 PayNearMe, Kaplan said, built Moneyline to "simplify the end to end money movement for operators while still delivering a really high-quality experience for players" by concentrating on five key points:
Consolidation of the most popular deposit/payout methods into a single platform
Creating "rescue flows" to smooth deposits when the first method is denied
"Smart Light" technology designed to ease deposits
Speeding payouts
Omni-channel approach to on and offline payouts
Kaplan said that while the banking industry has generally become more accepting of approving gambling transactions, he believes there will continue to be heightened scrutiny because of perceived risk. MoneyLine will remain a necessary product, therefore.
While part of the cashless casino movement, MoneyLine, Kaplan said, would also cater to cash users.
"Our cash cage solution would enable the player to easily move cash into the system at a brick and mortar," he explained, "so they get money into their digital world.
"We would enable a customer to walk up to the cage and [pay] money at the cage and have that money instantly deposited and drawn on accounts. They can do their online wager to really start to tie together the online and offline world and begin bridging that gap towards this cashless experience."
Payment options figure to be a frequent topic in the first semi-post-COVID G2E. As masked exhibitors and vendors returned, Sightline Payments announced a new cashless gaming solution in conjunction with Konami Gaming Inc. The system will allow Resorts World Las Vegas customers to pay for gambling and other services without cash.
See online casinos that accept PayNearMe
ONE OF THE BEST SOCIAL CASINOS IN AMERICA WITH A CHANCE TO WIN CASH PRIZES
Get $30 of Gold Coins for $10
+ Bonus 2 Sweeps Coins Free On Signup
US Players Accepted 
Daily FREE Sweeps Coins Just For Logging In
Chance to Win Cash Prizes