Johnny Avello left without ever having to leave. A former bookmaker at Wynn Las Vegas for 13 years, the affable New Yorker became the head of sportsbook at DraftKings in 2018 when legal sports betting became a possibility outside of Nevada with the repeal of the Professional and Amateur Sports Protection Act.
But the technology-based nature of a role that attracted him to one of the new vanguards of online and mobile sports betting allowed him to remain in his long-time home. His Boston-based company — which offers bets in 10 states after going online in Illinois in August — opened a new office in Vegas in January, with plans to employ as many as 300 people.
But the company doesn't offer bets there yet. Neither does its daily fantasy and sports betting rival FanDuel.
If either of them has a sense of theatrics, announcing a Nevada campaign would have great effect in October, on the five-year anniversary of an unfavorable ruling by the Nevada Gaming Commission that prompted their exodus as daily fantasy operators.
There's still time. And executives from both companies have expressed a desire to eventually offer sports bets in the country's ancestral home of gambling. It remains an objective, but one in a queue with other states they hope to add to their expanding portfolios.
At the Global Gaming Expo in October, FanDuel CEO Matt King said that returning to Nevada was "absolutely" in company plans.
"We want to go where our customers are. We know a lot of our customers travel here. We know a lot of our target audience lives here, and so we'd be excited to be back in Vegas one day," he said.
Analysts: Offering bets in Nevada about more than handle, revenue
It will certainly be a symbolic moment in the unfurling history of legal sports betting in the United States. For DraftKings and FanDuel, Eilers & Krejcik Gaming analyst Chris Grove told PlayUSA the incursion he considers inevitable will be more about optics than commerce.
"I think it's more about creating that unique live experience and offering that as part of the universe of products that they're trying to offer to players, and then as part of this sort of constellation of reasons to bet with us and ways to bet with us," Grove explained. "So, I think the participation in Nevada is useful on a few levels, but it really comes down to if you want to present yourself as a nationwide leader in sports betting, to not have a presence in what is the spiritual capital of sports betting if not the revenue capital really feels discordant."
Post-PASPA, legal sports betting sprouted up on the East Coast, notably in a unique mutation in New Jersey, and has worked its way through the Midwest, into the Rockies and up against Nevada's border. Currently, 19 jurisdictions have betting underway, with four states in some stage of implementation.
Launching in Nevada would undoubtedly be celebrated like an Armistice Day of sports betting by two companies renowned or infamous — depending on your perspective — for promotion.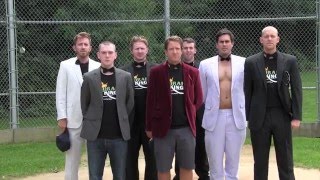 To do so, they will need to affiliate with an existing retail partner because of current state law.
But whether DraftKings and FanDuel change Nevada's sports betting culture with their online-forward products or become just another brand on a sportsbook on The Strip remains to be seen.
"It's really hard to say, just because [Nevada bettors are] so used to doing it the way they've been doing it here for so long," David Schwartz, former director of the UNLV Center for Gaming Research, told PlayUSA. "So it could be that the people want something different. It could be that they don't like it. I think they would just have to bring the product to market to see what they have."
The only certainty, experts say, is that the companies will eventually be there. Gaming company executives always want to be, said Brendan Bussmann, director of government affairs of Global Market Advisors, noting how Genting and Resorts World merged to purchase Echelon Place in Las Vegas 2013.
"I think first and foremost, at some point [DraftKings and FanDuel] will come here, no different than any brick-and-mortar casino would love to have a Nevada gaming license and take the plunge," Bussmann told PlayUSA. "But there will be people here that have been stalwarts in this business that will try to stall them in getting licensed here. I can guarantee you that."
There have been and will continue to be other like-minded aspirants, Bussmann added.
"There's other operators outside besides those guys that I know have looked at Nevada and tried to figure out, 'Where can I put my stake in the ground to make myself a part of this?'," he said.
Bussmann noted that Mohegan Sun will enter Nevada by operating the sportsbook at the as-yet-unopened , the former Hard Rock.
"So here you have a new player coming into the market by virtue of being able to do that," Bussmann explained. "I'm sure that DraftKings and FanDuel are no different as they've looked at Illinois or are looking at other avenues to be able to have market entry. And obviously, even under the current situation, there's opportunity to move in that direction and get things set up and established, because it's obviously worked in Nevada well before PASPA was repealed and still does today."
Bussmann expects Nevada to at least move toward modernizing its mobile registration and deposit regulations by 2021.
What will complicate a DraftKings/FanDuel Nevada incursion
The fact that DraftKings and FanDuel are not traditional brick-and-mortar outlets complicates the process. But their collective national migration and growing share of national handle has been marked by alliances to acquire market access, or "skins." FanDuel enjoys a mutually lucrative deal with the Meadowlands in New Jersey, and DraftKings recently announced an affiliation with Casino Queen Sportsbook in Illinois to avoid waiting a stifling 18 months for entry as a mobile-only option. Its rival secured Illinois as its sixth state for mobile and online wagering by aligning with Boyd Gaming to launch FanDuel Pair-A-Dice Sportsbook.
And current Nevada regulations figure to have an impact. Sportsbooks like Circa, William Hill and South Point had to set up drive-through registration, accounting funding and ticket redemption during the COVID-19-forced casino closures because those activities aren't available on a mobile or online basis in the state. Pressure appears to be growing to modernize these rules and get into lockstep with other states, notably New Jersey.
But if DraftKings and FanDuel were to attempt entry under current regulations, one of their most powerful assets for customer acquisition could be negated, Bussmann said.
"Their market entry will be very interesting considering the way our current dynamics are with in-person registration and you have to go fill your account, which sort of is a barrier to their mobile model that works," Bussmann said.
DraftKings co-founder and president Matt Kalish made the point while conducting a tour of the company's new space — which could eventually house as many as 300 people — in a Las Vegas WeWork.
"Like everyone else, we have to go through our licensing, make sure we get all our paperwork in, all of that kind of stuff. It was a little bit … lower on the list only because there's a requirement to sign up on-premises in Nevada, which is a little different than if you go to New Jersey, for example, [where] you just download DraftKings and start playing."
Grove doesn't believe that Nevada's mobile regulations, which have come under heavy scrutiny during the period when casinos and sportsbooks were closed because of COVID-19 precautions, will be a deciding factor. With a state population of only roughly 3 million, even factoring in tourists' impact, Nevada figures to be an increasingly "minor market," he said, as more states legalize. Half of the top 10 states by population have legal sports betting in some form now.
"I don't think that's going to dictate their decision, because again, they're not looking at the Nevada market like, 'Hey, we have to win 80% of that market for it to be worthwhile,'" he said. "And the presence here is more about some of the optical benefits and the ancillary benefits as opposed to 'Hey, being in Nevada is going to drive a significant amount of top line and bottom line for us.' … It's just certainly not that large of a market on a locals front. And even when you take locals plus tourists. it's still not ultimately going to end up being a top-10 market in the US."
Caesars affiliation could Provide DraftKings its home base
Gaming companies began parceling out the map of the United States like a Monopoly board in a wave of consolidation in 2019, and DraftKings was an early mover, entering into an equity-stake partnership with Caesars Entertainment in 2019 that provided market access to 14 states, including New Jersey, Mississippi, Nevada and Pennsylvania. The company has since merged with Eldorado Resorts to form a company with 55 casino properties, including in 16 states.
DraftKings, which has brick-and-mortar sportsbook affiliations in non-mobile-betting states New York and Mississippi, could have a partner waiting in Nevada through its association with Caesars.
During the Las Vegas office tour, Kalish noted the need to affiliate, saying, "In Nevada, you have to go to a brick-and-mortar casino, sign up and then you can use the sports betting app. DraftKings didn't have a retail [outlet] — we're a digital company, so we didn't have a casino in Las Vegas that people could even go to to sign up.
"We've never really had that urgency to go get a license because we don't have a way for consumers to get access to the product. We need to kind of solve that and then do the licensing in conjunction."
But DraftKings, which has brick-and-mortar sportsbook affiliations in non-mobile-betting stakes New York and Mississippi, could have an in through its association with Caesars, and via merger, Eldorado Resorts.
Will Nevada's DFS landscape negate DraftKings and FanDuel's progress?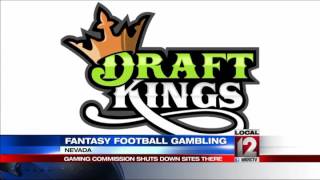 DraftKings and FanDuel each claimed user bases of around 8 million in 2019. Those legions of customers gave both companies advantages as they set about becoming dominant operators in each state they sowed in after the repeal of PASPA.
A ruling by the Nevada Gaming Commission in 2015 could nullify that advantage. The courts then established that, in short, DFS constitutes legal gambling, and that DraftKings and FanDuel would therefore be subject to the same licensing requirements as a counterpart like William Hill or MGM. Neither DraftKings nor FanDuel applied for licenses, and that left Nevada as one of the few states in the country where DFS is essentially nonexistent.
The companies would certainly still be recognizable in Nevada. But they will not have been amassing customers for five years to transition from fantasy to sports betting, as was the case in other states. Bussmann doesn't believe they would start flat-footed, however.
"They both probably still have a decent database of Nevadans that initially jumped into fantasy before they were told 'Get licensed or get out' back in '15," Bussmann said. "And it'll be interesting to see how the Gaming Control Board looks at that today five, six, seven, however many years later they decide to apply from that 2015 date, going back and saying, 'Well, you guys chose not to then. What's changed now from a regulatory standpoint?'
"But I think they could come in here and do very well just because they have a strong marketing base and they're strong marketing organizations. They're strong brands."
Claim Your $1,050 Bonus at DraftKings Sportsbook
1
New User Bonus. T&Cs Apply.
NFL Promo: Bet $5 Win $200

PLUS $50 Free On Deposit

PLUS Up to $1,000 Deposit Bonus
To Claim: Click Play Now

Are Nevada bettors DraftKings/FanDuel material?
The habits of the Nevada market could challenge them, though. Analysts are loath to categorize East Coast bettors as more inclined toward mobile betting and their desert counterparts more prone to patronizing sportsbooks, citing geographic and demographic factors. But well over 80% of New Jersey's handle is typically produced on phones and devices, while Nevada's mobile handle slumped in July as the overall handle recovered, coinciding with the reopening of casinos.
According to Nevada Gaming Control Board senior research analyst Michael Lawton, mobile wagering has accounted for 55% of total write for sportsbooks through July, which is consistent with previous years.
Another industry analyst countered, "They'd be fighting an entrenched existing business. And it might not be worth their while. Or it's worth their while, but it's going to be a slog. It's not going to be like it was when they were the only two guys offering DFS."
But that may not be the objective. A state of three million residents and all the tourists driving in from California or flying in from around the world is not the prize, Grove said.
The prize is in FanDuel or DraftKings taking up residence on Park Place — make that the Strip.
"They're not coming to Nevada because they're really interested in winning the Nevada locals market. It's a small market. That's not the point of showing up in Nevada," he said. "The point of showing up in Nevada — and I'm sure they'll be competitive — is FanDuel and DraftKings both trying to present themselves as nationwide-leading brands for sports betting. To present yourself as that and to not have a presence in the sports betting capital, arguably, in the world just doesn't make any sense."
There would be symmetry to it. Success as DFS providers nationally after the Nevada setback will have led both companies to the natural progression of sports betting. And that will have brought them back to the desert.
"That DFS decision back then — and it's funny, because I worked for Wynn at the time — I was kind of against the DFS coming into Nevada because I thought that it could possibly impede on what we were already offering," Avello told PlayUSA. "But now that I know how DFS works, it doesn't. It more enhances sports betting than it does take away.
"So, I think when we're positioned right, when we find the right partner in Nevada, we'll be in Nevada."