Louisiana's history was forged – or at least made more colorful – by scallywags and gamblers on Mississippi River paddle wheelers and in New Orleans card rooms.
It appears the state has an affinity for mobile sports betting, too. Just a few weeks after New York became the belle of the American sports betting ball with a smashing mobile wagering debut, Louisiana did even better in a key statistic released by GeoComply.
According to the company, which provides geolocation services in states with mobile gambling, the total number of unique players in the first 36 hours after the mobile and online launch on Jan. 28 was equal to 3.6% of Louisiana's population.
By contrast, a figure representing 3.3% of New York's population logged on as unique users in that state's first week. New York's population is roughly 19.4 million currently. Louisiana's estimates are at 4.57 million.
Other Lousiana mobile sports betting launch tidbits from GeoComply:
More than 3.4 million geolocation transactions were recorded from the mobile launch at 8 a.m., on Jan. 28 through the end of the NFC Championship Game. Though these do not necessarily correlate with actual wagers, they are a "strong indicator of market activity," according to GeoComply.
The peak transaction period occurred between 5-6 p.m. Central Time on Sunday.
Louisiana ranked 8th nationally in the total number of geolocation checks last weekend, beating Indiana, Tennessee, Colorado, and Connecticut.
Baton Rouge and New Orleans, and the southeastern corner of the state constituted 68% of GeoComply's recorded volume. Fifty-five of 64 parishes legalized sports betting. Those that did not are shaded in red in the video below.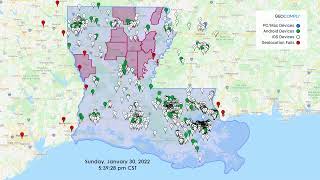 Louisiana sports betting makes a strong start
Louisiana mobile sports betting launched with:
Others will schedule to follow:
Betfred
PointsBet
Golden Nugget
WynnBet
That the highest transaction volume occurred between the AFC and NFC championship games isn't surprising, even with the New Orleans Saints missing the playoffs entirely.
Because there were no major sporting events – such as the numerous bowl games contested in the Caesars Superdome – being held last weekend in the state, the traffic can be viewed as mostly homegrown and provides a baseline for local interest.
That will make for a fascinating contrast when Super Bowls and College Football Playoffs games roll back into town with thousands of out-of-state fans. New Orleans will host Super Bowl LIX in 2025.
RANK
OPERATOR
BONUS
INFO
ACTION