May in Las Vegas starts and ends with party weekends. The month opens with Cinco De Mayo weekend and ends with Memorial Day Weekend.
Cinco De Mayo itself is always a good excuse to party. Las Vegas always takes this to another level as the city extends Cinco De Mayo parties into the weekend.
This year it's even easier with the day landing on a Friday. Look for parties inside and out all day and night for the three-day weekend.
The month ends with the unofficial beginning of summer. Temperatures are just beginning to touch the 100-degree mark.
Memorial Day Weekend is one of the busiest of the year in Las Vegas with hundreds of thousands in town to start their summer.
Dayclubs use this weekend as the kickoff to pool party season. As with most club entertainment, the party moves inside when the sun goes down.
The clubs aren't the only place to find entertainment in Las Vegas in May. There are outdoor music festivals every weekend. Many of the biggest Las Vegas residencies will resume as the casino operators look to pack every nook and cranny of Sin City.
May music festivals in Las Vegas
May is the beginning of festival season in Las Vegas. Music promotors try to get in a few all-day music festivals before temperatures above 100 degrees become normal for the next couple of months.
This year the early music festivals touch on a variety of genres from electronic to heavy metal. As always in Las Vegas, there's something for everyone.
Lovers and Friends music festival on May 6
This all-day event at the Las Vegas Festival Grounds across from Sahara features Hip Hop and R&B performers. Usher, Pitbull, Mariah Carey, Christina Aguillera and so many more stars from this era.
Sick New World festival on May 13
The first iteration of this festival takes place at the Las Vegas Festival Grounds. The heavy metal music festival features System Of A Down, Korn, Deftones, and a slew of hard rock and heavy metal bands from the late 1990s and early 2000s.
Electric Daisy Carnival (EDC) from May 19-21
Almost 500,000 people enjoyed this festival last year. And it returns to the Las Vegas Motor Speedway this year. The event will have hundreds are artists on eight stages over three days. This year there's a new off-site experience with Hotel EDC at Resorts World.
Punk Rock Bowling from May 26-29
The main concert takes place at the Downtown Las Vegas Events Center across the street from The D. Dropkick Murphy's, Bad Religion, and Rancid are headliners at the main concert. Unlike the other festivals in May, there are numerous club shows throughout the weekend.
Las Vegas casinos host music residencies and limited engagements
After a relatively quiet month in April, Las Vegas music residencies and limited engagements return in full force in May. This month Garth Brooks returns to Las Vegas for a new residency inside a different casino.
As one might imagine, many of the resident artists will be in Las Vegas for Memorial Day Weekend.
Rod Steward at Caesars Palace: May 3, 5, 6, 10, 12, 13, 15
The Chicks at Planet Hollywood: May 6, 10, 12, 13
The B-52's at The Venetian: May 5, 6, 10, 12, 13
Kool and The Gang at The Westgate: May 5, 6
Katy Perry at Resorts World: May 12, 13, 17, 19, 20, 24, 27, 28
The Pixies at Wynn: May 12, 13
Santana at Mandalay Bay: May 17, 19, 20, 21, 24, 26, 27, 28
Garth Brooks at Caesars Palace: May 18, 20, 21, 25, 27, 28
Barry Manilow at The Westgate: May 18, 19, 20, 25, 26, 27
Bruno Marks at Park MGM: May 24, 27, 28, 31
Ringo Starr at The Venetian: May 24, 26, 27
There are plenty of shows taking place in May. However, there was a slew of upcoming Las Vegas show announcements over the past few weeks.
Las Vegas entertainment residencies announcements
U2 finally released show states for its upcoming Las Vegas engagement at the MSG Sphere at The Venetian. The first two "Achtung Baby Live" shows will take place on Sept. 29 and 30.
At this time there are a total of 17 shows. The rest will take place throughout October and on Nov. 1, 3, 4. Tickets for the shows start at $140 and are as high as $600 for limited riser seating. The MSG Sphere sounds like a great audio and visual experience.
There's a less expensive option to check out the venue if U2 tickets are out of budget. Tickets for the Sphere Experience "Postcard from Earth" start at $49.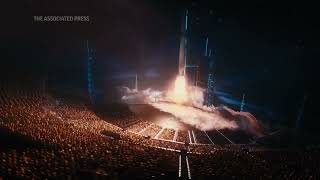 Erika Jayne from Real Housewives of Beverly Hills fame will have a limited engagement at House of Blues inside Mandalay Bay later this year. She'll perform two to five times per month from Aug. through Dec.
Lionel Richie announced an extension of his Las Vegas residency at Wynn. The new King of Hearts shows will take place on Oct. 11, 13, 14, 18, 20, 21.
Resorts World made a few entertainment announcements. Unfortunately, the Katy Perry residency is coming to an end after her shows in November. Carrie Underwood added three December shows to her residency.
Lastly in Resorts World entertainment, Hartbeat weekend will take place on July 6-9. Kevin Hart, J. Cole, Jack Harlow, Ludacris, and more will be in the house during the weekend.
Adele added 34 more shows to her Caesars Palace residency. They will take place on weekends from June 16 through Nov. 4.
Kelly Clarkson finally rescheduled her limited engagement that was canceled due to the Covid-19 pandemic. She'll perform 10 times at Planet Hollywood in July and Aug.
Just as April was coming to an end the free Downtown Rocks shows at the Fremont Street Experience were announced. The 10 weekends of free concerts kick off on Memorial Day Weekend with Smashmouth, Toadies, and Marcy Playground.
Las Vegas news and rumors
MGM Resorts is building an indoor walkway from Bellagio to the Cosmopolitan and then to Vdara. Aria is about a 15-second walk from Vdara. Construction on the walkway should be completed by September.
The company is also resigning 819 rooms and 104 suites in the Spa Tower at Bellagio. Some new rooms will be ready beginning in July. The entire renovation project will be finished by October.
Rumor has it that one of the hotel towers at Horseshoe will become part of Paris. Caesars will supposedly connect the two properties with a walkway. This appears to be legit as the article shares the Caesars' plans for the properties. Caesars confirmed this just after this article was posted.
Resorts World has two new experiences for guests. Golden Monkey Tiki Bar replaces the Genting Palace Lounge just off the main casino floor. Transfix, the world's largest touring immersive art experience, is open outside of the casino. This is a unique attraction in Las Vegas.
Real Estate company Blackstone is having financial difficulties. This could cause the company to sell some of its Las Vegas real estate assets including Bellagio and Cosmopolitan. Don't get too worked up about the rumored sales. This won't affect casino operations which are controlled by a different company, MGM Resorts International.
It's possible that some Las Vegas casinos could stop offering daily housekeeping services. If NV 441 is passed it would remove Covid-19 pandemic requirements for the gaming industry. This includes cleaning hotel rooms daily.
Luxury properties will likely continue the daily service. Some of the value-priced hotels could look to reduce expenses by not providing the service as frequently.
Downtown Las Vegas news and rumors
When sports bettors visit downtown Las Vegas they may notice some changes. The Circa sportsbook counter at Golden Gate has been closed. The space now has slot machines and a kiosk for sports bets. This isn't a surprise as the world's largest sportsbook is located across Fremont Street at Circa Resort and Casino.
Visitors may also notice the Golden Nugget sportsbook app no longer works. There will be a new solution in the future.
During its most recent earnings call, Boyd Gaming says it plans to renovate the hotel rooms at Main Street Station in downtown Las Vegas. There's no specific timeline for this update.
Plaza is wrapping up a slew of upgrades to the property. The first thing many visitors will notice is the old valet area is now the Carousel Bar. This will be the only outdoor bar with video poker in Las Vegas. Unfortunately, there's a rumor that this bar won't offer complimentary drinks when it opens in mid-May.
Following the bar opening, a new Pinkbox Donuts shop and the Brian Christopher smoke-free slot room will open. Both should be open by June 1.