It was standing room only during MGM Springfield's opening weekend as the company showed off the fruits of its four-year labor to the public for the first time.
The property is the latest addition to an ever-crowded New England casino market. It is the first of two destination-style casinos in Massachusetts. The other, Encore Boston Harbor, should open in June 2019.
At a cost of nearly $1 billion, the property is beautiful. Moreover, it is a far cry from the typical hotel-casino. MGM incorporated some of the existing buildings in downtown Springfield into its design plan. Check it out in the time-lapse construction video below.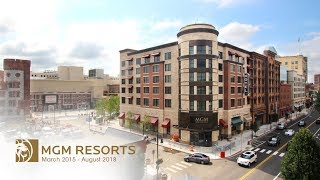 Time-lapse video courtesy of EarthCam.
At MGM Springfield, the hotel is the focal point
In Springfield, MGM paid homage to the city's past with an industrial chic design throughout the 250-room boutique hotel. According to MGM, no two rooms are the same).
The designers drew inspiration from the city's storied companies and literary past. Designers tied together elements from Indian Motorcycles to Edison light bulbs to Dr. Seuss.
The theme is evident as soon as you walk in the lobby.
REGISTER TO CLAIM YOUR FREE SWEEPSTAKES COINS
15 FREE SWEEPSTAKES COINS
With a Gold Coin Package
US Players Accepted
$9.99 Gold Coin Package Includes 15 SC
Daily FREE Sweepstakes When Logging In
MGM Springfield rooms
The rooms are more of the same, with the overall result along the lines of time-traveling to an upscale Victorian-era hotel. One with all the modern comforts like USB charging ports strategically placed around the room.
If you take a stroll through the property, you'll notice even more of these small, interesting touches, from Emily Dickinson quotes to roulette wheel gears hanging on the walls.
The standard room is on the smaller size at 375 square feet, but the design and layout make it appear more spacious than it is. There are also 16 suites available that range in size from 700-1,100 square feet.
One minor complaint is a lack of clothing storage.
There's a small closet that contains a small three-drawer bureau and a single nightstand with a single drawer. Basically, if you're staying for five-plus days, you'll be living out of your suitcase quite a bit.
The casino at MGM Springfield
As noted above, MGM used some of the hotel's design elements on the casino floor too. The design touches are more muted in the 125,000 square-foot casino, but they're there.
Of course, the emphasis on the casino floor is gaming, evidenced by the 2,550 slot machines, 120 table games, and 23-table poker room.
Considering how busy the property was, I was surprised to see $15 Blackjack and Craps tables, and a lot of empty seats. It will be interesting to see if these low-limit tables become mainstays, or if the minimum bet was simply kept artificially low for opening weekend.
Another minor complaint: the gaming floor is tightly packed, with little space in between tables and banks of slots.
Non-gaming offerings and amenities
If you're not interested in gambling, MGM Springfield also has a lot to offer.
The property boasts several restaurants and bars and a modest amount of shopping options.
TAP Sports Bar
Cal Mare – Italian Restaurant
Chandler Steakhouse
Commonwealth Bar and Lounge
Lobby Bar
Knox Bar – restricted
Among the entertainment highlights are:
An outdoor public area
A 10-lane bowling alley and arcade
TopGolf Swing Suite
Indoor pool and spa
Soon-to-be-opened movie theater
The property also has an off-site theater, the 8,000-seat Mass Mutual Center, where it will shuttle guests to and from shows.
Of all the amenities, the outdoor public area has the most potential. Whether it's hosting live local entertainment, bringing in food trucks, or just relaxing and having a cocktail in the outdoor seating areas (each with its own gas-powered fire pit), this public area will get a lot of use.
According to MGM:
"The Plaza serves as an outdoor gathering space hosting interactive events designed to foster community engagement such as Beer Yoga, a pop-up art gallery by Springfield muralist John Simpson, seasonal activations and more."
With its gaming floor essentially at full capacity, it will be interesting to see how MGM continues to develop and utilize its non-gaming amenities to attract guests.