The NBA recently announced NBA Con will take place in Las Vegas this summer. The new event is scheduled at Mandalay Bay from July 7-9.
It occurs during the first few days of the NBA Summer League, which runs from July 7-17.
Las Vegas isn't home to an NBA team yet but Sin City has been a partner with the league for years. NBA Summer League has been in Las Vegas since 2004.
The event aims to provide fun family entertainment. It's also like a summer camp for NBA players and executives. Joey Graziano, Head of Event Strategy and Development, NBA said in an NBA Communications news release:
"NBA Con is for every fan. It combines our players' and fans' passion for the game with their authentic off-court interests to create unique experiences that could only come to life through NBA fandom."
What to expect at NBA Con hosted by Mandalay Bay Las Vegas casino
NBA Con will bring lifestyle elements of the league to fans at the Mandalay Bay Las Vegas casino. Those in attendance will have a variety of live experiences including:
Art
Fashion
Food
Music
Technology
Of course, everything will include basketball along with NBA stars from yesterday and tomorrow will be on hand. Some of the players committed to appearing in Las Vegas for NBA Con include:
Kareem Abdul-Jabbar
Mike Conley
Tyrese Haliburton
CJ McCollum
Trae Young
Victor Wembanyama
Scoot Henderson
Fans will have a chance to get up close to the players during various appearances and meet-and-greets. More players will be announced before the event takes place.
There will be a basketball-centric exhibition with courts where fans can shoot around, watch open practices or participate in open runs.
NBA Culture is much more than just the players. The gathering will be inclusive of some of the most popular basketball personalities.
There will be live podcasts, conversations, and creator studios featuring athletes, creators, artists, and other media personalities. They'll discuss a variety of topics that will be heard first by those attending NBA Con.
Expect an interactive experience at NBA Con
NBA Con will also feature the latest trends in NBA fashion and sneakers. There will be plenty of league items on sale including limited-edition apparel and rare collectibles.
In addition to selling merchandise, there will be interactive brand experiences that connect basketball and technology. Some installations include augmented and virtual reality games.
General tickets For NBA Con are $60 a day or $150 for all three days. There are also a limited number of MVP passes available. These offer first access and fast-pass lanes for those who don't like waiting.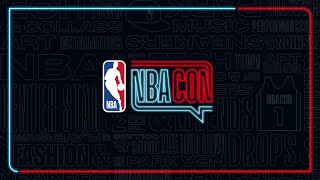 NBA Summer League at UNLV
The NBA Summer League in Las Vegas will be held at the Thomas & Mack Center and Cox Pavilion on the campus of UNLV.
Summer League is an off-season competition that gives NBA teams a chance to try out newly drafted players, slightly experienced players, G-Leaguers and alternative rosters.
The event will be inside two connected arenas on the campus of UNLV. This gives fans a chance to see future NBA players up close.
The capacity of Thomas & Mack is about 19,000. Cox Pavilion holds around 3,000 fans for basketball games. The latter is much smaller than all NBA arenas and gives fans an intimate experience.
General admission seats for NBA Summer League are $45 for adults. General admission tickets for kids and seniors are $35.
NBA Summer League has increased in popularity that some Las Vegas sportsbooks offer odds on both the exhibition games and the overall tournament.
The schedule for NBA Summer League hasn't been released. Visit UNLV Tickets for more information.