Maybe PrizePicks will one day join DraftKings and FanDuel as daily fantasy sports purveyors to make the evolutionary arc to legal sports betting. Probably, CEO Adam Wexler says, but not anytime soon.
For now, the Southern-based company and its over/under version of DFS are absorbing as much market share as possible in states without legal sports betting or at least mobile options. Monkey Knife Fight looks like its natural competitor, but it's more likely illegal offshore bookmakers in states that haven't legalized yet.
It's been a long journey since an abortive Dodger Demo in 2015, with much left ahead, Wexler hopes. In an interview with PlayUSA, the Atlanta resident plots out what the future of PrizePicks could be and how DFS fits in the current and post-COVID-19 ecosystems.
PlayUSA: Going forward, how do daily fantasy and sports betting co-exist? Does DFS have a future other than creating younger customers who will go become sports bettors or creating DFS companies that will eventually become sports betting companies? Do they have a future together?
Wexler: They absolutely do. And I think it's a bit of a myth that most people's initial inclination is to believe that there'll be a crazy amount of cannibalization. I think season-long fantasy, it's a bit of a different breed. I don't really think they're going to be impacted all that much. And then daily fantasy, we acknowledge that there's a lot of varieties in terms of potential formats for daily fantasy.
I'm on the board of the directors for the Fantasy Sports & Gaming Association, and I went out of my way to become the co-chair of the research committee because I wanted to really understand these stats, and we ran some studies on exactly that question, and the results came back and basically said it's not going to cannibalize nearly to the degree that people suspected would. I think [that] already, you can see in certain states there's definitely data points that are out there that indicate that. And in our own case, there's only a handful of states where we actually cross over.
Colorado is going to be one of those, obviously, very quickly. And then Michigan and Illinois. Other than that, I'm not sure that we intersect with mobile legal sports betting, which is the key. Brick and mortar actually does more good than bad for us because it just creates awareness in the market. And for anybody that's trying to have some action from the palm of their hand at home, you obviously can't turn to sports betting if it's not mobile.
PlayUSA: Where do the industry and PrizePicks end up in the next year or five?
Wexler: We're here for the long haul. We have big ambitions for building a significant category in fantasy sports that we think can see more adoption than the salary cap format. Obviously, [DraftKings and FanDuel] got a billion dollars in funding to scale that category, but we don't think it was necessarily a part of typical user consumer behavior.
We believe our prediction game, which was originally intended for the season-long fantasy player who's trying to make roster decisions on a weekly basis [where] you study up on how your players are going to do or what players you should pick up and you kind of have to get a sense through reading different articles who's going to do well and who's not going to do so well, that's where the over/under prediction of their fantasy point projections kind of came from. And we think it's something that just fits very well alongside your season-long experience.
But then also, the over/under format is something that has been obviously popularized in [the] sports betting context as well. So we think this category is definitely one that's very accessible. We did learn a thing or two watching FanDuel or DraftKings scale through hundreds of millions in funding, and we don't necessarily want to go down that same exact path.
And then, when it comes to sports betting, I think there's definitely an opportunity for us to build a brand in fantasy and have that extend into sports betting when the time is right. But for the time being, we're definitely a fantasy format that has a lot more upside.
PlayUSA: Do you think there's a eureka moment that will revolutionize DFS, or do you think it'll be little tweaks? Or maybe in the future, sports betting offerings and DFS offerings are going to sort of meander toward each other in the middle?
Wexler: There's nothing in these laws that are getting drawn up on a state-by-state basis that has specified fantasy has to be a peer-to-peer format. There had been companies that had pursued DFS against the house before. We were not the first, nor will we be the last, but nobody had ever done so really at scale until PrizePicks and what most people would evaluate to be our closest competition, Monkey Knife Fight. The two of us are kind of scaling at a similar pace.
And there's a lot more innovation that can be had in the daily fantasy domain, specifically Monkey Knife Fight; they offer five different games against the house. In our case, we're all in on one particular format: over/under prediction. So we totally think that five years from now, there's going to be somebody who's going to do exactly what we do. It's going to be the DraftKings to our FanDuel. And I don't believe it's going to be Monkey Knife Fight. So in that respect, I don't even consider them to be a direct competitor. I just think they're our closest competitor in the short term.
There's going to be plenty of states, whether it's Texas or California, that are not going to be legalizing mobile sports betting anytime soon. So you need the next best thing. And that's what we really believe we can serve in the majority of the country, especially the [areas] that don't have mobile sports betting.
One of our broader ambitions is we want to build the most premium sports betting brand of the South, encompass fantasy and encompass sports betting. The South is a huge focus for us … especially being a company based in Atlanta. So we're definitely focusing or placing heavier emphasis on states like Georgia and Florida.
PlayUSA: How has DFS as an industry weathered COVID-19 sports shutdowns?
Wexler: Daily fantasy wasn't at as big of a disadvantage as sports betting operators were during Q2. And that was mainly because we're a lightly regulated space compared with a tightly regulated [sports betting] space. We didn't have to go through extra approvals to get up and running with esports like with some of these more niche markets that we wouldn't have taken action on prior to the pandemic.
Like everybody else, we can't wait for everything to come back. If it all holds, we're about to enter what should be a peak sports calendar like we've never seen before. So we're pretty excited about that, all that, but even ahead of that, we truly believe that we've got the best product in the fantasy space specifically for basketball. We don't think anybody else has nailed a fantasy basketball product before until PrizePicks came around.
PlayUSA: "Pent-up demand" is the sports betting operator buzz phrase is anticipating what could be an epic autumn. Does it pertain to DFS?
Wexler: Absolutely. And I think that may take many of the most passionate fans that would otherwise be at the actual games who are now going to be stuck at home, just engaging via the internet and television, and … that money that would have been spent in [the] arena on tickets and concessions and merch, it's now going to be stuck at home. And what better place for that money to go then toward these industries, fantasy and betting, and for all the markets in the country? And it happens that the majority of these markets can't do legal, mobile sports betting. We like to position ourselves as the next best thing. And for that reason, we think it could be a very big fall.
PlayUSA: A

re you live in every state where DFS is legal?
Adam Wexler: No. We cover about 26 jurisdictions right now plus Canada — 26 jurisdictions, that is, in the states, which covers more than 70% of the US population. So for us, we believe we're at the forefront of a billion-dollar-plus category.
And it's a land grab. So unlike FanDuel and DraftKings, who maxed out their fantasy footprint across, I want to say it was 43-44 states covering over 90% of the population, we'll get there one of these days. But as it stands right now, we've got so much of the country to cover and introduce to what we describe as single-player fantasy that we don't have a need to necessarily go far beyond where we're currently doing.
PlayUSA: How do you compete against DraftKings and FanDuel?
Wexler: From a target audience standpoint, I don't necessarily consider FanDuel and DraftKings' fantasy product to be overly competitive with ours. Some of our earliest adopters are those daily fantasy fanatics, but in terms of the target audience that we're seeking, those are people who are stuck betting offshore right now, adopting it from an internet standpoint. They're not those that are betting with bookies and stuff. But for the markets that we're focused on, the great majority of these are ones where you can't legally bet from the palm of your hand through a William Hill or a FanDuel Sportsbook, DraftKings Sportsbook.
So in that respect, in the markets that we're focused on, like Florida, like Georgia, where we're based, we believe our closest competition to these illegal offs for a website.
PlayUSA:

Do you eventually see yourselves as a sports betting operator?
Adam Wexler: I think there's absolutely a path that's been paved by FanDuel and DraftKings, and you see what they've done, basically getting a foothold in all these markets through their fantasy product. And then eventually, when the time was right, they expanded into sports betting. I think that's very compelling to us as well.
But I'll tell you, the category that we're creating or helping to pioneer in fantasy is something that we plan to stick with for a good while. And we're big fans of maintaining a singular focus. But at the same time, we'll be opportunistic when it makes sense, especially [in] some of the states that we placed heavy emphasis on, like Georgia.
PlayUSA:

What's the story of the 2015 Dodger Demo?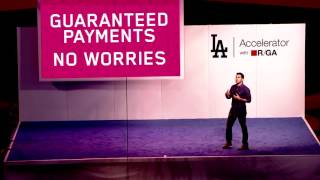 Wexler: PrizePicks is our third product in the industry. What got me into this space, I'm a technology entrepreneur of 15 years, but what got me into fantasy six years ago was I was a season-long player. I knew that the commissioner collecting money was not one of the most painless jobs in the world. So we set out to make his or her life easier through software. And eventually that concept got expanded into facilitating side bets. And that's what we won a number of awards for, the product called SidePrize.
So, we were selected for the Dodgers Accelerator program. This was the famous fall of 2015 when FanDuel and DraftKings had raised hundreds of millions of dollars, became some of the biggest advertisers in the world.
And the next thing, all the attorney generals are coming after them. And literally it was the day of my demo … After going through this program for three months, the day of my demo day is the same day that the New York attorney general, Eric Schneiderman, came out and said, 'This is all illegal gambling.' That happened a couple of hours before I went on stage in front of a thousand sports business professionals, investors, et cetera.
And so needless to say, we were kind of stopped in our tracks from scaling the business. At that point in time, it was going to be a terrible time to raise money. But in the grand scheme of things, as painful as it was in the moment, ultimately it led us to PrizePicks, and SidePrize was a bit of a flawed product because it required a double-sided transaction, and PrizePicks, as we describe it, it's just you against the projections, and we want you in and out of the app in less than 60 seconds. So we think we've created the most simplified version of daily fantasy, and we think it's the most mainstream-accessible version of daily fantasy.