It's September and that means the unofficial end of summer is here, but not before a huge Labor Day Weekend blowout. After all, it's not like September will bring cooler temperatures, as Las Vegas is actually under an excessive heat warning until at least 8 p.m. on Sept. 6. There's still plenty of time to revel in "summer" weather in the Southwest, and plenty of things to do for tourists and visitors alike.
Let's unpack the latest Las Vegas news.
Las Vegas dayclub events
Labor Day Weekend is when Las Vegas dayclubs start to slow down for the year. This is the last big party weekend at the outdoor clubs until they eventually shut down for the season as the weather cools.
Have no fear, there are still plenty of ways to have a weekend of fun in the Las Vegas sun. Here are some highlights of dayclub events during Labor Day Weekend:
Saturday, Sept. 3
Big Sean at Drai's Beach Club (The Cromwell)
Tiësto at Ayu Dayclub (Resorts World)
Alesso at Tao Beach Club (The Venetian)
Sunday, Sept. 4
Meek Mill at Drai's Beach Club (The Cromwell)
Steve Aoki at Wet Republic (MGM Grand)
The Chainsmokers at Encore Beach Club (Wynn)
You can find a complete overview of more to do during Labor Day Weekend here.
Las Vegas Grand Prix update
The Las Vegas Grand Prix is scheduled for a weekend in Nov. 2023. Formula 1 (F1) hasn't officially announced the exact date yet. Rumors are circulating that the race will take place on Nov. 18, 2023.
Expect higher than usual prices when F1 is in Las Vegas. During MGM Resorts' most recent earnings call the company said it planned to buy $20-$25 million in tickets.
Some tickets will be for VIPs and high rollers. The rest will be included in MGM/F1 packages.
During the earnings call, MGM Resorts' CEO Bill Hornbuckle gleefully told investors that the company will have "the ability to charge as we want and package as we want." This was a comment made from experience seeing prices at other F1 events in the US over the past few years.
He and other reps in the room giggled in anticipation for F1 in Las Vegas based on the incredibly high prices charged for everything from tickets to the special hotel, dining and nightclub events at the Miami Grand Prix earlier this year.
The highest end of VIP packages for the Las Vegas Grand Prix should easily top $100,000. However, MGM Resorts is expecting to charge at least three times the normal rate for all hotel rooms in Las Vegas for the weekend.
But there are options to keep costs to a minimum for anyone who wants to see the Las Vegas Grand Prix. That starts with purchasing tickets directly from F1. A $7.77 donation to F1's charity (proceed will go to Las Vegas organizations) will allow anyone to pre-register to buy tickets when they're released.
Las Vegas concert residencies and music festivals
Labor Day Weekend is just the beginning of a busy month of music in Las Vegas. Plenty of resident artists return for a few shows during the month.
The annual Life Is Beautiful festival returns to downtown Las Vegas this month. The mostly outdoor music, comedy, art and food festival takes place at various locations around downtown Las Vegas from Sept. 16-19.
There are hundreds of performers over three days and nights. Some of the music headliners this year include Arctic Monkeys, Jack Harlow, Lorde and Migos.
Here's a look at the residencies and limited engagements in Las Vegas throughout September.
Duran Duran at Wynn: Sept. 1, 3
Shania Twain at Planet Hollywood: Sept. 2, 3, 7, 9, 10,
Luke Bryan at Resorts World: Sept. 3, 4
Usher at Park MGM: Sept 3, 4, 7, 9, 10
Aerosmith at Park MGM: Sept. 14, 17, 20, 23, 26, 29
Enrique Iglesias at Resorts World: Sept. 16, 17
Pitbull at Planet Hollywood: Sept. 15, 16
Barry Manilow at Westgate: Sept: 15, 16, 17, 22, 23, 24
Rod Stewart at Caesars Palace: Sept. 23, 24, 28, 30
Miranda Lambert at Planet Hollywood: Sept. 23, 24, 28, 30
Travis Scott begins his new residency at Resorts World this month. He'll perform at Ayu Dayclub and Zouk Nightclub on Sept. 17. Scott will return to Resorts World in October for more shows.
A couple of return engagements with fall dates were just announced. The early planners might want to act now as these artists appear to be returning because of popular demand.
Duran Duran will return to Wynn for Halloween-themed shows on Oct. 30 and 31. Jonas Brothers: Live in Las Vegas will return to Park MGM on Nov. 10, 11 and 12.
One popular Vegas resident act surprised partygoers in August, proving you never know who you might see when out on the town.
Silk Sonic dropped by the Barbershop at the Cosmopolitan for an unannounced appearance after one of their residency shows at Park MGM. The duo did a medley of pop and rock songs. Bruno Mars singing "Roxanne" by The Police is a highlight in the middle of the set.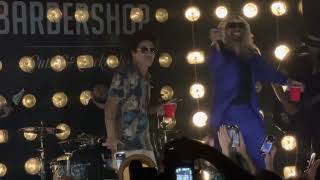 BetMGM at The Cosmopolitan
MGM Resorts took over operations of The Cosmopolitan a couple of months ago. The property will take about a year to become part of the MGM family completely.
Silk Sonic performing at The Cosmopolitan was a small step toward integrating the property into the MGM family. Switching the operation of the sportsbook to BetMGM is another, bigger, step forward.
The BetMGM sportsbook at The Cosmopolitan will have the same odds as other MGM casinos. Just as important, this will be the only part of The Cosmopolitan where players can earn MGM Rewards points.
The rest of the casino games at The Cosmopolitan will continue to use the Identity Rewards program. The Cosmopolitan won't become part of MGM Rewards until next year.
Sports in Las Vegas in September
September is the beginning of the packed sports season in Las Vegas. The NFL and college football regular seasons are underway.
While the WNBA playoffs are in progress the NHL preseason is just starting this month. In addition to this, two different combat sports will have big events in Las Vegas.
The Las Vegas Aces playoff run continues as the WNBA team is taking on the Seattle Storm on Sep. 1. The Aces are the betting favorites to win the WNBA championship and will play home games at Mandalay Bay until they're ousted. The next home game is scheduled for Sept. 8, if necessary.
Here's a look at the rest of the Las Vegas sports schedule this month:
UFC 279: Khamzat Chimaev Vs. Nate Diaz at T-Mobile Arena: Sept. 10
Canelo Alvarez Vs. Gennady Golovkin at T-Mobile Arena: Sept. 17
UNLV football at Allegiant Stadium: Sept. 17, 30
Las Vegas Raiders at Allegiant Stadium: Sept. 18
Vegas Golden Knights (preseason) at T-Mobile Arena: Sept. 26, 28, 30
Las Vegas casino news and rumors
New York-New York Hotel & Casino
Changes are brewing inside New York-New York. MGM Resorts recently announced it will be renovating the hotel rooms at the property.
Some of the new hotel rooms will be available as soon as this October. The entire renovation project will be completed by next summer.
There are virtual tours of the rooms featuring a faux-brick wall here.
The casino floor is getting a new Starbucks where the old lobby bar used to operate. There's also a rumor that Bar Rescue's John Taffer will be opening a restaurant as the property gets a much-needed refresh.
Hard Rock Hotel and more
The sale of The Mirage operations to Hard Rock should be completed before the end of the year. Hard Rock is being tight-lipped on plans other than reiterating it will build a guitar-shaped hotel tower where the volcano currently exists.
When the sale was announced, Hard Rock said it plans to overhaul the entire property. Rumors have been floating around about the schedule of the overhaul. The latest rumors going around appear to have some legs.
The casino will remain open during the construction of the new hotel tower. When that's completed, Hard Rock will renovate the other hotel rooms.
A new concert venue makes sense for the Hard Rock brand. Expanding the beautiful pool complex also sounds right. Hard Rock Hollywood (FL) has a similar pool complex as The Mirage.
More Las Vegas hotel news
Caesars Entertainment has been refreshing a casino of its own. The company has been slowly renovating and rebranding Bally's as Horseshoe Las Vegas.
The rebrand should be completed before the year is over. A major step took place in late August when the name Bally's was removed from the exterior of the casino.
Palms reopened in April and continues to evolve. The property recently reopened the popular Ghostbar Lounge on the 55th floor.
The Pearl Concert Theater will have its first shows this month. Meanwhile, smaller resident acts are performing at the space formerly the home of KAOS nightclub.
On the casino floor, Palms is figuring out which free entertainment options are working best. For starters, there are no more rock bands performing in the sportsbook after the games are over. Expect to see more changes as customers react to other performers.
Las Vegas bar and restaurant update
The bar and restaurant scene in Las Vegas has been pretty stagnant but that might be starting to change.
The Ocean Prime steakhouse chain will be opening its first Las Vegas location. The new steakhouse will cost $20 million and become the flagship restaurant for the chain. It will be inside of a shopping plaza still under construction in between Crystals mall and Cosmopolitan.
The Bedford by Martha Stewart is now open inside Paris Las Vegas. Initial feedback has been positive. This follows Vanderpump à Paris and Nobu's opening at the property earlier this year.
The D in downtown Las Vegas is opening a bacon-inspired restaurant this fall. Bacon Nation will feature flights of bacon and boozy milkshakes. Most importantly, the restaurant will be open 24 hours a day.
Bellagio is renovating Lily Bar & Lounge. When it reopens it will be known as The Pinky Ring by Bruno Mars. This is an extension of Mars' involvement with MGM Resorts which includes a solo residency and one with Silk Sonic.
Not all the Las Vegas restaurant news is positive. PBR Rock Bar at the Miracle Mile Shops in Planet Hollywood is closing. A new concept will open early next year.
Rumor has it that Cabo Wabo on the opposite side of the Miracle Mile Shops in Planet Hollywood could see a similar future.