Light & Wonder (formerly Scientific Games) is debuting its "Squid Game" slot machine at the Global Gaming Expo (G2E) this week in Las Vegas.
According to Variety, "Squid Game" is the most popular Netflix title of all time. The show received 1.65 billion streams in its first four weeks.
"Squid Game" is the first Netflix licensing deal in the casino and gambling industry. The game will feature iconic games from the show such as Red Light, Green Light, Tug of War and The Glass Tile.
The game will be on Light & Wonder's new Horizon cabinet, according to a Light & Wonder news release. This unit features a 75-inch screen with 600,000 individual micro-LED pixels. This will make the display area an enormous 90-inches.
The cabinet also features a 27-inch touch screen, mobile charger, and dual play buttons. There will also be a digital adaption of the "Squid Game" slot theme that will feature three bonus rounds based on the series.
The "Squid Game" slot machine is slated to hit casino floors in 2024.
In the Light & Wonder release, Matt Wilson, Light & Wonder's chief executive officer said:
"Light & Wonder is proud to be the first slots gaming company in the industry to partner with Netflix's Squid Game and bring this ground-breaking show to life across multiple casino gaming platforms.

We've seen how combining fan-favorite shows with immersive gameplay can resonate with audiences both digitally and on casino floors."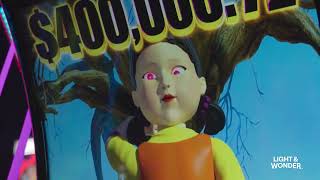 Light & Wonder unveils more casino games at G2E
G2E is an annual gathering of the gaming industry. This is where gaming manufacturers like Light & Wonder debut new products for casinos to purchase or lease.
Light & Wonder will debut three new Monopoly slot machines. Altogether the company will debut four new titles on the Landmark 7000 Transparent cabinet including Huff N Puff 3.
The company will also debut a new roulette game. POWERX roulette transforms the classic roulette game by adding a two-level progressive jackpot. This will offer players the chance to win up to 750 times the value of their bet on a single number.
Light and Wonder will also debut a slew of new online gambling technologies for online casinos.