They seem made for each other: Tennessee, the first state to launch a mobile-only sports betting marketplace, and DraftKings, one of the two digital-first sportsbooks to snap up consumers in the two years since the practice became a legal national possibility.
Their new relationship began on Nov. 1 with DraftKings, plus rival FanDuel, BetMGM and TN's own Action 24/7, as the first sanctioned to take bets for Tennessee sports betting after it was legalized there in May of 2019.
For DraftKings, the transition seemed seamless. It's boasting yet another state on a narrowing map.
"As DraftKings Sportsbook continues to expand across America, we couldn't be more excited for the opportunity to launch our No. 1-rated sportsbook product in Tennessee," DraftKings North America co-founder and president Matt Kalish said in a Friday news release. "Judging by the rabid fan bases following the local pro teams and the powerhouse college sports teams, we're certain that Tennesseans will be among of the most engaged skin-in-the-game sports fans we've seen. We can't wait to serve Tennessee with the unrivaled DraftKings experience."
DraftKings now offers mobile and online sports betting in a nation-leading nine states, and its stock has increased in value by 300% since the company went public earlier this year.
Here's a rundown of how to bet with DraftKings in its newest state.
Basics of betting with DraftKings in Tennessee
Android and iOS versions of the DraftKings app are available directly from the company's app stores.
The Google Play store does not allow gambling apps, but the downloads from DraftKings are trustworthy and used nationally. The iTunes store has the app.
DraftKings users with accounts set up in other states need only go through a short series of steps to be ready to play in Tennessee.
Open the "settings" menu on an Android device.
Select "security."
Check the box next to "unknown sources."
Verify acceptance of the standard third-party download.
For new users, a series of slightly longer steps is necessary to set up an account. These include both providing personal information, such as name, address and Social Security number, and getting both that information and your location verified.
How to deposit and withdraw money at DraftKings Sportsbook in Tennessee
Players can deposit money in a DraftKings account through various methods including credit card, wire transfer or PlayPlus. The minimum deposit is $5. Withdrawals can be made through the original source.
Promo offers at DraftKings Sportsbook in Tennessee
The best limited-time deal for new sign-ups is a free $25 no-deposit bonus. When bettors make a first deposit, the bonus is 20%, up to $1,000.
RANK
OPERATOR
BONUS
INFO
ACTION
Tennessee a unique landscape with mobile, no gaming history
Tennessee's sports betting market — or the cultivation of it — has been as contentious as it is unique. A controversial 90% payout rule actually represents a compromise, and the mandate to utilize official league data is a concession very few other states have made.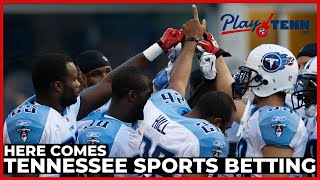 But after a lengthy approval period, followed by a comment period that became a national cause of sorts on gambling Twitter, the Tennessee market went online Sunday morning, in time for Week Eight of the NFL season, where the Titans played the Cincinnati Bengals, and the remainder of the SEC football slate.
Tennessee's perch as a home for the NBA (Memphis Grizzlies), NHL (Nashville Predators), scores of major college programs and perhaps, eventually, MLB makes it a unique lab in a national ecosystem with 30 states and jurisdictions now sanctioning legal bets.
BetAmerica, a Churchill Downs brand, William Hill and Wynn have applied to plant a flag in Tennessee, but have not yet been approved. The Tennessee Lottery, which oversees sports betting, will apparently not cap the number of vendors in the state as long as they can muster the $750,000 and pass regulatory muster.
According to an analysis by PlayTenn, the market could generate upward of $6 billion in annual bets at maturity.
From PlayTenn:

"Tennessee's market is almost identical in size to Indiana, a state that has attracted $1.4B in sports wagers in 13 months since launching, making it the fourth-largest market over that time. In October, the Hoosier State set a state record by accepting $207.5M in bets for the month."