Like it or not, karaoke and Las Vegas are quite possibly the perfect match. Many visitors visit Las Vegas to get away from their regular life for a few days. Singing along with their favorite music is also a way to get away from the rigors of day-to-day life.
Karaoke isn't for everyone and that's why it's not available in every Las Vegas casino. This is a town that will replicate anything that is profitable and has a large profit margin.
The scarcity of Las Vegas karaoke bars makes finding one a challenge and a victory for those who know where to go.
Karaoke may not have the mainstream popularity as seeing Bruno Mars or another popular Las Vegas resident artist. However, those who love karaoke – LOVE karaoke and want to enjoy it wherever they are.
The entertainment value of karaoke is also more affordable than the cost of big show tickets.
There are two types of Las Vegas karaoke options. The easiest way to find karaoke is at a bar inside one of the casinos. Some casinos offer private karaoke rooms for groups.
Each option has its merit depending on who's visiting Las Vegas. Group events ranging from corporate outings to bachelorette parties might prefer their room.
Small groups of friends might prefer feeling like a part of the Las Vegas karaoke community and singing along to their favorite songs among total strangers.
Vegas Strip karaoke
Vegas Strip casinos follow national trends more than those anywhere else in town. It makes sense as most visitors to the area are looking for the best and newest activities and attractions.
Many Vegas Strip restaurants and bars change concepts frequently. However, karaoke on the Vegas Strip is mostly at bars and lounges that haven't changed all that much over the years.
Believe it or not, one of the few places for karaoke on the Vegas Strip was also on our list of free live music and the overview of hidden lounges inside casinos. This venue also lets guests sing along with a live band.
Open karaoke on The Vegas Strip
Vegas Strip karaoke bars and lounges allow guests to sing along loud and proud on specific nights. Fans of karaoke in Las Vegas will recognize some of these venues as it's been offered for years.
Piano Bar at Harrah's
This bar offers free entertainment throughout the week with karaoke, "Big Elvis", the Saxman Duo, and Dueling Pianos on different nights.
The Piano Bar at Harrah's has karaoke every Wednesday through Sunday from 6 pm to 9 pm. There's no charge for singing along or just watching others performing.
Barbershop at Cosmopolitan
The Barbershop also has free entertainment throughout the week and is the lounge featured on both the free entertainment and hidden bar list.
Faded Karaoke is the Barbershop's house Karaoke band that guests can sing along with on Tuesdays from 8 pm – 1:30 am.
One might think that a live band performing songs for karaoke wouldn't have a large catalog of songs for guests to sing along with. That's not quite the case here. Future guests can request songs for the band to play from a huge list here.
Gilley's at Treasure Island
Gilley's is a country bar and BBQ joint inside Treasure Island. The bar has live entertainment, free line dancing lessons, and bull riding for guests.
Doors open at noon on the weekends and 2 pm on weekdays for honkey tonk and BBQ at Gilley's. Karaoke night is hosted by Kirk Johnson, "The Urban Cowboy", on Tuesday nights from 8 pm – 10:30 pm.
Karaoke at Gilley's is the same time as Barbershop but has a very different vibe.
Rockhouse at The Venetian
Karaoke around the US seems to be most popular at dive bars. There aren't many dives inside casinos on the Vegas Strip since bars change themes so often.
When Rockhouse in the Grand Canal Shoppes at The Venetian first opened it considered itself as an "Ultra dive bar." While the branding has changed over the years, it still has a somewhat edgier vibe than most Vegas Strip bars.
Rockhouse has live band karaoke on Wednesday, Thursday, and Friday. There's a $5 cover charge for anyone who wants to watch or sing. Karaoke kicks off at 7 pm on Wednesday. and 9 pm on Thursday and Friday.
Losers Bar At MGM Grand
Losers Bar at MGM Grand features country music and also considers itself a dive bar. The bar has live entertainment nightly and karaoke on Monday nights from 9 pm – 12 am.
Trago Lounge at Tropicana
Trago Lounge transforms into a place for cheap (for Vegas) beer and singing on Thursday nights. Karaoke at this lounge begins at 9 pm. Draft beer prices start at $6 for those who need a little boost before hitting the stage.
Vegas Strip karaoke with private rooms
The majority of Vegas Strip karaoke venues are open to the public. Most of the Vegas Strip karaoke bars offer the attraction for no charge.
Public karaoke isn't suitable for everyone. There are options for those who prefer singing to a smaller or familiar crowd.
Private Vegas Strip karaoke rooms aren't open to the public. While most are intimate for smaller groups, larger private karaoke rooms might be more comfortable for groups than packed bars.
Privacy comes with a cost. The fee for a private Vegas Strip karaoke room may cover the cost of the room or could be part of a minimum spend on food and/or beverage.
Kamu Ultra Karaoke at The Palazzo
This karaoke bar is located in the Grand Canal Shoppes at The Palazzo. The private rooms can be small enough to hold 6-9 people comfortably. Some rooms can hold up to 40 people.
There are numerous themed rooms available at Kamu. The Galaxy Suite and Milky Way rooms are good for smaller groups while there's a VIP Suite that has a Pharoah theme.
The prices to reserve a private room at Kamu start at $60 an hour during happy hour at 6 pm in a small room. The larger rooms may require a minimum spend on food and beverage as high as $4,600 during the weekend.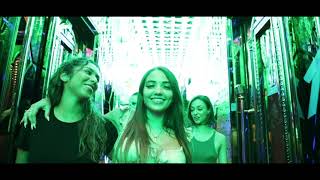 On The Record at Park MGM
On The Record is a nightclub and speakeasy with numerous rooms with different atmospheres and music at Park MGM. The club also has a few private rooms guests can use for karaoke.
Renting a private karaoke room at On The Record gives guests access to explore the rest of this unique club on the Vegas Strip.
Redtail at Resorts World Las Vegas
Redtail is a bar and restaurant with a variety of games including, billiards, beer pong, and vintage video games. The venue is located off the casino floor in the mall area of Resorts World.
Few private karaoke rooms require a minimum spend on food and beverage of $100 per hour. Redtail also has watch parties for certain UFC fights.
More places to karaoke in Las Vegas
There are more places for karaoke than Vegas Strip casinos. The most popular karaoke bars in Las Vegas aren't on the main tourist corridor. Don't worry, they aren't far.
Dino's on Las Vegas Blvd. is just north of the main casino area. It's a traditional dive bar with cheap drinks, karaoke and is always packed.
Ellis Island is a casino that's just a short walk from Horseshoe Las Vegas. Karaoke is available Sun-Thu from 9 pm – 3 am and Fri-Sat from 9 pm – 4 am.
Cat's Meow in downtown Las Vegas and Champagnes in East Las Vegas are two other popular karaoke bars in Las Vegas.
There are some more karaoke venues throughout Las Vegas for anyone looking to hang with the locals instead of tourists.