You may have heard that Las Vegas can get warm during the summer. Temperatures are regularly above 100 degrees most of the day and night.
The weather forecasts are often lower than the actual temperature when going outside. Las Vegas weatherman, Kevin Janison, reminds us that the temperatures posted in weather reports are taken in the shade.
Standing in direct sunlight can add at least 10 degrees to the actual feel temperature. If you're ever in a weird mood test this by moving in and out of the shade with temperatures above 110 degrees. It's an odd physical sensation.
Between day clubs, al fresco dining and drinking, and physical activities like golf there are plenty of ways to enjoy the 110-degree-plus days outside around the Las Vegas Valley. Simply sitting at a pool reading a book is a way many relish their time in the sun.
There are plenty of visitors who dread spending any time in the heat. Even walking outside from one casino to another can be exhausting for some during the extreme summer heat.
Avoiding the heat is easy for those who enjoy sitting at the tables and machines in the casino while the sun is up. There are a few ways for those not gambling to escape the heat and enjoy the air conditioning while exploring the Vegas Strip.
Check out the shops on the Las Vegas Strip
Just about every Vegas Strip casino has a few retail outlets. Many of these retail spaces with 10 or so shops won't take too much time to explore.
Window shopping or retail therapy as a way to escape the heat and enjoy air conditioning is best done inside one of the malls connected to a Las Vegas casino.
It can take hours to get through the largest Vegas Strip malls if someone takes a stroll through the shops and stops for a relatively inexpensive meal. Three of the largest malls in Las Vegas happen to be attached to a Vegas Strip casino.
Pro-tip: Malls attached to casinos often have comparably inexpensive bars and restaurants than gambling areas.
Caesars Forum Shops
The Caesars Forum Shops is one of the most popular shopping destinations on the Vegas Strip. The mall has 160 stores and restaurants.
The variety of retailers has something for everyone. Sports fans can browse Field of Dreams and the NFL Store.
High-end shoppers can visit brand names like Fendi and Gucci. There are numerous art galleries to browse and/or purchase.
Dining options range from the vast menu of Cheesecake Factory to Joe's Seafood, Steak, and Crab. Cigar smokers can head over to Casa Fuente for a cigar and a drink.
The Caesars Forum Shops is also home to one of the few Apple Stores on the Vegas Strip. This is great for anyone that has a problem with their phone or loses accessories in travel.
Miracle Mile Shops
The Miracle Mile Shops at Planet Hollywood are surprisingly large. There are 170 shops, 15 restaurants, and multiple entertainment venues in this 1.2-mile mall. The layout can be confusing so guests should pay attention since it's not difficult to get lost.
While the outlets inside the Caesars Forum Shops cater to all budgets, the Miracle Mile Shops are geared toward the average mall shopper.
There are no high-end shops at the Miracle Mile Shops. This mall does have some comparably inexpensive dining options.
The retail outlets are what you'd expect in a mall. Stores include your typical mall shops like Lululemon, Foot Locker, and a Welcome To Las Vegas outlet.
Dining options include Cabo Wabo, Buffalo Wild Wings, and Pampas Brazillian Grill. Many of the restaurants like Blondies and Flights offer great prices for eating and drinking.
There are a few entertainment options as well. Most visitors are familiar with Bakkt Theater since it's the home of numerous Planet Hollywood resident artists.
The Saxe Theater and V Theater have entertainment during the day and at night.
Grand Canal Shoppes
The Grand Canal Shoppes are on The Venetian's second level and continue to The Palazzo. The mall has a variety of retail, dining, and entertainment for all budgets.
Many are familiar with this mall because of the canal with gondola rides that go out to the Vegas Strip. This huge mall has more than 230 retail outlets.
There are ample full-service and quick-serve dining options in the Grand Canal Shoppes. The food court has quick-serve staples such as Chipotle, Johnny Rockets, and Panda Express.
The fine dining options include restaurants such as Smith & Wollensky. However, most of the full-service restaurants in the Grand Canal Shoppes are casual.
Buddy V's Ristorante is one of the best values in Las Vegas for a celebrity chef restaurant. Canonita is located just off the canal and has Mexican food with excellent happy hour prices.
St. Mark's Square is located between the two casinos. This area is designed like a public square. It has Streetmosphere performers such as "living statues" and other free entertainment. There are also a handful of restaurants with "outdoor" seating to enjoy the environment.
This mall is home to Tao nightclub and a restaurant near the Vegas Strip entrance of The Venetian. The Atomic Saloon Show is on the other end of the Grand Canal Shoppes at The Palazzo.
Experience immersive and interactive exhibits in Las Vegas
Las Vegas is no stranger to exhibits. Casinos have hosted numerous short and long-term exhibits over the years. While shopping can be a free event for browsers, exhibits have an entry fee.
Las Vegas exhibits have changed over the years. Today there's a focus on immersive and interactive experiences. These not only increase the entertainment value of an exhibit but allows them to offer a new way to enjoy an exhibit.
Anyone looking for art around Las Vegas can visit the casinos for a quick encounter. The Bellagio Fine Art Gallery will cost money on the Vegas Strip but offers a traditional art viewing experience. The Caesars Forum Shops have multiple small art galleries for anyone who wants to browse or purchase art.
Immersive Disney Animation and Immersive Van Gogh are located in Crystals Mall next to Aria for the rest of the year. Both offer audio and visual presentations of their very different artwork.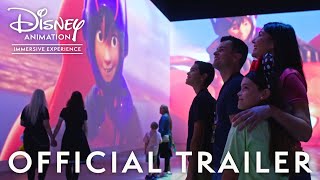 Dino Safari: A Walk Thru Adventure is located inside Horseshoe (formerly Bally's). The Jurrasic Park-like exhibit has animatronic dinosaurs, interactive games, virtual reality, and real fossils.
The Shark Reef Aquarium at Mandalay Bay is one of the most popular non-gaming attractions in Las Vegas. Guests can see more than 2,000 animals including sharks, exotic fresh and saltwater fish, along with sea turtles. Guests can add to their tickets if they'd like to feed sharks or stingrays.
The Hunger Games: The Exhibition at MGM Grand remains a popular interactive experience on the Vegas Strip. The exhibit has a costume gallery from the movie, a training lab for those who'd like to practice as though they'll participate in the Hunger Games, and more.
Madame Tussauds Las Vegas is located inside The Venetian. The wax museum has more than 100 celebrities on display. The exhibit adds new celebrities throughout the year so the experience may be slightly different each visit to Las Vegas.
Luxor has three different exhibits with Bodies, King Tut's Tomb, and Titanic exhibits. Bodies may not be for the whole family. This exhibit features 13 whole-body specimens, more than 260 organs, and partial-body specimens.
The Titanic exhibit has more than 250 authentic artifacts recovered from the wreck site of the ship. Discovering King Tut's Tomb found the perfect casino in Las Vegas. The exhibit takes guests on a tour to learn more about ancient Egypt.
Tips to stay hydrated in Las Vegas
Staying hydrated during the summer in Las Vegas can be a challenge. The dry heat is real and that affects visitors inside and out. Keeping hydrated is important to a healthy and fun visit to Las Vegas during the summer.
Visit a physician to find out what tactics will work best for your personal hydration needs.
It's widely known that alcohol can dehydrate people. This goes for all kinds of alcoholic drinks. Cold or frozen boozy drinks can be dangerous as the temperature can provide a short-term reprieve from the heat.
Drinking water and beverages with electrolytes will help rehydrate the body.
Replenishing IVs continue to grow in popularity in Las Vegas. IV services pump fluids and vitamins directly into guests in many Vegas Strip casinos.
Pre-hydrating by drinking plenty of fluids can be helpful. Some visitors even take a "replenishing" IV before the day to help counteract the heat.
The dry heat also impacts our skin. Leaving a summer trip to Las Vegas with chapped lips and dry skin is a bummer. Use lip balm and skin moisturizer frequently to counteract the effects of dry heat on the body.
Remember, that standing in direct sunlight on concrete or asphalt can be at 10 or more degrees to the temperature.