Wings. Beer. Sports. Gambling
Most sports fans know the tagline of Wings – Beer – Sports without hearing the name of the bar and restaurant. It's nearly impossible to watch or listen to sports on TV or radio without noticing copious ads for Buffalo Wild Wings. It appears as though the chain of sports bars is looking to expand beyond just showing the games on TV and slinging wings and beer.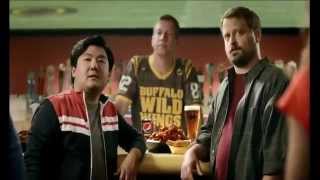 Buffalo Wild Wings may be looking to add a sportsbook element to their bar and restaurants. According to Micah Roberts from Gaming Today, Buffalo Wild Wings is exploring options to find a way to get involved with sports betting.
Bet $5 Get $200 + Up to $1,050 Bonus
UP TO $1,050 FREE
New User Bonus. T&Cs Apply.
Special for Bets on NFL
Bet $5 & Win $200

$50 Free Bet On Deposit

Up to $1,000 Deposit Bonus
To Claim: Click Play Now
Your friendly neighborhood sports bar/sportsbook
The wing joint has more than 1,200 locations around the country. Last year Buffalo Wild Wings was purchased by Arby's, which has more than 3,000 locations. The concept of bars and taverns offering the ability to gamble isn't exactly unique.
States like Nevada and Illinois have plenty of them. What is different is that Buffalo Wild Wings wants to offer sports betting. According to the report, Buffalo Wild Wings is considering booking sports bets themselves and not partnering with a third party like William Hill.
The number of Buffalo Wild Wings locations nationwide is great, but sports betting is only legal in a handful of states right now. Off the bat, we'll be looking at fewer than 100 Buffalo Wild Wings sports bar and books. Still, the 14 locations spread around the state of New Jersey will make legal sports wagering more convenient to mainstream sports fans that might not visit a casino or racetrack to place a wager or set up a mobile wagering account.
The marketing potential is huge for Buffalo Wild Wings. A large TV and radio ad budget, a large following on social media, and massive loyalty club are just the beginning. The potential to have Arby's as an affiliate possibly hawking a mobile wagering app could make Buffalo Wild Wings sports bar and book serious competition for the established sports betting operations.
Boyd Gaming And Golden Entertainment also into tavern gaming
If this all works out, Buffalo Wild Wings could be just one of the companies that bring sports betting to mainstream America with outlets all over the country. There could be other companies ready to roll out a similar plan throughout the country.
Boyd Gaming purchased the Lattner Entertainment Group in Illinois for $100 million earlier this year. The company places slot machines in 200 bars and taverns throughout the state of Illinois. When sports gambling becomes legal in the state, these locations might become an offshoot of Boyd Gaming sportsbooks. This makes the 14 Buffalo Wild Wings locations seem quaint.
Golden Entertainment has three divisions including a slot route operator more than 10,000 locations in Nevada and Montana. They have a deal pending to begin operations in Pennsylvania. Last year the company purchased the Stratosphere casino in Las Vegas. Over time the company will integrate their chain of taverns in Nevada with the casino company. There will be a PT's Pub inside of the casino. It's not too difficult to imagine the Stratosphere powering some kind of sportsbook for this chain of taverns. Regardless of other states, it makes sense for their popular taverns in Nevada.
Photo by Jonathan Weiss / Shutterstock.com