With more than half of the great big map of American sports betting shaded in green — or black, or whatever symbolic color — the factions that comprise the industry can't help but contemplate the prized pieces left. They also have to consider how the legislative actions and moral judgments in their neighbor states might eventually help shade the whole thing the same color.
Heavily populated states like Illinois and Michigan joined the fray in 2020, as did a surprise addition in Tennessee. Louisiana, Maryland and South Dakota passed bills legalizing the enterprise in the most recent election cycle.
That was progress. But for Jefferies LLC managing director Andrew Zarnett, the focus is now deep in the heart of the country, one of those unshaded states.
"I think my biggest takeaway of acceptance of online gaming in Louisiana would be that this puts incremental pressure on Texas," Zarnett said at the Betting on Sports America digital conference. "You will now have sportsbooks — at least retail and maybe online, too — on the border of Texas. [It] runs basically up and down Louisiana on the west and east.
"That just puts pressure on a government that's already been thinking about it."
With 55 of 64 Louisiana parishes voting in November to legalize sports betting, roughly 300 miles of border could open to gambling-poor, population-rich Texas. Houston, population 2.2 million, is about 150 miles from the Louisiana border, or slightly more than the evening commute in that sprawling burb. Zarnett also thinks that the eventual presence of mobile sports betting in both Louisiana and Tennessee could spur Mississippi legislators to allow the practice beyond the confines of retail sportsbooks, as is currently the law.
But Texas appears to be the most coveted piece on the map to offer a realistic chance for movement in 2020, especially given that the state's odd-year legislative calendar syncs with a huge budget shortfall. Multiple types of gaming expansion, including casinos, are also being contemplated.
"With the proper education of the legislature to craft a competitive market, Texas could be the crown jewel for sports betting," Global Market Advisors director of government affairs Brendan Bussmann told PlayUSA. "With strong sports teams and personalities, it is an ideal market to recapture dollars that are being lost to the illegal market."
Texas is not the lone star of possible additions, but a big one
The Texas Tribune reported that state legislators could leverage gaming and other "sin" taxes to offset what tabulates as a $4.6-billion budget shortfall. Boyd Gaming and the Las Vegas Sands Corp. — owned by Republican donor Sheldon Adelson — have already enlisted power players like the outgoing Speaker of the House as lobbyists. Sports betting is not always the tonic it's reputed to be by eager legislators and gaming operators, but COVID-19-battered economies are forcing a broader perspective even in states with conservative leanings or outright gambling aversion — like, to this point, Texas.
Bussmann said with casino expansion also being discussed in Texas, sports betting may be challenged to "get through the noise" but remains a realistic proposition.
"This is the first time in a long time where gaming may get done in Texas," Bussmann surmised. "Every session for as far back as I can remember has had several gaming bills, but with a looming budget deficit, there is more of a desire to explore the opportunity for additional revenue in the Lone Star State. Everything from sports betting to casinos appear to be on the table, but we will have to see the appetite of the full legislature and the governor."
Adding Texas would be the equivalent of a major electoral college victory for the legal sports betting industry. Eight Big Four franchises and numerous college sports powers are nestled there among nearly 29 million residents. There would be no shortage of customers who at this point have nothing but bookies or offshore websites to call upon.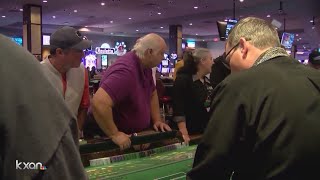 As far as where to bet on sports now, currently, 26 states, the District of Columbia and Puerto Rico have at least legalized sports betting.
Chris Grove, head of sports and emerging verticals for Eilers & Krejcik Gaming, believes about half of the roughly two dozen states he expects to introduce sports betting bills in 2021 have "a viable path to passage." That's quite significant.
It seems unlikely that California sports betting (the most populous state at 39.5 million) and sports betting in Florida (third, 21 million) will be among them after years of failure in those politically and culturally diverse states.
"Florida and California face similar challenges in getting sports betting across the finish line, each posing their own unique challenges," Bussmann said. "California has a chance with the Tribes ballot measure that will likely qualify in the coming weeks to take it to the ballot. The legislature and the card rooms are the biggest challenge there.
"Florida is the opposite, where the state and the Seminoles need to try to find common ground on the compact before they even start the sports betting conversation."
New year sets the stage for launches and expansion across the country
But conversations are vigorous in many corners of the United States, with multiple states either implementing or augmenting sports betting markets. Discourse is likely to be stoked by an American Gaming Association report that detailed more than $3 billion wagered nationally in October alone.
States that legalize tend to cluster after one pollinates the ground because legislators are loath to allow local dollars to flow across state lines. Virginia's implementation of sports betting sometime in 2021, Michigan's expected expansion into online soon and the approval of initiatives in Louisiana, Maryland and South Dakota further underscore the point, as the latter three states are each bracketed by at least two other states where the practice is legal and underway.
"Clearly there's motivation with developments in Virginia and in the District [of Columbia] for Maryland to move forward quickly on sports betting," American Gaming Association Senior Vice President of Government Affairs Chris Cylke said at BOSA.
Fan Duel governmental affairs director Andrew Winchell, meanwhile, is intrigued by Kentucky, a state immersed in gambling culture through thoroughbred horse racing that will now have five of seven bordering states offering legal sports betting and another, Ohio, grinding as its legislative session nears an end.
"Everybody's focused on the impact of Virginia on DC, on Maryland or vice versa, that entire surrounding area. I think it would be interesting to look at, going westward, what impacts Virginia's authorization from mobile sports wagering are going to have — along with Tennessee's and going live — will have on a state like Kentucky, which borders the two of them," he observed. "They have kind of been moving forward — or trying to — on mobile sports wagering and online poker legislation over the last couple of years, but it's kind of stalled out a couple of times, and it might be interesting to see if this gives them the impetus to finally get over the hump or be more aggressive on getting mobile sports wagering done or other online gaming legislation done in Kentucky."
The same dynamic applies to Nebraska, Cylke said, where voters approved an expansion of casino gaming at racetracks. Nebraska borders states with sports betting underway or legalized: Colorado, Iowa and South Dakota.
"I think regardless of the mechanics," he said, "there will be some pressure there for them to consider it very seriously."
The current affairs of state budgets require it, as does the rate at which the mobile industry has mushroomed in ghastly economic times and with the viability of casinos still in question. But it also requires nurturing, Cylke said,
"[There's] sort of a double-edged sword created by the pandemic," he said. "On one hand, it does, I think, create a lot more openness to expanded gaming. But on the other hand, because the states do have these big budget holes, I think that there would be a temptation for them to try to maximize the tax rate and maximize revenue. Sports betting is a low-margin business. So I think it will really be incumbent upon the industry and operators to work closely with legislatures, to make sure that they get the policy right and establish a framework that will allow for a long-term success of legal sports betting in all the states."
Fox Bet CEO Kip Levin said the pace of sports betting legislation passage — as compared to online casino — and its impact in New Jersey and elsewhere have been "staggering."
"The scale of New Jersey alone is pretty surprising," he said of bettors wagering a national record $803 million there in October. "We'd been operating the BetFair casino business there since the online casino market opened back in 2013, and I think we sort of felt like we had a good view as to how big the market would be.
"I think it's probably two or three times what we would have estimated by now. And every other market has sort of followed suit that we've launched in."
State of affairs in possible future sports betting states
Connecticut
Rep. Sean Scanlon, the incoming State House Finance, Revenue and Bonding Committee co-chair, told Native Business magazine that "sports betting will be legalized in 2021. You can bet on it."
Lengthy and laborious negotiations between the state and Mashantucket Pequot and Mohegan Indians — who have exclusive gaming rights in Connecticut — might finally yield a bill and offset the pull of neighbors New Hampshire, New York and Rhode Island, where sports betting is underway. Discussions remain ongoing in Massachusetts.
Georgia
Bills that would legalize sports betting, pari-mutuel horse racing and casinos have been prefiled for the legislative session that begins on Jan. 11.
"If it's going to happen, it's going to happen in this next session," House Economic Development and Tourism Committee Chairman Rep. Ron Stephens told The Savannah Morning News. "The people want it. Opinion polls and, more importantly, public hearings show that. It's time the legislature give Georgians that opportunity."
Georgia is the nation's eighth-most populous state (10.9 million). The process wouldn't end in Atlanta, as citizens would ultimately get final say in a referendum as required to change state law.
Louisiana
Though Louisiana's population is a pittance compared to that of California, Florida, Georgia or Texas, it shares a key commonality and difference: It's one of a select handful of states that regularly host national college and professional championships, and it's the only one with a sports betting bill legalized. That makes Louisiana a perfect test lab for just how much frolicking fans visiting to support their Super Bowl or Sugar Bowl-bound team can impact a local economy, as Orleans Parish — which encases New Orleans — approved legalization.
Many details remain, however, until out-of-towners are thumbing in bets while waiting for a table at Acme Oyster House. New Orleans next hosts the Super Bowl in 2024.
"We will have to see what kind of system that they will adopt. Presumably it will follow what most gaming states have done, which is a tie to the brick-and-mortar operators of the state and then also have for retail sportsbooks and then also have the potential for online sports wagering, again, tethered to the state operators," Winchell said. "And then we'll have to see how they go about addressing the parish-by-parish issue. Obviously, the vast majority of the parishes approved it there.
"We are looking at right now, obviously with the regulations and the rolling out of fantasy sports in Louisiana, of how to do geo-location by parish. I think that they probably will follow a similar route of trying to do mobile, but then with the geolocation by parish."
Louisiana's rollout, which according to optimistic estimate could occur by the fall of 2021, could be slower than other recent adopters, Cylke said, because the entire state did not legalize sports betting. But like the other two states, Louisiana does enter the process with a gambling infrastructure as a jurisdiction where casinos and riverboat gambling are established. Tennessee's sports betting launch was hampered by starting with a clean computer screen, as the state previously sanctioned no legal gaming except a lottery.
"The good thing in Maryland, Louisiana and South Dakota is that there are existing regulatory structures in place, which will hopefully position them to move efficiently and effectively through licensing and regulatory approval process," Cylke said. "The fact that in Louisiana, it was authorized on a parish-by-parish basis certainly could present some challenges in terms of the rollout and geo-locating around those parishes."
Maryland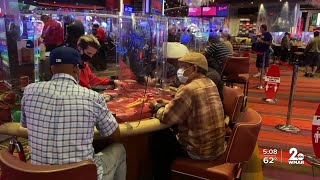 Zarnett said he expected the six commercial casinos currently operating in the state and its racetracks, such as Pimlico and Laurel Park, to secure licenses.
"I think there'll be multiple skins involved," he said. "At least two [each], but maybe more than that. And therefore, you'll have a fair number of competitors. That, technically, could give you up to 14 competitors, which would obviously be a pretty competitive market, not as obviously competitive New Jersey, and that you'll see it on both the online and the retail side. And there, I do think that the chances of it being up and operating for football 2021 is highly probable as compared to Louisiana."
Michigan
Casino sportsbooks in Michigan accepted their first legal wagers seemingly hours before COVID-19 began shutting down the fodder for those bets in March. The online component seems positioned to launch for early 2021, although key regulatory hurdles remain, including either the Greektown, MGM Grand or MotorCity casinos and one of 23 tribal casinos gaining approvals, according to MLive.
Missouri
A year after six bills wilted with little fanfare, three more sports betting proposals have been concocted in Columbia, all of them brandishing retail and mobile facets.
Nebraska
Whether the gaming expansion of casino games at racetracks that passed this year technically could be construed to include sports betting remains a source of conjecture.
"I think it's a little bit unclear whether or not what they approved includes sports betting," Cylke observed. "The referendum approves games of chance, which does not always include sports betting by definition. So I think this may be something that has to go to the legislature to debate, or possibly even to another voter referendum."
Winchell believes the three-part composition of the legislation that gained approval would allow the Nebraska Gaming Commission to determine whether sports betting was included.
Zarnett believes geography will impact the process on multiple fronts.
"The competitive forces of the neighboring states are going to put pressure on Nebraska. That being said, as it took them a long time to get to where they are today, there's been gaming in Council Bluffs, Iowa, which is effectively Omaha, for a long, long, long time," he observed. "I mean, at least 20 years. And it took them until now to pass some form of gaming. So how long it will take them to go from here to there? Probably quicker. But it's still might take a bit of time."
New York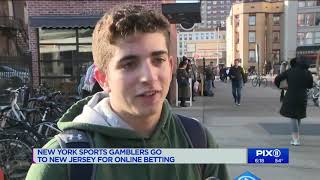 Industry analysts and pro-gaming politicians on both sides of the Hudson River have brandished the anecdotal middle schools and sewage treatment plants New York sports bettors are building in New Jersey. Mobile betting has been raking in cash in New Jersey since debuting after the repeal of the Professional and Amateur Sports Protection Act in 2018. But even after New York finally enacted legislation despite the reticence of Gov. Andrew Cuomo, there remain just a few land-based casino sportsbooks options east of the Hudson. So New Yorkers stream across to place bets on mobile devices in New Jersey.
Bringing the fourth-most populous state in the modern sports betting realm has been a constant campaign for State Senator Joseph Addabo, Assemblyman Gary Pretlow and the mobile gaming operators who now just fantasize about tapping into those 19 million potential customers.
But obstacles remain, among them time, in crucially formulating a revenue bill before the current session concludes at the end of the year.
Addabo said because of COVID-19 and its impact on all phases of business, he and Pretlow "have really pushed hard for mobile sports betting being activated in New York State." And in yet another sign of changing times and views about gambling, so are the Yankees.
North Carolina
It's the state with legal sports betting and no way to wager. But maybe the legions of basketball fans in North Carolina will be able to plunk down a few dollars on the Tar Heels in the next NCAA Men's Basketball Tournament.
They better hope Tobacco Road goes far enough, as they'll still have to drive almost to Tennessee to do it — or Virginia — because the Eastern Band of Cherokee Indians maintains a monopoly on sports betting in their two casinos on the western edge of the state. There's no mobile wagering in the state law.
A slow-earned but major step forward came in December when the Cherokee Tribal Council approved necessary adjustments to its compact with the state and Department of the Interior. With sports betting having technically been legalized in North Carolina in July 2019, this counts as progress.
South Dakota
With only 11 residents per square mile, South Dakota would seem rife for a mobile betting structure, but the state constitution restricts gambling to Deadwood, as in Wild Bill Hickok and Calamity Jane. Cylke said a solution could be gleaned from New Jersey, where sports betting law tethers the enterprise to Atlantic City casinos.
"Given South Dakota, the layout there, mobile would be better because limiting to Deadwood just limits opportunities throughout the rest of the state to participate in the legal market," he said. "I think there's a possibility that South Dakota could, under their current system consider something along the lines of what they've done in New Jersey, where servers would be located in Deadwood. Servers are located in Atlantic City. and it would allow wagers to be placed mobily, consistent with their state constitution. But it's somewhat unclear, I think at this point, how lawmakers are going to handle this."
Bet $5 Get $200 + Up to $1,050 Bonus
UP TO $1,050 FREE
New User Bonus. T&Cs Apply.
Special for Bets on NFL
Bet $5 & Win $200

$50 Free Bet On Deposit

Up to $1,000 Deposit Bonus
To Claim: Click Play Now
Biden administration is unlikely to impact sports betting
Cylke said that while President-Elect Joe Biden hardly mentioned gambling on the campaign trail, "what they did say was that they believed that states and federal authorities should cooperate to ensure that gambling is safe, fair and corruption-free. … I think that's a statement that we can all agree with."
Cylke doesn't believe that hints at support for the type of federal oversight proposed by the abortive bills such as the one pitched by Senators Chuck Schumer and Mitt Romney (R-UT) in 2019 or by the New York Democrat and Orin Hatch (R-UT) in 2018.
"Even if the Biden administration were to take the position they were supportive of that, I think that the landscape in Congress, assuming that we have a divided partisan structure there, we now have 26 states that have authorized legal sports betting," Cylke said. "With half of them that already have sports betting authorized in their states, I think that there's a lot of hurdles to enact any kind of a federal framework."
Additionally, according to a Bloomberg report, Biden does not favor the Trump administration's stance on the Wire Act, which had potentially damaging ramifications for online casino and sports betting.
That four years' — at least — worth of open field would seemingly greatly improve the odds of Winchell's prediction of upward of 35 states offering legal sports betting by 2025. That span of time would also, in theory, allow the acceptance of the business to marinate in more conservative locales, as has been the case with legalized marijuana, and potentially pull the previously unattainable into the fold.
Zarnett said signs are positive in the economic sector, also.
"The stock market is very enthusiastic for online growth, and given we're kind of at a billion dollars going to, I would say broadly speaking, estimates are $40 billion," Zarnett said. "There's a lot of opportunity on a forward basis.
"And then I also see that some of the states that have been reluctant to approve gaming, like Texas, will begin to dip their toe in the water and probably start with sports betting and expand from there."