March is Madness in Las Vegas! In addition to the normal fun, NASCAR rolls into town, college basketball games will tip off throughout the valley and it's the beginning of pool season!
There are two new neighborhood casinos and three new sportsbooks open to take bets during March Madness. In the past month, there have been new show announcements including one that we've been teasing for months.
There are new restaurants opening around Las Vegas. One of those restaurants, powered by two Top Chefs, is replacing one of the eateries that received a Forbes Travel Guide recommendation.
NASCAR in Las Vegas
The first big sporting event in March is on the second when NASCAR rolls into town. Before the race begins, 40 NASCAR 18-wheel haulers will parade up the Vegas Strip. The race action takes place at the Las Vegas Motor Speedway (LVMS) on March 3-5.
Friday: Craftsman Truck Series race
Saturday: Alsco Uniforms Xfinity Series race and Bash At The Bullring
Sunday: Pennzoil 400 NASCAR race
There's racing on the calendar all summer at LVMS. NASCAR will return in Oct. for the South Point 400 playoff race.
Hoops madness all month in Las Vegas
The first weekend of March Madness takes place from March 16-19. This is one of the busiest sports weekends in Las Vegas.
Sportsbooks are so crowded with college basketball fans and bettors that there are countless parties located throughout the casino. Similar to the Super Bowl watch parties, there are NCAA basketball championship watch events at bars, restaurants, and ballrooms.
College basketball fans actually begin descending on Las Vegas for numerous men's and women's conference tournaments from March 1-11.
This year, March Madness in Las Vegas will take over two weekends as the West Regional will take place at T-Mobile Arena. Sweet 16 games will take place on March 23. Elite Eight games will be played on March 25.
The month of basketball will close out with the NIT Semi-finals and finals on March 28 and 30 at the Orleans Arena.
Pool season begins in March
March is also the beginning of pool party season. The following dayclubs open for the season on March 3. These clubs will have pool parties Friday-Sunday until the end of summer.
Encore Beach Club at Wynn
Marquee Dayclub at The Cosmopolitan
Tao Beach Club at The Venetian
Wet Republic at MGM Grand
Drai's Beach Club at The Cromwell, Ayu Dayclub at Resorts World, and more will open throughout the month.
St. Patrick's Day
Every day in Las Vegas can be like St. Patrick's Day if you want it to be. This year the holiday falls during the first weekend of March Madness.
Spring Breakers also visit Las Vegas during this long weekend and that takes the party to another level. The combination makes this one of the most fun weekends of the year.
The biggest St. Patrick's Day celebration on the Vegas Strip takes place on March 17. Visit New York-New York and The Park for the Celtic Feis celebrations throughout the day and night.
Nine Fine Irishmen inside New York-New York is one of the best Irish pubs inside of a casino. Enjoy the party inside, outside, or both.
Las Vegas music residencies and limited engagements in March
The monthly residency and limited engagement schedule welcomes a few new musicians to the mix. None of the artists are new to Las Vegas but these performances are new.
Of course, many of the most popular performers and groups are returning to Las Vegas.
Usher at Park MGM: March 1, 3, 4, 8, 10, 11, 15, 17, 18
Chicago at The Venetian: March 1, 3, 4, 8, 10, 11
Katy Perry at Resorts World: March 3, 4
Adele at Caesars Palace: March 3, 4, 10, 11, 17, 18, 24, 25
Widespread Panic at Virgin: March 3, 4, 5
Keith Urban at Planet Hollywood: March 3, 4, 8, 10, 11, 15, 17, 18
Jimmy Buffet at MGM Grand: March 4, 11
Bonny Raitt at The Venetian: March 15, 17, 1
Tesla at Mandalay Bay: March 17, 18, 22, 24, 25
Luke Bryan at Resorts World: March 22, 24, 25, 29, 31
Barry Manilow at Westgate: March 23, 24, 25, 30, 31
Maroon 5 at Park MGM: March 24, 25, 29 & 31
Foreigner at The Venetian: March 24, 25, 30, 31
Miranda Lambert at Planet Hollywood: March 24, 25, 30
As always, there was a slew of entertainment announcements last month. Here are some highlights.
Las Vegas show news
Las Vegas shows are announced fairly regularly. Seeing the news before others should give visitors a better shot at getting good seats when they're first available.
The biggest show news last month was that U2 will be performing at the MSG Sphere at The Venetian later this year. You may have read the rumors here or seen the commercial below during the Super Bowl.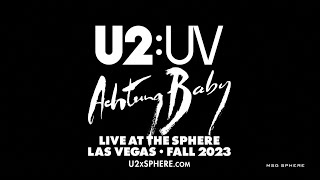 There are no dates or ticket prices for the U2 Las Vegas shows yet. Expect high prices as U2 will reportedly be paid $10 million to perform in the new $2 billion venue. You can register for U2 Las Vegas tickets here.
Harry Styles is rumored to be a resident artist at the same venue. MSG says the company is considering four to six artists for residencies at The Sphere so expect to hear more announcements as the venue is closer to the opening in September.
Bruno Mars added six shows to his Park MGM residency this year. The shows will take place on May 24, 27, 28, 31, and June 2 and 3.
Usher added another 15 shows in June and October to his 2023 residency at Park MGM. You can see the update here.
Resorts World announced that Katy Perry is adding 15 shows to her residency this year. Luke Bryan added another six shows in Aug. and Sept.
Raiding The Rock Vault is one of the low-key popular shows that continues to change venues. The show that tells the story of classic rock from the 1960s to the 1980s is moving to the Hard Rock Cafe on the Vegas Strip (across the Vegas Strip from Park MGM).
Let's step away from music for a moment. Comedian John Mullaney will be performing limited engagements at Wynn Las Vegas. His first batch of shows runs from April 19-23.
Lucha VaVOOM a wrestling and burlesque variety show will start a residency at the House of Blues inside Mandalay Bay in April. This is unlike any other show in Las Vegas. The best way to understand Lucha VaVOOM is to see what it's like on YouTube.
Las Vegas casino news and rumors
While not officially announced, it appears as though the smoke-free slots room at The Mirage now allows smoking. Don't get too worked up about this, the new operator, Hard Rock International, is testing the ground for when the company renovates and expands the entire casino floor.
What would you do if you found an uninvited cat in your hotel room as these people found in their room at Excalibur?
MGM Rewards is once again tier-matching with other casino loyalty clubs. The match has changed and unfortunately, the matches are to lower tiers than last year. You can see which casino rewards clubs MGM will match with here.
Three Affiliated Tribes on the Fort Berthold Indian Reservation purchased more land across the street from Luxor and Mandalay Bay. Could a new casino be coming soon? Stay tuned.
Las Vegas casino operators like to renovate or open sportsbooks around the Super Bowl and March Madness. In February, the Betfred sportsbook at Virgin started taking bets nearly two years after the casino opened.
Boyd Gaming opened a new downtown Las Vegas sportsbook at the Fremont Hotel and Casino. While it's branded as FanDuel the sportsbook is operated by Boyd, not FanDuel. Unfortunately, the FanDuel app isn't operating in Nevada. On the bright side, video poker players at the sportsbook bar can get complimentary slushy drinks while playing.
Downtown Grand opened a new Caesars Sportsbook that replaces the old William Hill location on the other side of the casino. A new location for Hot n Juicy Crawfish opened across the street from Downtown Grand.
Blake Shelton's Ole Red broke ground outside of Horseshoe (formerly Bally's) in January. This entertainment venue is slated to open later this year. Last month Bottled Blonde announced it was also opening a bar restaurant outside of Horseshoe. The pizza and booze joint will open next year. Martin Yan's M.Y. Asia opens on March 13 inside of Horseshoe Las Vegas.
Rio is once again in the rumor mill as a potential location for a new Major League Baseball team if the Oakland A's leave the bay area. The casino will also see a hotel renovation beginning later this year. Hopefully, the new owners have new pillows on the shopping list.