Even small casinos can provide a wealth of economic benefits. At least that's what Hard Rock: An Opening Act, the temporary casino near the Illinois-Wisconsin border, is proving.
According to the Illinois Gaming Board, 45,000 guests visited the temporary Illinois casino in July, the most since its opening in November 2021. As a result, the city of Rockford is using the tax revenue to invest in vital resources for the community. So far, in 2022, the operator has contributed over $1 million in tax revenue to the city.
New temporary Hard Rock casino in Illinois providing local benefits
For a time, Illinois casino gambling consisted of only seven casinos. In recent years that number has increased to 11, including Hard Rock Rockford. There are five more Illinois casinos in the works, but the marquee project is the Bally's Chicago casino opening sometime in 2025.
"Prior to this casino, not only did citizens want a casino for 30 years, but we had citizens going to Indiana, going to Wisconsin, going to Iowa to gamble," said Rockford Mayor Tom McNamara.
"So all of this money was fleeing the state of Illinois and specifically fleeing the city of Rockford and I think we're seeing right now how much of that money was fleeing."
According to McNamara, the first $1.5 million given to the city was used to finance the Rockford Promise non-profit organization. Rockford Promise offers full-tuition scholarships to graduates of Rockford public school district 205.
Kaylene Goh, Rockford Promise's interim executive director, said the money has helped increase the organization's outreach.
"We started in 2016 and we gave out five full tuition scholarships at that time and now, only six years later, we will have more than 300 scholars in college together all at the same time this year. So the city's involvement and their commitment to our organization has had a huge impact for local scholars."
Hard Rock's permanent location will open sometime in 2023. The casino will have 625 slot machines and several electronic table games. Experts anticipate its early success to being a preview of things to come in Chicago.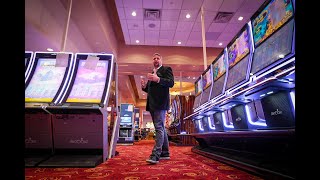 Could another northern Illinois casino cannibalize Rockford?
In time, Rockford won't be the only casino near the Wisconsin border.
Full House Resorts announced that "The Temporary by American Place" in Waukegan will open in October. Situated 54 miles south of Milwaukee, the casino will feature 50 table games and 1,000 slot machines. The location is only 70 miles from the Rockford property.
With 70,000 square feet of gaming space, the location will also be home to a Circa Sportsbook complete with 36 television, further expanding the Illinois sports betting footprint.
Full House's permanent facility, American Place, is slated to open in 2025. In addition to a 1,500-seat entertainment venue, American Place will have 100 table games, a sportsbook and 1,640 slot machines.
It remains unknown how much of Rockford's foot traffic will be captured by American Place. Regardless, once tax revenue starts flowing, Waukegan lawmakers hope for returns as good as Rockfords.
A Southern Illinois casino is also in the works
When it comes to the Illinois casino footprint, one must add Carterville, IL, to the list. Located between the Kentucky and Missouri borders, Walker's Bluff Casino Resort in Williamson County is on pace for a grand opening in 2023.
For those keeping count, at least two new casinos are opening next year.
Unlike the competition in the northern part of the state, it doesn't appear like Walker's Bluff will have a temporary location.
The 190,000-square-foot casino comes from Elite Casino Resorts and will cost upwards of $147 million. The casino will have 650 slot machines, 14 table games, a sportsbook, video poker and a 116-room hotel.