Multiple American jurisdictions have allowed professional sports teams to benefit financially from legal sports betting:
The Chicago Cubs have a plan for a DraftKings Sportsbook in Wrigley Field.
Capital One Arena in the District of Columbia has a William Hill sportsbook that operates even when the Washington Capitals, Wizards or Mystics aren't playing inside.
A week after the mobile sports betting market launched in Virginia this January, Washington Football Team announced a pact with FanDuel, which was the first market access deal in the nation between an NFL team and an online wagering platform.
But the Arizona Cardinals and Diamondbacks, Phoenix Coyotes and Suns and their fellow professional outlets landed themselves an even better deal when the state legalized sports betting in April.
These professional outlets gained not only the right to open retail sportsbooks in or adjacent to their stadia and in an exclusive mobile zone within blocks of them, but also state-wide via mobile and online through marketing agreements with vendors such as national market-leader FanDuel, DraftKings or BetMGM Sportsbook.
Cardinals, Coyotes, raceway are yet to find a betting partner
It was no surprise that the law legalizing sportsbooks in Arizona and signed Gov. Doug Ducey signed was popular with pro team owners in the state.
Teams didn't hesitate in exploring the new Arizona sports betting opportunity. Let's just say, the floodgates opened.
DraftKings announced a deal to open a high-end sportsbook at TPC Scottsdale soon after HB 2772 was passed. A day later, FanDuel unveiled a multi-year market access partnership with the Phoenix Suns and plans to open a luxury sportsbook at their arena.
Subsequently, Caesars banded with the Diamondbacks to open a retail book outside Chase Field. As with the other deals with Arizona's pro sports brethren, Caesars gained state-wide mobile access through the team, which serves as the master license holder.
Diamondbacks owner Ken Kendrick told Sportico before the Caesars announced that the deal equates to "adding one more high-end corporate partnership, and corporate partners at the high end are definitely paying seven figures a year."
Kendrick added: "Over time, as sports betting gets more ingrained into the sport, the revenue stream — and therefore our share — will grow." The same is likely to apply for local television stations as betting operators make pitches for new customers in a state of 7.2 million.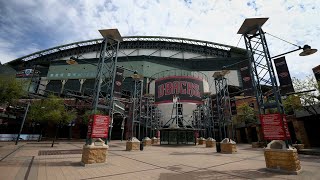 "One of the challenges with the Arizona bill is who actually needs to be licensed on the team side of the licenses," Brendan Bussmann, the Director of Government Affairs at Global Market Advisors told PlayUSA. "While they will all likely partner with a sports betting operator, the question of who is the licensee and who needs to be found suitable is blurred. The operators obviously will be licensed but the only reason these access points exist is because of the teams that may not face the same standards."
The Gila River Indian Community could be a key player on multiple fronts. Multiple sources (without permission to speak on the record) claim that the tribe, which owns three casinos in the Phoenix area, will be an access point for BetMGM. The tribe also owns the naming rights to the Coyotes' arena, is early in a 15-year casino partnership with the Cardinals and, for that matter, has a marketing deal with the Diamondbacks.
Phoenix Raceway, in Avondale, might find entry through WynnBet or Barstool, which have NASCAR ties.
Bet $5 Get $280 + Up to $1,050 Bonus
UP TO $1,050 FREE
New User Bonus. T&Cs Apply.
Special for bets on NFL Playoffs
Bet $5 & Win $280

$50 Free Bet On Deposit

Up to $1,000 Deposit Bonus
To Claim: Click Play Now
How the Arizona sports betting law is a boost for pro teams
As many as 10 pro entities can hold licenses in a unique Arizona scheme that provides the same number of retail/online permits to Native American tribes. Tribes will also be allowed to partner with outside operators to offer state-wide sports betting, but the Arizona Compact is written to avoid the type of Indian Gaming Regulatory Board snag that could bog down the new Seminole Tribe of Florida deal.
According to the state of Arizona, the new Compact "Allows tribes to partner for off-reservation wagering but will require them to be licensed with the Department of Gaming."
"While we first saw the movement to sports teams and venues getting access in Illinois, Virginia, and D.C., Arizona is the first to put them on the same standing at the tribal communities on statewide mobile," Bussmann said. "For leagues that three years ago opposed sports betting, direct licenses seemed a fathom at best."
New England Patriots president Jonathan Kraft espoused a desire for NFL teams to be able to deploy sports betting as an engagement tool two years ago, while making sure to emphasize the point that teams wouldn't be involved in making NFL betting lines or taking wagers.
This type of relationship is now playing out in the states where the franchise is the licensee.
"They won't assume any of that risk or be involved in the setting of the odds or anything like that, to keep that kind of arm's length distance, if you will," said John Pappas, CEO of Corridor Consulting. "But they will probably lend their brand name, then their own database and other marketing tools to help assist that brand because they're going to be involved in a revenue share agreement. So, they benefit from the success of their online platform partner."
Maryland's sports betting law, which was signed by Gov. Larry Hogan on May 18, will allow the Baltimore Orioles and Ravens and Washington Football Team (which plays in Landover, but is headquartered in Virginia) to offer retail sports betting on game days. But the teams can also apply for one of 60 mobile licenses.
The Department of the Interior approved the Arizona tribes' Compact on May 24.