As another NFL season gets underway, fans know where to go first. The destination is Thursday Night Football, which has evolved from a once-in-a-while thing to a staple of the schedule.
It wasn't too long ago that NFL games were reserved for Sunday afternoons and Monday Night Football only. Thanksgiving Day games were a huge treat, as were the occasional contests held in other time slots. Today, it's a different story. The NFL has distinct broadcast windows each week during the regular season, and Thursday Night Football is locked in as the official starting point.
Below we'll cover everything you need to know about NFL betting on Thursday Nights, including where you can catch the games  every week plus up-to-the-moment TNF lines & odds.
Here's Where You Can Bet on Thursday Night Football
This Week's Thursday Night Football Odds: Moneylines, Spreads, Totals
The first NFL game of the week gets the juices flowing from a betting perspective, but you'll naturally want to make sure that you're getting the best prices that you can. Bookmark this page and come back regularly, as we'll have the latest NFL odds at multiple sportsbooks for easy line shopping. See below for the best moneyline, spread and totals odds for this week. Click on any odds to go directly to the sportsbook, claim your bonus and register your account. Use the drop-down menu on the right to change your state.
Who's Playing Thursday Night Football this week?
The NFL regular season schedule has been expanded from 16 to 17 games. Each of the 32 clubs get one bye week over the course of an 18-week regular season (see how bye weeks affect betting here).
That bumps the total schedule up from 256 to 272 games. It's great news for NFL bettors as there are more opportunities to get in the game, but also even more of a herculean task for the schedule makers who have to make it all work.
While computers and algorithms do a lot of the heavy lifting, special attention has to be paid to certain situations, such as how teams are scheduled for TNF. Overall, the goal is to make sure that no squad scheduled for this slot has to play on a short week more than once per season.
Thursday Night Football schedule for 2021 NFL season
This year's Thursday Night Football schedule offers many must-see matchups. Let's take a closer look at the football games on tap. (All times Eastern)
Week 1: Sept. 9
Dallas Cowboys @ Tampa Bay Buccaneers
The season kicks off in grand fashion with the defending Super Bowl Champion Buccaneers welcoming America's Team to Raymond James Stadium. The Cowboys had a 2020 season to forget, but the pieces are in place to get back in contention this time around.
---
Week 2: Sept. 16
New York Giants @ Washington Football Team
When these two NFC East rivals take the field, hard-hitting action tends to follow. Washington was a surprise winner of the division last season, while the Giants have made a number of moves to help close the gap.
---
Week 3: Sept. 23
Carolina Panthers @ Houston Texans
The Panthers made some strides in rebuilding efforts last season, and year two of the Matt Rhule era could bring even more progress. The Texans enter 2021 with lots of questions in the air. This intriguing home test could provide answers on the direction for both teams.
---
Week 4: Sept. 30
Jacksonville Jaguars @ Cincinnati Bengals
We get a glimpse into the future via this matchup as the first overall picks of the last two NFL Drafts square off at Paul Brown Stadium. Trevor Lawrence leads the Jaguars into Cincinnati as they take on Joe Burrow and the Cincinnati Bengals.
---
Week 5: Oct. 7
Los Angeles Rams @ Seattle Seahawks
It's a battle of NFC West foes who are expected to be serious contenders in 2021. The Rams and Seahawks continue their entertaining rivalry under the primetime lights in front of the raucous 12th man at Lumen Field in the Pacific Northwest.
---
Week 6: Oct. 14
Tampa Bay Buccaneers @ Philadelphia Eagles
The defending Super Bowl champion Buccaneers (still among the betting favorites to win the Super Bowl) will have a target on their backs all season long. That includes for this primetime matchup in front of the Philadelphia faithful as the Eagles will be looking to make their mark.
---
Week 7: Oct. 21
Denver Broncos @  Cleveland Browns
Don't look now, but the Browns just might be serious contenders in the AFC this season. The Broncos have some work to do to get to that level, so this TNF clash in front of the Dawg Pound will serve as a big chance to make a statement.
---
Week 8: Oct. 28
Green Bay Packers @ Arizona Cardinals
A pair of NFC contenders face off in the desert for the Week 8 TNF matchup. Green Bay came up short in last year's NFC title game against the Buccaneers, while Arizona just missed out on qualifying for the postseason.
---
Week 9: Nov. 4
New York Jets @ Indianapolis Colts
Is the Jets lengthy search for a franchise signal caller finally over? We'll get some clues on the answer to that as Zach Wilson, the second overall pick in the 2021 NFL Draft, leads the team into battle against the Colts at Lucas Oil Stadium.
---
Week 10: Nov. 11
Baltimore Ravens @ Miami Dolphins
2019 NFL MVP (and perennial NFL MVP odds favorite) Lamar Jackson and the Ravens take their talents to Miami to do battle with a Dolphins team that's on the rise. The season is starting to get long in the tooth at this point, so this matchup could help to sort out the AFC playoff picture.
---
Week 11: Nov. 18
New England Patriots at Atlanta Falcons
The Patriots missed the playoffs in 2020 for the first time since 2002, while the streak stands at three seasons with no postseason for the Falcons. This rematch of the Super Bowl LI thriller could be a pivotal one for both clubs.
---
Week 12: Nov. 25
Buffalo Bills @ New Orleans Saints
The Bills and Saints were the two seeds in the AFC and NFC respectively last season, and both squads are legitimate postseason contenders once again. The Mercedes-Benz Superdome should be jumping for this Thanksgiving night affair.
---
Week 13: Dec. 2
Dallas Cowboys @ New Orleans Saints
A scheduling quirk has New Orleans hosting back-to-back Thursday night games. For this one, it's an intriguing meeting of two clubs who could have a lot to say in the NFC this season when the Cowboys visit the Saints.
---
Week 14: Dec. 9
Pittsburgh Steelers @ Minnesota Vikings
There's just something about late-season NFL action in cold weather cities. There may be quite the chill in the air when the Steelers hit the road to take on the Vikings in this inter-conference battle of playoff contenders.
---
Week 15: Dec. 16
Kansas City Chiefs @ Los Angeles Chargers
An old-school AFC West shootout could be in the cards when Patrick Mahomes and the Chiefs head to La-La land to take on Justin Herbert and the Chargers. Kansas City has been in control of the division for some time now, but the hosts have potential to be a surprise playoff team.
Week 16: Dec. 23
San Francisco 49ers @ Tennessee Titans
The final TNF game of the season is an inter-conference matchup of two playoff contenders who have legitimate shots at division crowns. The 49ers are looking to bounce back after a disappointing 2020, while the Titans are looking to take an even bigger step forward.
What time does Thursday Night Football start?
Each game on the 2021 NFL Thursday Night Football slate is scheduled to kick off at 8:20 P.M. ET. The start time is the same regardless of broadcast outlet, but pregame festivities may vary by network. As always, dates, matchups, and times are subject to change, but the TNF schedule is set in stone barring any unforeseen circumstances.
Betting on NFL's Thursday Night Football
Thursday Night Football kicks off the NFL viewing week, and it's also a huge highlight at legal and regulated US online sportsbooks. You'll have plenty of different bets to consider for the game, and there are typically some intriguing promos for TNF, too.
First, here are the basic bets you can place.
For props, many will revolve around specific statistical accomplishments of the players. This is also an area in which sportsbooks may throw out some odds boosts or other special promos, so be sure to watch out for them.
While you can't do a typical parlay bet on TNF, you can combine bets – such as a moneyline and total or spread plus total – for a shot at enhanced returns. Many of these combos will pay out at positive odds, so keep them in mind when you have a good feel for the game.
Live Betting on Thursday Night Football
When an NFL primetime game is on the docket, live betting opens the door to even more betting opportunities. For a busy Sunday afternoon slate, you have plenty of games to pick from, whereas the night games are standalone affairs.
You can bet right along with Thursday Night Football as the game plays out on your screen. Offerings will vary based on what's going on, but here's a peek at what you might see.
What will be the result of the Rams drive – TD/FG/Punt/TO/Downs?
Who will have more rushing yards by halftime – Saquon Barkley or Miles Sanders?
How many total points will be scored in the second quarter – Over/Under 14.5?
There will also be updated odds for sides and totals as the contest plays out. You'll even be able to drill down on bets for specific segments of the game, such as the first quarter or second half.
Live betting markets move really fast, but sportsbook apps let you handle business quickly and efficiently. You'll find current live betting opportunities featured prominently on the betting menu as well.
What are the Thursday Night Football Vegas Odds?
Once upon a time, bookmakers out in Las Vegas served as the first and last word on sports betting odds. While those talented folks remain at the top of their game, the market isn't cornered any longer.
Sports betting has been legalized in a number of states now, and there will be more to come. Online sportsbooks in legalized sports betting states now provide lines that are right on point with Vegas NFL odds. The latest odds for every Thursday Night Football game can be found in the odds feed above.
Thursday Night Football Betting Trends & Tips
For a game on a short week, the home side has a built in advantage. That has held up pretty well since TNF became a regular thing, but it's important to remember that trends are no guarantee of what the future may hold.
However, home field makes for a great tiebreaker on Thursday nights. Here are some specific strategy tips you can use for the first NFL game of the week.
Rest or travel advantage: Does either side have one? Be sure to keep an eye on what has been going on with both teams of late. For example, a team that has had a recent bye may have a slight edge over a team that's still waiting for theirs.
Splits: This goes beyond the basic home/away advantages. See how the teams are performing on all of the big betting metrics: moneyline, spread, and totals. Also, many TNF games are divisional affairs, so take records in those games in consideration.
Team/player primetime history: Some squads and athletes excel under the bright lights, while others shine brighter during the day. As part of your research, see what's the case with both teams and their key players when it comes to night games.
Thursday Night Football All-Time Records
Thursday Night Football games have been a thing for some time, but they became a regular part of the later season schedule in 2006. Fast forward to 2012, and TNF was expanded to run throughout the season.
From 2006 to the present day, some clubs have been up to the task when a TNF game pops up, while others have fallen quite short. Here's a look at some of the notable facts and figures on TNF since 2006.
Teams with best winning percentage: Patriots .800 (8-2), Seahawks .800 (8-2)
Teams with worst winning percentage: Buccaneers .250 (3-9)
Most appearances: 16 – San Francisco 49ers
Fewest appearances: 3 – Detroit Lions
Highest scoring game: 80 points – Rams over 49ers, 41-39, Week 3 of 2017
Which teams have played the most on Thursday Night?
Since 2006, a handful of clubs have made regular appearances on TNF, while others haven't been on all that much. Here's a look at the total number of appearances and records on Thursday nights for all 32 teams over that span.
| Team | Appearances | Record |
| --- | --- | --- |
| San Francisco 49ers | 16 | 9-7 |
| Denver Broncos | 15 | 7-8 |
| Baltimore Ravens | 14 | 10-4 |
| Dallas Cowboys | 14 | 9-5 |
| Carolina Panthers | 14 | 4-10 |
| Las Vegas Raiders | 13 | 6-7 |
| Pittsburgh Steelers | 12 | 9-3 |
| Indianapolis Colts | 12 | 8-4 |
| Chicago Bears | 12 | 6-6 |
| Arizona Cardinals | 12 | 4-8 |
| Tampa Bay Buccaneers | 12 | 3-9 |
| Kansas City Chiefs | 11 | 8-3 |
| Atlanta Falcons | 11 | 8-3 |
| Los Angeles Chargers | 11 | 7-4 |
| Miami Dolphins | 11 | 6-5 |
| Cleveland Browns | 11 | 6-5 |
| Cincinnati Bengals | 11 | 4-7 |
| Tennessee Titans | 11 | 4-7 |
| Los Angeles Rams | 11 | 4-7 |
| Jacksonville Jaguars | 10 | 4-6 |
| Seattle Seahawks | 10 | 8-2 |
| New England Patriots | 10 | 8-2 |
| Houston Texans | 10 | 5-5 |
| New York Jets | 10 | 4-6 |
| Green Bay Packers | 9 | 7-2 |
| Philadelphia Eagles | 9 | 6-3 |
| Washington Football Team | 9 | 4-5 |
| New York Giants | 9 | 4-5 |
| New Orleans Saints | 9 | 4-5 |
| Buffalo Bills | 9 | 3-6 |
| Minnesota Vikings | 7 | 2-5 |
| Detroit Lions | 3 | 1-2 |
How to Watch Thursday Night Football
Unlike the other two NFL primetime games – Sunday Night Football and Monday Night Football – TNF can be found in a couple of different spots during the course of the season. Here are the networks you can find the games on a week-by-week basis.
Week 1: NBC
Week 2-4: NFL
Week 5-11: FOX/NFL
Week 12: NBC
Week 13-15: FOX/NFL
Week 16: NFL
In short, NBC handles the opening game of the season and Thanksgiving night. NFL Network handles the rest of the games with FOX along for the ride after the first few weeks are in the books.
NBC and FOX can be found on a number of cable, satellite, and streaming packages. Local affiliates also carry the feed, so an antenna will do the trick in many areas. Availability of NFL Network can vary, so make sure it's a part of any packages you're looking at before signing up.
How to Stream TNF Football Live
Amazon Prime is back on board as the streaming home for a good part of the TNF schedule in 2021. For games in which FOX is handling broadcast duties – Week 5-11 and Week 13-15 – you'll also be able to pick up the feed on Amazon, as well as some alternative coverage.
NBC is the home for TNF in Week 1 and 12, so streaming options can be found at NBCSports.com and via the NBC Sports App.  For Weeks 2-4 and the last TNF game of the season in Week 16, NFL Network is the exclusive home. You can access via NFL.com online and mobile, but you'll need valid login credentials from your provider to watch. Also, the Yahoo Sports app provides coverage of primetime NFL games.
Who are the TNF announcers?
When NBC covers the games in Week 1 and 12, it'll be Al Michaels or Mike Tirico on play-by-play and Cris Collinsworth with analyst duties. Joe Buck and Troy Aikman handle business for the NFL and FOX portions of the schedule.
The network that's handling the game will also take care of the pregame with NFL Network providing extensive coverage right up until kickoff. Amazon Prime has a pregame option when on board for TNF streaming, and also provides alternate feeds with various commentators and analysts.
5 Spectacular TNF Moments
The Thursday Night Football slate has provided us with a number of memorable moments through the years, so hopefully it'll be more of the same in 2020. Here's a look back at five of the best from TNF history.
Week 2, 2019: Bucs Stuff McCaffrey
The game between the Buccaneers wasn't all that great, but the ending was quite memorable – especially for those looking for big things out of Christian McCaffrey. The Tampa Bay defense stopped the swiss army knife from scoring what would've been a game-winning TD at the tail end of the fourth quarter.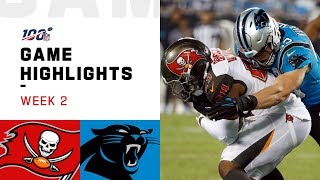 Week 13, 2018: Slugfest in Bg D
The was a highly-anticipated showdown between the Saints and Cowboys with viewers heading to the tube in droves. As opposed to the highlight reel that many were hoping for, the teams combined for a 13-10 hard-hitting affair that was won by the hosts at Jerry World.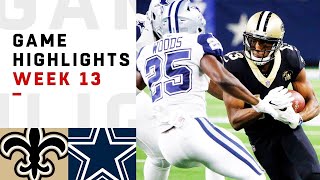 Week 3, 2017: Shootout in San Francisco
The date was Sept. 21, but the scoreboard was lightning up like a Christmas tree when the Rams and 49ers clashed. Todd Gurley found the end zone three times in the first half for the visitors, who would hang on to win a 41-39 shootout that was one of the more entertaining TNF tilts of all time.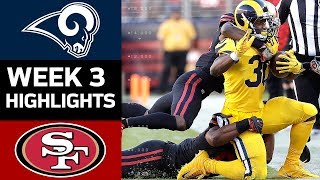 Week 10, 2015: Color Rush Becomes a Thing
The NFL's Color Rush experiment began with a meeting of the Bills and Jets at MetLife Stadium. The visitors' unis were red while the hosts wore all green, and it was a bit of a visual nightmare for many viewers. The Bills came out on top by a score of 22-17 with head coach Rex Ryan nabbing the victory over his former club.
Week 13, 2011: Beast Mode Skittles Legend Begins
Marshawan Lynch has contributed plenty to NFL lore, and he nearly broke the internet and social media on this Thursday night back in 2011. After scoring an electrifying TD as part of the Seahawks 31-14 victory over the visiting Eagles, he was caught by the cameras casually munching away on a bag of Skittles.